Oct
1
Three times racing at the World LD Series in Weihai China now, and this city in Shandong Province and its warm people are growing on me each time! This is a wonderfully and very effeciently organised event and I am very pleased that Weihai has been awarded the 2014 ITU World LD Tri Championships!
Last year, I was delighted to finish third and on my first ever ITU podium, especially after crashing in a special 'Bean' moment – snapping off my gear shifter and pedalling THAT course in my 53×13. Yes, it may be a beautiful seaside town, but it ain't short of leg-busting climbs

!
This year, the field was stacked with no less than 5 of the world's top ten female long distance athletes lined up. Ironically, I have the same first name as current World Champion Caroline Steffen, so it sometimes produced some interesting confusions, but for the most part it was her that was at the receiving end of the Chinese media! I was hoping that the quality field would bring out the best in me, and it is always an opportunity when you can stack yourself up against the best.
The race atmosphere always makes me feel what it must have been like to be at the Beijing Olympic Games, the ceremonies and cultural displays only make you feel warm, welcomed and motivated

. In opposition to the chilly 14deg waters we had last year, this year it was a balmy 24deg, and even if I am not a leading swimmer, I just love the freedom of a non-wetsuit swim

. I had a great swim with old friends Erich from HK, Laurent from France and Rachel from Australia. While my beach exits could do with some work, I felt strong in the water

. This year, much to the disappointment of the TV crew, I made it onto my bike without taking a tumble and I proudly peddaled my way up the first climb.
To my horror, luck was not going to be with me again :O – at the top of the first rise I sat down and my seatpost let out a groan and promptly dropped to frame level! Needless to say I couldn't have been more annoyed, especially as it could only be my own fault! A new seat clamp on my bike with 2 bolts which I was not sufficiently familiar with

. I can assure you, I tested the bike with a 20k ride the day before the race and it was fine(or so I thought), but on the day of the race, the first joint in the road that I hit and I was sitting like Martha on a BMX

. Luckily, as I experienced mechanical difficulty last year, I had the guts to know that anything can happen and that I could ride this course no matter what! Given that the course is technical and very hilly, it provided me with many opportunities to stand up and pedal, as sitting down and trying to pedal was incredibly painful.
I lost alot of time, but not hope! I came off the bike quite far down the field but was prepared to roll out whatever was left in my legs with no shame! I made up some ground but not enough to place me higher than 9th place, but most importantly, it was about not giving up and still giving my very best until the finishline

Post-race – Not being one to ever miss out on the great opportunities that the world has to offer, a stop in Beijing was in order. With new found friends from Poland Ewa and Robert we went on an 'expedition' to the Great Wall at Mutianyu. One of the wonders of the world, it trully is an amazing demonstration of human determination and capability. I highly recommend this visit to anyone going to China. It may be teeming with tourists but the cost of getting to the wall as well as access via the cable lift and tobogan luge is very reasonable, and well within a poor athlete budget ;D. I was quite surprised by the ski-lift that takes you to the top – be warned, you are seated on little more than a wooden bench and it goes up high…very high ;D!!.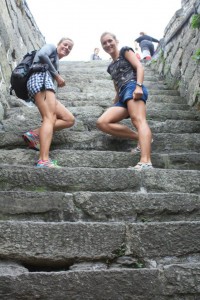 Exploration on the top of the wall is not a paved strole as you may imagine, but could be constituted as a 'hike' with a minimum fitness requirement! As athletes, we huffed and puffed climbing up and down the endless stairs – because of the age and construction methods (human hands), the stairs are neither uniform in height, material or spacing. It required considerable concentration and strong quads!
Fear not folks, the food is unusual but China rocks!!
Comments