Dec
10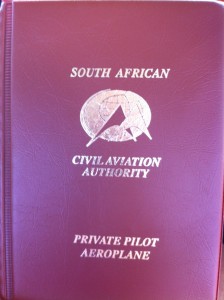 Last week was probably the most eventful week I have had all year – starting with Friday with car trouble, the Saturday puncture on the bike and no gas canisters left, the race in Midmar sadly cancelled due to the appalling weather, then finally on Sunday decided to go for a long run only to trip on a path I have run for over 20 years, falling hard and fracturing a rib!
Needless to say this was not classed as a good weekend for me, particularly as I was due to do my practical flight test early the following week! Given how much hard work it has taken me to get this far with my PPL pilot's licence, I really was fearing a crash in the race would put me out, but I needn't have been concerned as the race ended up being cancelled, and I managed to crash and break a bone ridiculously on my own two feet ;D.
Fortunately, the weather allowed me a slight reprieve to nurse the initial agonising pain from my rib, and my test was set for the Wednesday. I conducted a little mini flight by myself the day before, just to ease my nerves and check to see that my aching rib would not interfere with my flying abilities. Essentially, not much can be done for a busted rib, but there are quite a few DO NOT's:
Do not sneeze, cough, laugh, yawn or breathe too deep! Other than that as long as you keep your torso upright and facing a front direction you can function quite well :).
Wednesday morning was more nerve-wrecking than any World Championship or Ironman that I have ever done! Although I know my test instructor well, my hands were rather sweaty on the controls, mostly out of fear of messing up something that I have practiced so many times, and should be able to execute well. Admittedly, although I tried my best to hide it I was quite flustered at the thought of suddenly forgetting everything that I have been taught!
The navigation part of the test was a bit unsettled at the start, but the essential is that I have a pretty good sense of direction, and even when I had a diversion thrown at me I had a good idea of which heading to follow before spending a good few minutes trying to do the maths with my mental calculator ;D. The scariest part of all for me was the leg into Wonderboom Airport, which is a controlled airspace just north of Pretoria. The last time I came here with my instructor Glen I had the misfortune of getting the witchy controller and a lot of other traffic – I sweated trying to comprehend everything she was instructing me to do and repeat it all back to her! Fortunately, on test day, Wonderboom could not accommodate my request for a touch and go due to the IFR traffic, and I almost did the dance of joy in the cockpit :D. From there on I felt much calmer and even enjoyed tackling a farmer's rustic farm strip and the pit stop in the middle of nowhere!
The last part of the test involved all the flying manoeuvres and emergency procedures – this was the part I was most concerned about, particularly as your instructor will most certainly cut the power when you least expect it! I had practised these quite a bit, but all these things still require a level of 'slickness' that comes with a few thousand hours. Fortunately, things went well and I performed these beyond my personal expectations! On return to the Brakpan airfield I felt a huge sense of relief but at the same time wanted to give my poor, patient instructor a flawless landing to thank him for the hours he spent trying to get me to multitask. Mission accomplished! After studying almost every night this year, getting frustrated with myself when I couldn't seem to control everything I managed to get my PPL!
To celebrate (which in my case never involves alcohol or 'normal' things), I suggested to Special that we enter the end of year spot landing competition at FABB. Even though Special has been flying for 10 years even he had never entered one of these but thought it would be a fun idea. Immediately when someone says 'It is just for fun' you can be guaranteed my competitor button gets switched on! Just like a Triathlon they have a 'briefing' where you are told the rules of the competition. I explained to the organiser that I only got my licence the day before and there was a bit of laughter around. What I like about this competition is that men and women can compete against each other, and me with my low hours could take on a guy with 3000 flying hours!
So we decided to use the Sling 2, on which I have done all my training and is a remarkable little aerie. Special decided to go first, and after a few practise circuits he executed first his landing with flaps and then the second without flaps. We immediately thought he had done pretty well, only to be confirmed by the linesman who told him he was in 1st place! My turn next, I also executed a pretty good landing with flaps, then wanted to practice the flapless before executing the final one for the competition. Unfortunately, as I turned late finals the linesman informed me that my 2 landings had to be consecutive. So, to hell with the practice, I just had to hope that my first attempt at flapless would be good! I won't say it was my best landing, but it certainly came pretty close to the line! Finally, the linesman's voice crackled over the radio – you are in second place! Special and I really could not believe it, considering we were even up against experienced bush pilots and others with thousands of hours. We spent the next few hours hoping that nobody else would knock us off our spot!
In the end Special won his first competition ever, and I took second place! This was the biggest surprise for me, and certainly the best way to celebrate ever!! I must credit the machine though – with the Sling I think we had the perfect aircraft for the job :).
Thanks to Special, my instructors, sponsors, friends and family who have followed me along the way in this next crazy adventure!
Comments