Oct
12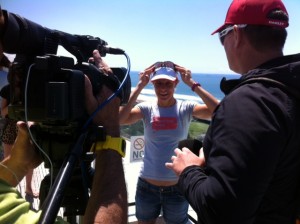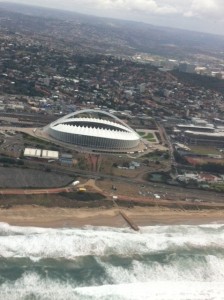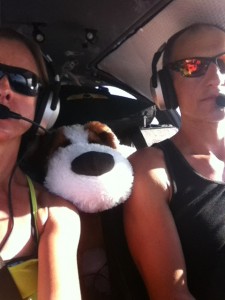 Trirock Durban and the start of a new local season for me. Like any other person from inland Gauteng, the idea of a Durban trip is always exciting – especially if we have justified excuse to escape polluted Joburg! Many, many moons ago, it was spectating a race called the 'Durban Ultra' that captured my tri imagination and got me hooked onto to the sport. It is high time that big triathlons take place again in Durban – everything is perfect for it, especially the weather!
Since returning from Europe, training has been challenging for me – trying to juggle work demands, survive financially and pursue flying training has been quite exhausting at times, but I was committed to doing my best at the race. Special and I decided for the first time to be adventurous and fly ourselves down to the race, and luckily the Bava Sling 4 SLF is large enough to carry 2 bikes, bags, pump, and all that stuff that triathletes need! It was a wonderful distraction flying to Durban, with me practicing my navigation skills learnt in training (proud to say we did not get lost and my ETA's were spot on), and Milan doing the flying (and those terrifying radio calls to Control Centres!). In 2h30 we landed at Virginia Aerodrome in Durban, and got some interesting looks as we offloaded all the gear and our 'transport' clad in compression socks :D. No taxi required I insisted, as we were only 5km from the hotel. We ended up riding like pack mules, and I didn't realise that the 5k route to the hotel was riddled with short and very steep hills (some of which I had to walk over the crest!), but we made it!
I love Durban and it's delicious Indian food options, but for Friday lunch we decided to have a 'safe' lunch at the hotel restaurant overlooking the pool…nice and relaxing. I must state that the restaurant is not owned by the hotel, this is important to note, as I wouldn't want to blame them for what would happen 2 hours later…
Registration done. En route out of there I began to not feel so good, and told Special that we should expedite the trip back to the hotel. He too started to look a little pale, and by the time we reached the hotel the race was on for the room ablution – I made it – just.in.time. Special, barely managed to mouth the words 'Think I am going to V…' before his lunch was expulsed in the most undignified way. The drama would continue for at least the next two hours – at that stage neither of us was considering the race, rather we were thinking when it would end! Needless to say, as soon as I felt comfortable enough to walk around, I headed straight to the restaurant manager. Many words were exchanged and I parted company with two Cokes and his rejected offer of lunch there the following day!
By Saturday morning (and sleeping for over 10 hours), we both felt a bit better, although still bleak, and summoned up the courage to once again eat that thing we once loved called 'food'. Luckily some strength came back just in time for something I was really looking forward to – the pre-race press interviews on top of the Moses Mabida Stadium! This idea truly embodies the organisers of the Trirock – always original, dynamic and making sure that everything is the most fun you have ever had in a Triathlon! It was great hooking up with some of the legends of SA Triathlon – Glen Gore, Donovan Van Gelder and Katie Roberts…we had a fine time answering race ambition questions at the top of the Moses Madida arch!
I certainly was not convinced I would be recovered sufficiently to give my best performance on the Sunday, but I just simply wanted to be part of the action! Conditions were also looking interesting to say the least, with Durban having experienced the biggest swells in over a decade :O. Unfortunately the swim for the sprint distance on the Saturday had to be cancelled, but the organiser Grant came up with an ingenious plan (and significantly calmer sea) for our race on Sunday – we would swim at a quieter part further up the beach, swim along behind the breakers along the beach, then exit and then run 800m to the transition area.
As if to think my woes were over, that evening on returning to the hotel my back wheel deflated. By now I was not in the mood and I starting getting in touch with my French side – with some animated hand gestures and flowery language. Thank goodness for Special who took control of the situation ;D…
Getting into the sea wasn't too traumatic for me, even though I am far from being good at this, and I swam along quite happily until it came time to turn left for the shore. What felt like thunderous waves crashed over my head, I ended up doing a number of involuntary summersaults, gasping for a single breath of air before being thrown under for the next beating…somehow I was spat out and found myself on the beach in a prayer pose, but at least alive!
The run up to transition was perfect for me to recover and re-establish land legs required for cycling. On the bike I did not feel like a super-hero and even thought my legs were going at a good rhythm, there was not much power. While I lost a few places, I simply had to continue at my ace and do the best I could.
The run went a lot better than expected. My stomach did feel a little knotted, but my legs seemed to gather momentum and with a bit of motivation of some fellow athletes to catch, I ended up having quite a good run all things considered! I finished 3rd Pro behind Kirsten Schut (who rode like a maniac?!?!) and Lynette vd Merwe who finished a whisper ahead of me. I was more than happy with this result, and more especially, I had such a fun time on the course!
If you have never done Trirock Durban, it is definitely one to consider! Organisation keeps improving, entry fee is reasonable and atmosphere outstanding!! Thanks to Grant Kunneke for an awesome race :).
Comments