Nov
12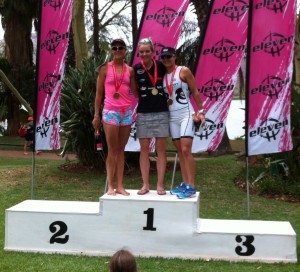 It is just the start of the South African Tri season and already we have had a number of world class events in our own back garden! The standard of race organisation has certainly improved, but then again the entry fees have also increased to the point where some European races have actually become cheaper, and here in SA we earn Rands not Euros! I really do hope that our sport is not going to shut out a whole lot of talent simply because athletes cannot afford to participate in races. I am also in the position of having to consider if I am able to come up with the $780 licence fee that will allow me to race at Ironman South Africa this year….and that is excluding the costs of travel, accommodation and food. I have to ask the question if this sport will be dominated by those who can afford to participate not those with the most talent/ability?
Anyway, apart from that grunt and groan, my season so far has gotten off to a pretty good start, with a 3rd at Trirock, then a 5th at the very competitive 5150 African Champs and a fantastic 2nd place this past weekend at the 11 Global Tri at Sun City.
The 5150 is a fairly new event, and is an Olympic distance triathlon belonging to the Ironman family. The beauty is that is is a non-drafting event, so basically the strongest athlete over all three disciplines wins :). It was my first experience of the 5150, but having done the Ironman a couple of times I was sure that the organisation would be just the same. The race took place at Germiston Lake (all credit to the Ekurhuleni council who pulled all the stops to make sure the venue was clean, tidy and most of all safe!), and attracted a large field of around 1300 as well as the country's top triathletes.
The women's Pro race attracted a good mix of short course and long course specialists as well as two Olympians! Needless to say it was going to be a hard, hard race. The Pros started with a group of top age groupers which meant we didn't have as clean a start as I would have hoped, and I got bashed about a bit :/. I exited the swim quite a way down, with some younger faster swimmers up ahead. The bike was a delight – an out and back course on the N17 highway! How cool it was to speed along the highway on a bike! For a change, my bike legs seemed to finally be returning and I starting gaining a few places. By the time I got off the bike, the lead was already being contested by Andrea Steyn, Kate Roberts and Lucie Zelenkova who all have incredible records on this distance. I was however, still determined to make it into the prize money so I had to run as hard as I could…boy this short course racing hurts!! At the end of the first lap I didn't help my cause by taking a slight wrong turn (no one to direct left/right), so I ended up losing precious time scaling a barrier (without tearing a hamstring in the process) to get back on track. I got a hard fought 5th place which felt like a podium anyway!
I felt broken on the Monday morning, and it must be age catching up, but by Friday I still did not feel entirely recovered for the un City on the Sunday. Sun City brings back such good memories for me – years ago we used to race the most fun triathlons here and then play at the Valley of Waves all afternoon still with our race numbers marked on our arms and legs :D.
There is something about the Sun City location that I really love – the intense heat, the smell of the bushveld and the sight of people having a good time in the sun. It was also my first time participating in an 11 Global event and I was impressed with the organisation. I really did not feel like 'just another number' here, and as Special pointed out, it was pretty good value for money – nice bags, caps and especially nice T-shirts suited to triathletes not ugly golfers or cheap shirts that are good enough for cleaning bikes with!
Onto the important part – the race course itself was also magnificent! A non wetsuit swim in the warm clean waters of the waterworld dam, bike out of the Sun City gates and back up the kick ass little hill, and then my favourite, the awesome run up to the Palace before doing a few rounds on the interesting turns of the Gary Player golf course.
I was happy not to swim with a wetsuit, but at the same time I still did not have the best of swims (note to self: swim needs work!), and once again I lost a minute, coming out in fourth place. Not a good place to be, I was going to have my work cut out for me :P. As the bike course was 2 laps, I had the opportunity to see if I was gaining or losing time to the leaders – Andrea, known for her strong biking was pulling away from all of us, yet I was reeling in the other two girls despite my legs not feeling entirely fresh.
By the time I dismounted the bike, I was in striking distance of second placed Corrine Berg. Such a lovely girl, I knew she wasn't going to let me have it easy, but I managed to pass her up the horrid Palace hill and then had to hold on for another 7km around the golf course.
Although there is still a lot of work to be done, I was pleased at some improvements and getting my legs used to racing hard and fast again! I was delighted to stand on the second step of the podium with two Tri girls I have so much respect for and pleasure sharing such moments with – Congrats Andrea Steyn and Corrine Berg…we had a blast!
Well done also to Team Tissink for their great results on the AG podiums and the excellent coaching. To my partners Asics, Bonk, Adidas Eyewear I hope I made it onto TV ;D
Comments