Jun
8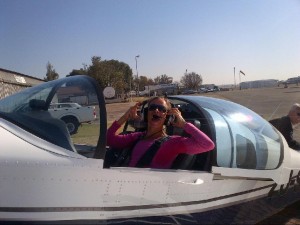 Today I completed my first solo flight as a student pilot – a feeling not too disimilar to completing your first Ironman! For those not in the know, this means taking off in an aircraft, without your instructor, and flying it around by yourself before landing it safely, while your already terrorized instructor holds his breath on the ground!
So, to start from the beginning, I decided to let you all in as to how I got into this flying "thing" to quote mother Koll.
To start, Special is a licenced PPL pilot who gets far more excited jumping into a plane than going for a 5 hour bike ride, but realised he wouldn't get to see much of me unless he joined me for the 5 hour bike first ;). We have been on a few adventures down to Durban and some lunches with the Bava Tech Company Sling 2, which is great fun and gives one a huge sense of freedom, but the thought always crossed my mind, what if something were to happen to Special while we were flying together? Simply put, I would have no idea how to fly the plane and get us on to the ground! Unlike alot of aviators, I never had the childhood dream of flying (it was hardly even an option for girls when I was a kid!), but I have grown to love it the more I learn. I confess to being a control freak, so learning to fly makes me hugely happy getting control over such a complex machine. Being given the opportunity to learn on the amazing Sling 2 by Special (I think he was trying to distract me from inflicting more physically challenging pain on him 😉 ), and his partners at Bava Tech was simply an opportunity I could not pass up on!
It started with the strict medical exam which provides you with the certificate needed to start flying. I wasn't nervous for this, given my fitness far exceeds that average pilot, but was concerned about the eye test (my eyesight not the best!) with it's terrifyingly minute circles and dashes. Luckily, I passed that! Then came the bicycle test where heart rate is measured – I thought this would be a walk in the park, but the poor Doc soon realised that on such an inadequate machine it was going to take me more than 20min just to get up to a 140 HR! Next the lung capacity test – I actually 'failed' this, because my result was so far off the chart it would not record :D! Of course I was smiling, but the poor Doc was already recommending that I may have to get a certificate from a pulmonary specialist to prove that the aforementioned lungs belong to an athlete and therefore are CAA compliant as 'normal'. Anyway, apart from disrupting all the Doc's machines, and blowing into pipes until I nearly fainted, I passed the medical.
Next up was a first flight with my very experienced (and mostly patient) instructor whom I will call the 'Detonator'. I am sure that the objective of this initial flight is to make the student wet his pants, scream with terror, and cry until he is safely back on the ground. Although I had flown many times before, I was not prepared for this 'initiation'. The Detonator asked if I liked flying – "Yes, Special and I go on lovely scenic flights for lunch"…. He then proceeded to show me what a spiral dive was like :O. There were some BIGGGGG words going through my brain! He asked how I was doing – I replied "A little queazy, but not nervous at all…" If only he knew :).
Surprisingly, I coaxed myself back for more, and from there on the lessons actually became more enjoyable. There is alot to do in an aircraft just to keep it in the air, and it tests your multi-tasking abilities to the max, but it seems all worth it when you realise that you are in fact flying freely, like the birds, and best of all, there are no E-tolls or traffic jams! The training is, however, quite intense, and the Detonator does put me in some nerve wrecking situations such as stalls, spins and spiral dives, which gives me alot of respect for the act of flight, but also the skills to deal with challenging situations.
In addition to the practical side of things, I have to undergo a series of 8 theoretical exams. I graduated in 1999 with a degree in Politics, so that means I haven't actually had to 'study' in donkey's years, politics is totally unrelated to flying, and to top things off, I was never into science and maths at school! This means that all the highly technical subjects involved in flying are a real challenge to me. Thankfully, for the ske of all passengers, the standard is a very high 75% as opposed to the current high school pass rate of 30%. The books are thick and full of technical info, and not much in the way of colourful pictures and graphics. You have to study absolutely everything, and then you do a strictly supervised online exam, which in general consists of 25 questions (which means you room for error is very small), all randomly generated. The answers are presented in multiple choice format, which sounds simple enough, excepting that there are two challenges – you need to firstly understand the questions (If English is not your first language, good luck!), and secondly I have hardly found any of the answers to be wrong (you need to choose the most appropriate, correct answer). For someone in the creative and sporting business, I cannot express how difficult it has been for me to understand things like the workings of a piston engine and magnetos – poor Special (who has an engineering background), has had his patiently conducted explanations met with my vacant stares! Anyhow, I have so far managed to pass three of the eight and am currently addressingly my fear of maths by tackling the navigation subject :).
Doing my first solo, which came about quite unexpectedly, certainly did not come about easily. Flying circuits around the airfield with your instructor requires huge amounts of concentration, and I frequently found myself frustrated at my own inability to co-ordinate and check everything AND get it all right at the same time. My advice to anyone trying to do the same – get a plentiful supply of sweets for your instructor – it keeps them quiet and calm ;D.
And suddenly, after doing some rather bouncy landings, things just worked, and my instructor suggested that I give it a go on my own. You will never be totally ready for this moment, but strangely I was totally calm and thought "Cool, he finally thinks I don't suck that much!". The Detonator got out of SLZ and sent me down the taxi way on my own. The guys at FABB were just great, telling everyone on the radio frequency that I was on my initial solo (so steer clear…), and as I came in for my very first solo landing, I had to giggle at the queue of 4 aircraft waiting for my arrival so that they could take off ;D. It was a wonderful landing (according to me), and once I had evacuated runway 36 there was much applause over the radio – I felt like an absolute superstar, except for the fact that I could still feel the presence of the Detonator, and made sure to do all my after-landing checks correctly, still fearing a knuckle rapping! On shutting down, we took some pictures of this great moment in my life, and then I was initiated into pilothood with a thorough hosing down with the water pipe from the guys at Sky Africa (they forgot I am a fast runner ;D). A while to go still, but a milestone on the path to getting my PPL. Over and Out SLZ….
Thank you to Special and Bavatechnologies for the opportunity and Adidas Eyewear  for the great Duramo glasses which are not only good for sport but provide excellent filtering for aviation without the obstruction of rims – give them a try Pilots 😉
Comments