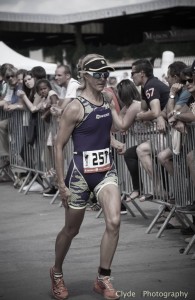 I have done a lot of races in my career, and this year I was starting to feel a bit bored – the same big name races year after year, some with podium finishes, and some catastrophic flops. I really felt a need to get that feeling of excitement back, of when I first started in the sport of Triathlon. I will make no secret of the fact that I think that the big label races have lost the plot when it comes to athlete experience, race entries and licences have become so elevated that these events are dominated not necessarily by the talented, but rather the wealthy elite with more equipment than an TDF team warehouse, and let me not get started on the doping issues! Having done a few calculations, it was evident for me that for the same cost as 1 big local event (that I have done countless times), I could travel to Europe and race a few new races, in lovely locations and I could meet some lovely people on the way….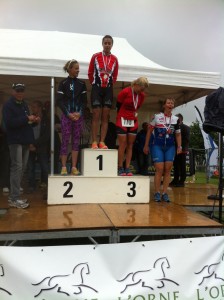 First stop on the French adventure was a Half-Iron distance called the Surviv' Orne in the epicentre of apple and Camembert cheese production –  Normandy, in a magnificent town called La Ferte Mace. Normandy is particularly green, and despite what it looks like on the map – rather hilly! The course looked magnificent through forested roads and a challenging run (which I like!). Unfortunately, on race day we woke up to pouring rain which would not abate the entire day! For those that know me well, I hate rain and cold and would rather out running in 35 degrees at Midday than have one drop of water land on my head :D! Anyway, I wrapped myself in a roll of garbage bags and off we went – I wanted my Camembert cheese at the finish!
I struggled a bit in the swim, mostly due to the cold, but somehow still managed to enter transition first. I then spent 5 minutes putting on all the clothes I could (which would save me from the conditions!), and even went so far as to put sandwich bags in my cycling shoes to try and keep my feet dry (it worked) – African solutions for African athletes! The conditions on the bike were horrendous – a driving wind with pouring rain in your face. I soon realised that this was going to be a race of survival, and one had to be sensible. I was quite surprised to be in the lead, especially in those conditions, so I just continued to proceed with the necessary caution. At the 35km mark, on a relatively straight piece of road (I had just navigated a wet corner), I suddenly hit something, my wet hands could not hang onto the equally soggy bars and hit the tar rather unceremoniously….I wanted to cry, but I also really did not want this race to beat me! Even the lead motor bike (who quickly came to my rescue), could not say what happened. To this day I still don't know what happened. We managed to straighten out my bike, my clothes were all ripped (including a gapping hole on my butt), but mostly they had protected me from the worst of the road rash. I managed not to cry, got back on and even though I was in pain, I just kept thinking 'carry on' no matter what. I did get caught with about 10km to go on the bike, mostly probably due to my now petrified bike handling, but I thought I could possibly still do it on the run. At least on the run I felt back in my safety zone, except my body was hurting so much I could just lock into a steady pace and hold it. I finished second to another Caroline, and although disappointed I got my Camembert cheese and great support from the race organisers and many cheers from the drenched spectators. A wonderful, wonderful race I would love to do again in the sunshine! Merci Djamil and Guillaume…next time it won't rain ;D.
The next day I woke up in agony – a fractured rib and some nice road rash on my left shoulder :(.
I had 3 weeks to recover (train) up for my next big event – the IronBreizh Half Iron distance in Brittany. Brittany is the land of Crepes and salted caramel… I had to be there! A rib is just painful, but you really can't do any further damage, so I tried all sorts of things including wrapping myself in Elastoplast tape just so that I could at least bike and run. Swimming was a problem, and I only managed to turn my two arms a few days before the race.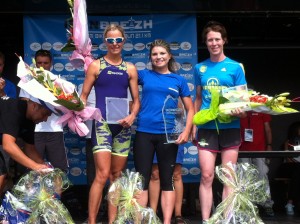 Once again, a magnificent race in a part of France I had never been to before. The people in this area are some of the friendliest and the reception you get is really warm. I doubted fitness due to the pesky rib, and just hoped I could get through the swim and avoid being kicked! After a surprisingly good swim (I think I was trying to avoid contact), I headed out onto the bike a bit of a way down, but in second place. The bike course was inexplicably hard, and because I knew my condition was not tops, I just chose to ride within myself and give what I had at the end. The girls were strong, and by the end of the bike, I was down in 5th place and I thought that I was now just racing for the Nutella Crepes at the end, but surprisingly I had a good cadence on the run, even though it hurt every time I took a breath because of the rib, and I started to get excited when I could see I was starting to close the gap. I have to say that my Saucony Fast shoes were meant for speed, and now motivated, I just got faster and faster – awesome! I ran the fastest run split to get myself onto the podium (3rd) – it was probably the race of the year for me, as I hurt like hell and gave it my all to get there! The only disappointment was being so stuffed at the end that I had to wait 2 hours before I could sample the crepes :D! Thanks to the folks in Inzinzac-Lochrist (just try and pronounce that…), and Queven, race organiser Christophe, and our friends in Brittany Martine and Jean-Luc for spoiling us so much.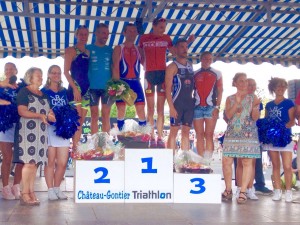 The next week was challenging – my legs were sooo sore and we desperately wanted to race the 'Party' race as I call it – an Olympic distance in the region of Mayenne (neighbours of Normandy). What I really enjoy about racing in France is that it is so much fun, so unpretentious that you just want to do it anyway, no matter how you feel! I raced the first edition of Chateau Gontier last year, and it was such a fun event that I HAD to do it this year again, dead legs or not! The race has such an amazing organisation that it is hard to believe that they are all volunteers and towns folk who are genuinely proud of their event and want every athlete to have a good time. I raced my heart out with a smile on my face the whole way, even though I got beaten to second place again by an old friend Frederique Joussemet – the video says it all
I have to say thanks to so many people who created all these wonderful experiences for me, but especially my friends in France, Saucony South Africa and Adidas Eyewear. This is what Triathlon should be, sharing a love for the sport and making life-long friends, not a high price tag and 'World Champs' for those that can afford it. Encourage your friends and family to do a race for fun, and remember why you started the sport in the first place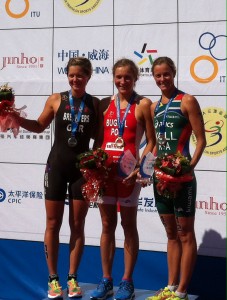 There has never been a doubt in my mind, that whenever I have been dealt an extended period of bad luck, challenge or whatever you may call it, there is always hope, because I know it must, and it will change. The bronze medal that I achieved in Weihai last week was not necessarily my best performance, but above all it meant that the tide had changed for me and that counts for more than anything!
2015 has probably been the most challenging year of my career – I had everything thrown at me, health issues, injuries and emotional moments. Sometimes, as athletes we consider ourselves invincible. We have a high capacity for ignoring pain and fatigue, everything is cast aside for the sake of the goal.
Towards the end of 2014, I did a lot, and, a lot of things happened to my body. On reflection – Physically,  I sprained an ankle stepping off a sidewalk, I was bitten by a spider, I tripped while running and fractured a rib, and I developed an allergic reaction on the other ankle and then of course the accident a week before IMSA which resulted in a broken scapula, muscle tears, displaced vertebrae and a stuffed up neck. On the personal side, I was trying to run my design business, develop the sports clothing side,break even, study for my pilots exams, complete my pilot training, as well as train my body for competitive triathlon! Like most busy women, I always felt like I was letting someone down and I felt guilty for not making everyone happy! I felt stretched, tired and worn out – how could this be possible when I have friends who work regular jobs, have 3 kids and still train?? The truth is, the support offered to sportswomen in South Africa (and many other countries) is so scarce that for the most part the 'Professional' or 'Elite' women are in fact doing a million things to keep their heads above water, with the exception of those who may be fortunate enough to have parental financial support, which means that for the most part, I don't think any of us ever arrives at an event well rested without the infamous 'To Do" list buzzing around in their heads.
The problem with 'Superwoman' , is that while in her mind she can cope with everything, eventually there is a breaking point. Even now I find it unacceptable to admit to any weakness, but eventually my body did. Since the beginning of the year, even though I was training well, my form just declined and even 'rest' did not help. I felt constantly exhausted, I could sleep at any minute if time allowed, I would get dizzy, my blood pressure was really low and even normal daily activities required monumental strength. Eventually, after the horrid month of March, where I witnessed my friend Linda lose her cling on life, and a mere 4 days later I found myself lying injured in hospital, I had to put out the stop sign on myself and realise that I couldn't control everything.
Initial blood tests showed the all clear (for all those who think as a Vegetarian I must have low iron – to the contrary it was nearly too much!), and the Doc claimed to find nothing wrong with me. As an athlete this is the worst diagnosis you can get as you know your body really well, and this sort of answer makes you doubt yourself! My advice – keep searching until you do find the answer! Without all the boring details, it was eventually found that I was suffering from an Adrenal condition – my adrenal glands had been so overworked with all these aforementioned 'stressors' that eventually they were unable to produce cortisol, which, essentially is the anti-dote for the adrenaline which is released everytime your body is affected by what it perceives to be a danger (stress). The essence is that my body became permanently flooded with adrenaline and was unable to restore the stats quo  after the 'fight or flight' stage. Athletically, this means that I was constantly affected by a raised heart rate (something your body does if it senses danger), and without the cortisol needed to counter it, I was left exhausted by my body's constantly 'alert' state. With chemical solutions being not recommended (they can cause your adrenal glands to 'forget' to produce altogether), the only solution was to rest. With my broken bones trying to heal, the timing was ideal. I resigned myself to the fact that I would not be racing for a little while – what is the point of racing anyway when you are running on half the capacity?? Interestingly, I slept a lot, and exercise consisted of walking the fur kids! I also confess to indulging in a fair amount of chocolate (very good for the soul) 😀
It could have been classed as a depressing time, especially as my bike (uninsured) was pretty much destroyed. This was actually a good thing, and it gave me permission to rebuild at a slow pace rather than the usual 'Let's see how quickly I can get back into training' syndrome. Special and I decided that I would ride again once we got to France in July. With the help of friend, and bike mechanic Paul, I managed to build up an old frame and with my friend Tristan's wheels in France I was set to go. It was wonderful being back in my favourite French countryside to train, and even though I was rather unfit, I would take part in a OD race almost every weekend. Although some of you may have seen these race results on FB, it was essentially a 'tri' training session – with some podium finishes, even though I felt I didn't deserve it! I absolutely love racing in France, and it has just what I needed – fun :D!
Onwards to last weekend. Racing in China came as a last minute decision – I did not feel that I had gotten back up to the level of training needed just to finish the race, nevermind be competitive! It was the memories of this fantastic race that drew me to compete again, with no pressure, just to have fun and enjoy this beautiful part of China again! It was great to see my old friend Ewa from Poland again, and even though we were strictly speaking competitors in the same race, it felt like a weekend away with the girls! With everything being so last minute, I was quite ill-equipped for the race – my second-hand mish mash bike had a few problems on arrival, but luckily the great Chinese mechanic managed to cross the language barrier and find some replacements for damaged screws. The guys from Irwin wheels also desperately tried to find a decent set of wheels for me to use the day before my departure, but obviously we were a bit short of time…thanks for trying guys!
In the end, it didn't matter. I just wanted to go out there and race again, good or bad, but just race! The result is obviously clear from the picture – I got the bronze, behind Ewa and Carina from Germany! Even though I felt I did not have the perfect race, the most important is that I was soooo happy just to be able to do what I did :).
I wish to thank the LOC of the ITU Weihai race, the SUPER volunteers, the fantastic staff of the Haidu Hotel and the awesome people of Weihai! Most of all thank you to Special and all my friends for always supporting me. #Adidaseyewear ; #Minopex ; #Inverse Teams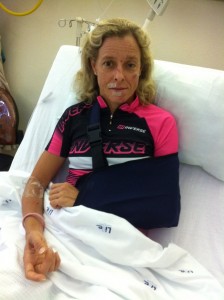 For the first time in a decade I wasn't on the beach for the start of Ironman South Africa last weekend. Last week was the cherry on the cake of what has been a disasterous tri season so far – on Tuesday I was involved in an accident on my bike. A commuter was travelling on the wrong side of the road in the opposite direction to myself. As the distance between us was shortening, I could see that he was not paying attention and realised that I would have to move to my right (and into the middle of the lane) in order to avoid him. The said commuter then looked up at the last moment, hesitated, panicked and instead of moving off the road, he moved to his left, into the middle of the lane. The resulting head on collision was really hard, as he was travelling slightly downhill and going really fast. I remember little, except the instinct that kicked in – I immediately jumped up and dragged myself to the side of the road where I was at least safe from the traffic!
Special, who was 2-3 metres behind me, managed to avoid the collision and immediately set about trying to stop the traffic and alert the emergency services. Although I could not see him, the commuter was lying unconscious in the road (he was not wearing a helmet) and his heavy bicycle was broken in half. At first with the adrenalin levels soaring, I thought that I was fine, and then I started to experience terrible pain in my upper back, right arm and neck. Luckily, a paramedic on his way to work stopped at the scene and the ambulance arrived really quickly. Once at the Glynnwood  hospital, the pain really set in and it really hurt! The doctors were concerned about my back and I was speedily  sent off for x-rays. The verdict – broken left scapula (apparently a very hard bone to break!) and a displaced vertebrae. Don't get me wrong, I am grateful as I know that is could have been worse (as we always say), but at the same time, this could have all not happened if someone had regulated his stupidity a bit better…
In addition, as a result of all these lemons that have occurred since November last year (broke a rib after tripping and falling while running, then got an allergic reaction to an insect bite of my ankle, then the horrendous accidents of 2015…), my adrenal glands have taken a knock. Generally brought on by a variety of stresses, the adrenal glands go into a state of constant overdrive until they can no longer cope and are no longer able to produce the necessary hormones (like Cortisol) which balances stress and the thyroid. This then also causes blood pressure to become really low (after my accident it was as low as 85/60!). The result is inevitable – chronic tiredness, lethargy and dizziness from low BP, poor performance etc.. I have to admit that I have felt these symptoms for some time. I knew something was wrong but couldn't explain it better than losing 10sec per 400m running on the track! Rest did not help, I was not over trained and regular blood tests revealed that all the usual suspects were completely normal…in short, I was told everything was fine! Athletes know their bodies better than their cars, and I can advise anybody to keep searching for the answer – it is never your imagination! I was fortunate to come into contact with Dr. Andrew Holgreaves, who immediately assessed that I was not a neurotic, hypochondriac athlete and that there was a very real problem. We have since been working on a natural approach to getting my adrenals working again, and with my favourite physio, Dr Linda Steyn getting the broken bone and muscles healed up as fast as possible

And so, while it has not been a good start to racing in 2015, I have been forced to take a step back and look after the machine that is my body! I think by the time I am physically strong again, I will be chomping at the bit to race again…watch this space ;D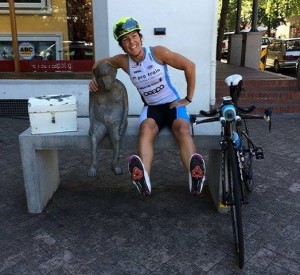 It is a very heavy heart that has brought me to write this post. I am filled with sadness, as I have to come to terms that despite all our efforts, my friend Linda was turned off life support this morning and passed away. I hope to find the right words…
For those of you who were not aware, my Italian friends Edith and Linda (both world class athletes and world class people) were involved in a horrific accident with a bus on Franschoek pass last Saturday whilst out training on their bikes and were both critically injured. Linda was air lifted to Groote Schuur and Edith was taken to Paarl Medi Clinic.
Saturday evening, I was at home in Benoni (Joburg), relaxing on the couch and watching the news on TV, which is something I rarely do, when I saw the report. I immediately said to Special 'Those are Triathletes…I know those bikes!'. I immediately had a look on Facebook and saw the terrible news posted by Alexa Cunningham, whom I immediately messaged. Saturday I did not sleep well at all, and by Sunday morning I needed to do something. The day was a blur, between chatting with angel Alexa who never left Linda's side and Jodie&James who were attending to Edith in Paarl, I felt helpless and starting trying to make contact with the Italian Consulate and trying to track down Linda's insurance.
Monday morning I boarded a flight to Cape Town to meet up with Linda's parents (Gianni and Eleonora Scattolin) and Alexa who was undoubtedly exhausted. From the moment we landed in Cape Town it was a team effort. Gianni and Noretta exemplified an Italian characteristic of bravery that I could never have imagined possible.
As an athlete, I have always believed that if you work hard and push through limits you will always get what you want. I believed Linda would fight! There was never a doubt in my mind that if we did everything possible, we would succeed. Sadly, life is not always a situation we can control…
After getting to see her at the hospital, I totally believed in my heart that she would recover. After meeting her doctor – Dr Nick Kruger (Spinal specialist for the Western Cape), I was thoroughly convinced that she was in the best possible care. Although the initial goal was to have her moved to a Private Hospital, I can comfortably say that Groote Schuur hospital (which is where the first heart transplant in the world was performed) has some of the country, and world's best specialists and ICU unit. Transferring Linda to a different hospital would have been a risk in her condition and would have yielded no better care than what she was already receiving. Dr Kruger is not only a committed Specialist but an amazing human being, and he personally kept us updated on her condition. Although her injuries were vast, the most serious was the damage to an artery in her neck (which halted blood flow to a part of the brain), and fractured vertebrae in her back and neck, which were the main reason for her not being moved. The operation required to stabilize her back had absolutely no impact on the blood flow to her brain, so even though the operation had to wait for a few days (due to the hospital priority list), there was also a possibility that the movement and rotation required for the operation could have affected the pressure in her head.
The analysis of what happened and the series of events seems irrelevant in light of the fact that we, the people representing the various aspects of Linda's life – and if I listened well to her parents, she had a very varied life – have lost a very special person. I only knew Linda for a short time, but I feel it is not the length of time that is important, but rather the impact that someone has on your life. I met Linda through competing in triathlons, and together with Edith are two athletes for whom I not only respected for their achievements, but their attitude towards others. Neither of these two girls ever took themselves too seriously, always with a smile and a laugh, honest and sympathetic no matter who you were – an example to any aspiring pro! My most significant memory of Linda is from last year's Ironman South Africa. We were both not having our most spectacular days, and it was just hard. Linda passed me on the bike, in true FiXie manner, I was not smiling, but she gave me her trademark toothy grin chatted a bit to me, and cheered me on as if we were a couple of girls out on a training ride! Well, I thought, if Linda thinks we are not doing so bad, then we aren't! I caught up with her on the run, and even though we were battling it out for 9th and 10th place, and she wasn't relinquishing, the attitude was exactly the same…with the only exception that I felt bad for passing her, it would have almost been more entertaining to run alongside her than getting ahead of her :D!
My heart goes out to her parents and Edith who now have to find a reason to carry on without her.
Linda, you are leaving a big hole! I cannot bring myself to do Ironman SA this year, but maybe Linda would have liked for me to go an discover her favourite race in Italy??
Thank you Mama and Papa Scattolin for letting this stranger be with you at this vulnerable time. Alexa – mature beyond your years, the burden you took on was selfless and I cannot express enough what you have done for Linda and continue to do for Edith while she recovers. Jodi and James for taking care of Edith when we had to focus on Linda. Violetta from the Italian Consulate, who answered my call on a Sunday and never relented in her personal willingness to assist and show compassion. Consul Vitali, who was persistent in obtaining the information that was needed and went beyond his capacity. Dr Kruger and the whole ICU team at Groote Schuur – you are a professional and formidable team. Gavin Roberts, our lawyer, who answered my call and followed up with the first available flight to Cape Town, with such genuine concern, humanity and the best interests of the girls and their families at heart. Fred from Villa Garda BnB who has such genuine concern for the well being of Linda's parents and Lina from Cape Tourism who took on the task of assisting and translating at the most difficult time.
To Edith, Eleonora, Gianni – may Linda rest in peace but may her spirit give you new meaning.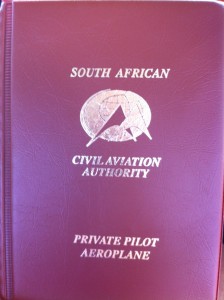 Last week was probably the most eventful week I have had all year – starting with Friday with car trouble, the Saturday puncture on the bike and no gas canisters left, the race in Midmar sadly cancelled due to the appalling weather, then finally on Sunday decided to go for a long run only to trip on a path I have run for over 20 years, falling hard and fracturing a rib!
Needless to say this was not classed as a good weekend for me, particularly as I was due to do my practical flight test early the following week! Given how much hard work it has taken me to get this far with my PPL pilot's licence, I really was fearing a crash in the race would put me out, but I needn't have been concerned as the race ended up being cancelled, and I managed to crash and break a bone ridiculously on my own two feet ;D.
Fortunately, the weather allowed me a slight reprieve to nurse the initial agonising pain from my rib, and my test was set for the Wednesday. I conducted a little mini flight by myself the day before, just to ease my nerves and check to see that my aching rib would not interfere with my flying abilities. Essentially, not much can be done for a busted rib, but there are quite a few DO NOT's:
Do not sneeze, cough, laugh, yawn or breathe too deep! Other than that as long as you keep your torso upright and facing a front direction you can function quite well :).
Wednesday morning was more nerve-wrecking than any World Championship or Ironman that I have ever done! Although I know my test instructor well, my hands were rather sweaty on the controls, mostly out of fear of messing up something that I have practiced so many times, and should be able to execute well. Admittedly, although I tried my best to hide it I was quite flustered at the thought of suddenly forgetting everything that I have been taught!
The navigation part of the test was a bit unsettled at the start, but the essential is that I have a pretty good sense of direction, and even when I had a diversion thrown at me I had a good idea of which heading to follow before spending a good few minutes trying to do the maths with my mental calculator ;D. The scariest part of all for me was the leg into Wonderboom Airport, which is a controlled airspace just north of Pretoria. The last time I came here with my instructor Glen I had the misfortune of getting the witchy controller and a lot of other traffic – I sweated trying to comprehend everything she was instructing me to do and repeat it all back to her! Fortunately, on test day, Wonderboom could not accommodate my request for a touch and go due to the IFR traffic, and I almost did the dance of joy in the cockpit :D. From there on I felt much calmer and even enjoyed tackling a farmer's rustic farm strip and the pit stop in the middle of nowhere!
The last part of the test involved all the flying manoeuvres and emergency procedures – this was the part I was most concerned about, particularly as your instructor will most certainly cut the power when you least expect it! I had practised these quite a bit, but all these things still require a level of 'slickness' that comes with a few thousand hours. Fortunately, things went well and I performed these beyond my personal expectations! On return to the Brakpan airfield I felt a huge sense of relief but at the same time wanted to give my poor, patient instructor a flawless landing to thank him for the hours he spent trying to get me to multitask. Mission accomplished! After studying almost every night this year, getting frustrated with myself when I couldn't seem to control everything I managed to get my PPL!
To celebrate (which in my case never involves alcohol or 'normal' things), I suggested to Special that we enter the end of year spot landing competition at FABB. Even though Special has been flying for 10 years even he had never entered one of these but thought it would be a fun idea. Immediately when someone says 'It is just for fun' you can be guaranteed my competitor button gets switched on! Just like a Triathlon they have a 'briefing' where you are told the rules of the competition. I explained to the organiser that I only got my licence the day before and there was a bit of laughter around. What I like about this competition is that men and women can compete against each other, and me with my low hours could take on a guy with 3000 flying hours!
So we decided to use the Sling 2, on which I have done all my training and is a remarkable little aerie. Special decided to go first, and after a few practise circuits he executed first his landing with flaps and then the second without flaps. We immediately thought he had done pretty well, only to be confirmed by the linesman who told him he was in 1st place! My turn next, I also executed a pretty good landing with flaps, then wanted to practice the flapless before executing the final one for the competition. Unfortunately, as I turned late finals the linesman informed me that my 2 landings had to be consecutive. So, to hell with the practice, I just had to hope that my first attempt at flapless would be good! I won't say it was my best landing, but it certainly came pretty close to the line! Finally, the linesman's voice crackled over the radio – you are in second place! Special and I really could not believe it, considering we were even up against experienced bush pilots and others with thousands of hours. We spent the next few hours hoping that nobody else would knock us off our spot!
In the end Special won his first competition ever, and I took second place! This was the biggest surprise for me, and certainly the best way to celebrate ever!! I must credit the machine though – with the Sling I think we had the perfect aircraft for the job :).
Thanks to Special, my instructors, sponsors, friends and family who have followed me along the way in this next crazy adventure!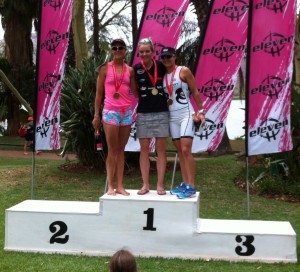 It is just the start of the South African Tri season and already we have had a number of world class events in our own back garden! The standard of race organisation has certainly improved, but then again the entry fees have also increased to the point where some European races have actually become cheaper, and here in SA we earn Rands not Euros! I really do hope that our sport is not going to shut out a whole lot of talent simply because athletes cannot afford to participate in races. I am also in the position of having to consider if I am able to come up with the $780 licence fee that will allow me to race at Ironman South Africa this year….and that is excluding the costs of travel, accommodation and food. I have to ask the question if this sport will be dominated by those who can afford to participate not those with the most talent/ability?
Anyway, apart from that grunt and groan, my season so far has gotten off to a pretty good start, with a 3rd at Trirock, then a 5th at the very competitive 5150 African Champs and a fantastic 2nd place this past weekend at the 11 Global Tri at Sun City.
The 5150 is a fairly new event, and is an Olympic distance triathlon belonging to the Ironman family. The beauty is that is is a non-drafting event, so basically the strongest athlete over all three disciplines wins :). It was my first experience of the 5150, but having done the Ironman a couple of times I was sure that the organisation would be just the same. The race took place at Germiston Lake (all credit to the Ekurhuleni council who pulled all the stops to make sure the venue was clean, tidy and most of all safe!), and attracted a large field of around 1300 as well as the country's top triathletes.
The women's Pro race attracted a good mix of short course and long course specialists as well as two Olympians! Needless to say it was going to be a hard, hard race. The Pros started with a group of top age groupers which meant we didn't have as clean a start as I would have hoped, and I got bashed about a bit :/. I exited the swim quite a way down, with some younger faster swimmers up ahead. The bike was a delight – an out and back course on the N17 highway! How cool it was to speed along the highway on a bike! For a change, my bike legs seemed to finally be returning and I starting gaining a few places. By the time I got off the bike, the lead was already being contested by Andrea Steyn, Kate Roberts and Lucie Zelenkova who all have incredible records on this distance. I was however, still determined to make it into the prize money so I had to run as hard as I could…boy this short course racing hurts!! At the end of the first lap I didn't help my cause by taking a slight wrong turn (no one to direct left/right), so I ended up losing precious time scaling a barrier (without tearing a hamstring in the process) to get back on track. I got a hard fought 5th place which felt like a podium anyway!
I felt broken on the Monday morning, and it must be age catching up, but by Friday I still did not feel entirely recovered for the un City on the Sunday. Sun City brings back such good memories for me – years ago we used to race the most fun triathlons here and then play at the Valley of Waves all afternoon still with our race numbers marked on our arms and legs :D.
There is something about the Sun City location that I really love – the intense heat, the smell of the bushveld and the sight of people having a good time in the sun. It was also my first time participating in an 11 Global event and I was impressed with the organisation. I really did not feel like 'just another number' here, and as Special pointed out, it was pretty good value for money – nice bags, caps and especially nice T-shirts suited to triathletes not ugly golfers or cheap shirts that are good enough for cleaning bikes with!
Onto the important part – the race course itself was also magnificent! A non wetsuit swim in the warm clean waters of the waterworld dam, bike out of the Sun City gates and back up the kick ass little hill, and then my favourite, the awesome run up to the Palace before doing a few rounds on the interesting turns of the Gary Player golf course.
I was happy not to swim with a wetsuit, but at the same time I still did not have the best of swims (note to self: swim needs work!), and once again I lost a minute, coming out in fourth place. Not a good place to be, I was going to have my work cut out for me :P. As the bike course was 2 laps, I had the opportunity to see if I was gaining or losing time to the leaders – Andrea, known for her strong biking was pulling away from all of us, yet I was reeling in the other two girls despite my legs not feeling entirely fresh.
By the time I dismounted the bike, I was in striking distance of second placed Corrine Berg. Such a lovely girl, I knew she wasn't going to let me have it easy, but I managed to pass her up the horrid Palace hill and then had to hold on for another 7km around the golf course.
Although there is still a lot of work to be done, I was pleased at some improvements and getting my legs used to racing hard and fast again! I was delighted to stand on the second step of the podium with two Tri girls I have so much respect for and pleasure sharing such moments with – Congrats Andrea Steyn and Corrine Berg…we had a blast!
Well done also to Team Tissink for their great results on the AG podiums and the excellent coaching. To my partners Asics, Bonk, Adidas Eyewear I hope I made it onto TV ;D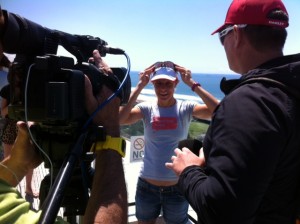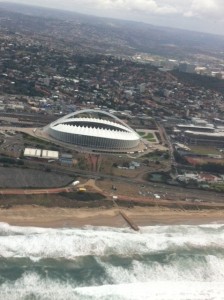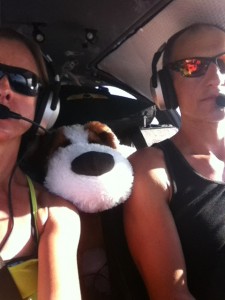 Trirock Durban and the start of a new local season for me. Like any other person from inland Gauteng, the idea of a Durban trip is always exciting – especially if we have justified excuse to escape polluted Joburg! Many, many moons ago, it was spectating a race called the 'Durban Ultra' that captured my tri imagination and got me hooked onto to the sport. It is high time that big triathlons take place again in Durban – everything is perfect for it, especially the weather!
Since returning from Europe, training has been challenging for me – trying to juggle work demands, survive financially and pursue flying training has been quite exhausting at times, but I was committed to doing my best at the race. Special and I decided for the first time to be adventurous and fly ourselves down to the race, and luckily the Bava Sling 4 SLF is large enough to carry 2 bikes, bags, pump, and all that stuff that triathletes need! It was a wonderful distraction flying to Durban, with me practicing my navigation skills learnt in training (proud to say we did not get lost and my ETA's were spot on), and Milan doing the flying (and those terrifying radio calls to Control Centres!). In 2h30 we landed at Virginia Aerodrome in Durban, and got some interesting looks as we offloaded all the gear and our 'transport' clad in compression socks :D. No taxi required I insisted, as we were only 5km from the hotel. We ended up riding like pack mules, and I didn't realise that the 5k route to the hotel was riddled with short and very steep hills (some of which I had to walk over the crest!), but we made it!
I love Durban and it's delicious Indian food options, but for Friday lunch we decided to have a 'safe' lunch at the hotel restaurant overlooking the pool…nice and relaxing. I must state that the restaurant is not owned by the hotel, this is important to note, as I wouldn't want to blame them for what would happen 2 hours later…
Registration done. En route out of there I began to not feel so good, and told Special that we should expedite the trip back to the hotel. He too started to look a little pale, and by the time we reached the hotel the race was on for the room ablution – I made it – just.in.time. Special, barely managed to mouth the words 'Think I am going to V…' before his lunch was expulsed in the most undignified way. The drama would continue for at least the next two hours – at that stage neither of us was considering the race, rather we were thinking when it would end! Needless to say, as soon as I felt comfortable enough to walk around, I headed straight to the restaurant manager. Many words were exchanged and I parted company with two Cokes and his rejected offer of lunch there the following day!
By Saturday morning (and sleeping for over 10 hours), we both felt a bit better, although still bleak, and summoned up the courage to once again eat that thing we once loved called 'food'. Luckily some strength came back just in time for something I was really looking forward to – the pre-race press interviews on top of the Moses Mabida Stadium! This idea truly embodies the organisers of the Trirock – always original, dynamic and making sure that everything is the most fun you have ever had in a Triathlon! It was great hooking up with some of the legends of SA Triathlon – Glen Gore, Donovan Van Gelder and Katie Roberts…we had a fine time answering race ambition questions at the top of the Moses Madida arch!
I certainly was not convinced I would be recovered sufficiently to give my best performance on the Sunday, but I just simply wanted to be part of the action! Conditions were also looking interesting to say the least, with Durban having experienced the biggest swells in over a decade :O. Unfortunately the swim for the sprint distance on the Saturday had to be cancelled, but the organiser Grant came up with an ingenious plan (and significantly calmer sea) for our race on Sunday – we would swim at a quieter part further up the beach, swim along behind the breakers along the beach, then exit and then run 800m to the transition area.
As if to think my woes were over, that evening on returning to the hotel my back wheel deflated. By now I was not in the mood and I starting getting in touch with my French side – with some animated hand gestures and flowery language. Thank goodness for Special who took control of the situation ;D…
Getting into the sea wasn't too traumatic for me, even though I am far from being good at this, and I swam along quite happily until it came time to turn left for the shore. What felt like thunderous waves crashed over my head, I ended up doing a number of involuntary summersaults, gasping for a single breath of air before being thrown under for the next beating…somehow I was spat out and found myself on the beach in a prayer pose, but at least alive!
The run up to transition was perfect for me to recover and re-establish land legs required for cycling. On the bike I did not feel like a super-hero and even thought my legs were going at a good rhythm, there was not much power. While I lost a few places, I simply had to continue at my ace and do the best I could.
The run went a lot better than expected. My stomach did feel a little knotted, but my legs seemed to gather momentum and with a bit of motivation of some fellow athletes to catch, I ended up having quite a good run all things considered! I finished 3rd Pro behind Kirsten Schut (who rode like a maniac?!?!) and Lynette vd Merwe who finished a whisper ahead of me. I was more than happy with this result, and more especially, I had such a fun time on the course!
If you have never done Trirock Durban, it is definitely one to consider! Organisation keeps improving, entry fee is reasonable and atmosphere outstanding!! Thanks to Grant Kunneke for an awesome race :).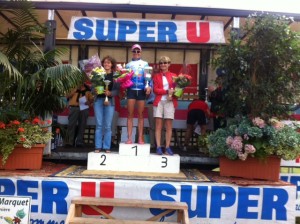 It has been a bit of a crazy schedule, trying to squeeze in almost 5 races in 4 weekends, but France will always be my premier destination for racing! Triathlon is big here and I just love the race atmosphere here :).
So, after my first race in Le Mans where I got a second place, we headed off to Chantonnay to race a Half Iron the following weekend. This time the weather did not play along, and it poured with rain. I detest rain and cool/cold racing conditions, and this certainly got the better of me! The race just did not start well – we had to get everything ready in the pouring rain and I was miserable to say the least. The swim was equally unpleasant – the water was cold, and I was the unfortunate recipient of a giant kick in the mouth at the start which left me bleeding from the mouth it was that bad :/. Out of the water, I ran with my bike to the mount line and discovered one of my shoes was missing – dropped the bike, ran back to the transition, had to look around to find where I had dropped my shoe – retrieved it and started riding. The rain did not cease and the roads were really wet, which made for pretty terrifying conditions. In addition, I had cleaned and polished my bike so nicely the day before that I had ended up getting polish on my carbon rims! I could not brake!!! Luckily, the course consisted of 3x 30k laps, and after the first I decided to call it quits – I had lost so much time due to the braking issue, I couldn't ride fast and was frozen solid… Sorry for all the believers in finishing every race, but this was not one I wanted to finish!! Special, also suffering badly from the cold also pulled off when he saw me (thanks :*), and it turns out 1/3 of the field withdrew due to the conditions. We did feel a bit bad, but soon felt better when we realised how good a hot shower and tea were ;).
By 8pm that evening (and just before the start of the World Cup final), I decided I needed to race the next day (14 July – French National Day), and looked up some running races on  the internet. 8.55pm I called a race organiser of an 18k race a mere 60km away, and yes, we could enter on the day! So we arrived the next morning at Parcay sur Vienne to make amends for our previous day's DNF. Turns out we were 2euro short of our entry fee, so 30min before the start we were driving (low flying) around all the local villages in search of an ATM in order to obtain the shortfall. We arrived back at the entry table 5min before the start, got our numbers and set off on the race with zero warm up. Interestingly, local running races in France are considered 'big' with 500 participants, and generally attract serious runners (mostly 40+) and few 'fun' runners, so the pace was pretty fast from the start. The other thing to mention is that the races are for the large part, mostly offroad which affords one close contact with the local cow poo and mud baths – I was convinced that Special (who is particular about keeping his gear clean and neat), was going to take his Asics Noosa's off to protect them! Anyhow, after the previous day's disappointment, I was running well, and found myself leading the women's race, which I thought was quite awesome, until an older guy, who resembled Einstein, came trotting past me… I won the race, which was a great boost for morale, and a voucher for Decathlon, my favourite sports store in France – for South Africans, it is a bit like Dishchem for sports – you will never walk out with just one item ;D.
Next race Triathlon des Settons – This one involved a road trip to the eastern part of France. The Lac de Settons is not too far from Dijon, and if you know the area, there are a few bumps in the terrain. In actual fact, I think it was one of the hardest 40k rides I have ever done! It either goes steep up or steep down – nothing you can unleash a TT bike on. Once again, after a week of nice hot weather race day was cool and the rain threatened again. The swim start was with the men again :(, which was most unpleasant but I managed to come out with the lead group of girls, including the French long distance champion Isabelle Ferrer, who is from the region. I managed to hold 2nd/3rd spot for half the ride, until a large pack of guys caught up, with to girls comfortably nestled in the pack – I tried hard not to loose my temper, but in a non-drafting race this is utter cheating! It always amazes me how referees are too kind to these girls to actually disqualify them immediately!! DRAFTERS SUCK! I got off the bike some way back, having chosen not to just do the same, and then had to run my legs off again on an offroad course riddled with mud and tree roots which does not aid in fast running times. Not sure where I was, I just pushed to the finish, and managed to get 3rd. Not exactly what I wanted, but a podium, and I knew Isabelle Ferrer was much stronger that me on the day, so she merited the victory :).
The last race was once again a last minute decision – I had promised Special that we would go and see the TT of the Tour de France in Perigeux, and we noticed that there was a Half Iron race the next day, nearby. This was cutting it fine, as we were to catch a train and flight home to SA on the Monday morning, but what the hell!!
Half Iron Villeneuve sur Lot – I anticipated that we may not arrive at this race in the best prepared condition, mostly because of the races already in our legs, the travel fatigue and spending the day in the sun watching the TDF the day before, but I felt I had nothing to lose, and discovering a new part of France is always great! This time, finally, we got hot weather for race day! I like hot alot :). Despite the heat, the rules were a bit flexible regarding wetsuits and so we had to bake in our black wetsuits :P. I came out the water with another local girl (who I would discover is quite a champion), and despite my super fast transition, she soon caught me at around 8k on the bike while I tried to get my legs to work properly for the first 20k. I simply did not have the legs to respond, and had to make do with the legs I had on the day, getting off the bike in second, some minutes behind. I strongly thought I could make up some ground on the run…except my legs had had enough! The run was once again entirely offroad through ploughed fields which really does not suit me! I tried to make out if everything was fine, but I suffered! My legs hurt so much I was only too relieved to get to the finish in 2nd place and extend myself out on the grass like a star :P.
The thing about racing in France is not just getting up on the podiums and getting a trophy, but sharing a joke with triathletes you have never met, feeling welcomed by the local villagers who always offer the best support as volunteers, and exploring the spectacular countryside…while working off the calories from the local food heaven ;D.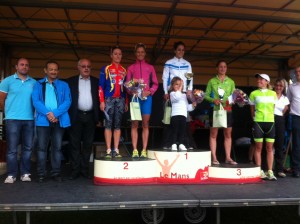 So after a lengthy break from racing after Ironman SA, Special and I landed in my favourite place in the world to race – France :). The idea is to spend a few weeks getting away from the cold in SA, and get some sort of speed back in the legs. For the first time, Special has joined me, and even though he is not ready to rival the Pros, he had a thoroughly enjoyable time racing in Le Mans this past weekend.
We arrived on Friday, and raced on Sunday – a bit rough for me, but I have done worse, so I thought, nothing to be lost! I have raced (and won) Le Mans before, so at least I was returning to a familiar race, with excellent organisation and super friendly folks. I was heartily welcomed and kindly given race number No. 1…. no pressure at all ;D.
I had to calm poor Special down – he is already stressed before a race, but one where the instructions are given in French was always going to be a challenge! For me it was great seeing old friends – Natascha La Corre, Simon Billeau, Jose Jeuland :). However, given that I haven't raced since April, the challenge was remembering how to race an Olympic Distance race, and move my bottom as fast as possible!
The swim took place in a lovely little river in the centre of the town, excepting for the fact that it was rather chilly for me, and I couldn't quite motivate my arms and lungs to keep up with the two leaders. I came out of the the 'riviere froide' 30sec down in third place. For a long distance athlete 30sec is nothing, but in an OD event, this can quickly add up. I struggled with my wetsuit with my feet refusing to free themselves from their neoprene captor. Eventually, after what seemed like a slow motion eternity I finally managed to get to the mount line and start my bike leg.
Although the rain abated, I was cold and struggled to get myself up to speed on the bike. Partly due to feeling cold, and partly because my legs remember that the first 20k is normally a warm up, I just couldn't get going. That is, until a youngster caught up with me and basically put the match under my arse! I rode with her for a while until I got my rhythym, and then gave her some big gear treatment until I managed to drop her and caught the second girl in the process. It was a fun ride, with some lovely technical bits and smooth roads :).
I dismounted a long way off the eventual winner – Julie Le Colleter, whom I knew was a darn good short course specialist, but I was keen to hold on to my second place. I started the run feeling a bit awkward, as is always the case with a first race in a while, and to top things off, this course had a lot of challenging off-road, and very muddy bits to contend with! My running legs felt more like cramped economy class aeroplane legs, but at least I managed to hang on long enough to get second place :). Not exactly a great performance, but a good start! Special also had a good day, making a considerable improvement to his Olympic Distance time, and to my relief, did not get lost (in translation)!
This week, we prepare for a Half-Iron distance, which I am looking forward to, and more especially the great training here in France :).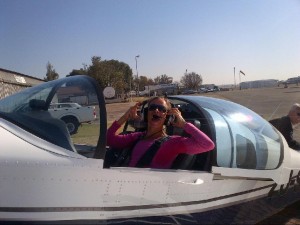 Today I completed my first solo flight as a student pilot – a feeling not too disimilar to completing your first Ironman! For those not in the know, this means taking off in an aircraft, without your instructor, and flying it around by yourself before landing it safely, while your already terrorized instructor holds his breath on the ground!
So, to start from the beginning, I decided to let you all in as to how I got into this flying "thing" to quote mother Koll.
To start, Special is a licenced PPL pilot who gets far more excited jumping into a plane than going for a 5 hour bike ride, but realised he wouldn't get to see much of me unless he joined me for the 5 hour bike first ;). We have been on a few adventures down to Durban and some lunches with the Bava Tech Company Sling 2, which is great fun and gives one a huge sense of freedom, but the thought always crossed my mind, what if something were to happen to Special while we were flying together? Simply put, I would have no idea how to fly the plane and get us on to the ground! Unlike alot of aviators, I never had the childhood dream of flying (it was hardly even an option for girls when I was a kid!), but I have grown to love it the more I learn. I confess to being a control freak, so learning to fly makes me hugely happy getting control over such a complex machine. Being given the opportunity to learn on the amazing Sling 2 by Special (I think he was trying to distract me from inflicting more physically challenging pain on him 😉 ), and his partners at Bava Tech was simply an opportunity I could not pass up on!
It started with the strict medical exam which provides you with the certificate needed to start flying. I wasn't nervous for this, given my fitness far exceeds that average pilot, but was concerned about the eye test (my eyesight not the best!) with it's terrifyingly minute circles and dashes. Luckily, I passed that! Then came the bicycle test where heart rate is measured – I thought this would be a walk in the park, but the poor Doc soon realised that on such an inadequate machine it was going to take me more than 20min just to get up to a 140 HR! Next the lung capacity test – I actually 'failed' this, because my result was so far off the chart it would not record :D! Of course I was smiling, but the poor Doc was already recommending that I may have to get a certificate from a pulmonary specialist to prove that the aforementioned lungs belong to an athlete and therefore are CAA compliant as 'normal'. Anyway, apart from disrupting all the Doc's machines, and blowing into pipes until I nearly fainted, I passed the medical.
Next up was a first flight with my very experienced (and mostly patient) instructor whom I will call the 'Detonator'. I am sure that the objective of this initial flight is to make the student wet his pants, scream with terror, and cry until he is safely back on the ground. Although I had flown many times before, I was not prepared for this 'initiation'. The Detonator asked if I liked flying – "Yes, Special and I go on lovely scenic flights for lunch"…. He then proceeded to show me what a spiral dive was like :O. There were some BIGGGGG words going through my brain! He asked how I was doing – I replied "A little queazy, but not nervous at all…" If only he knew :).
Surprisingly, I coaxed myself back for more, and from there on the lessons actually became more enjoyable. There is alot to do in an aircraft just to keep it in the air, and it tests your multi-tasking abilities to the max, but it seems all worth it when you realise that you are in fact flying freely, like the birds, and best of all, there are no E-tolls or traffic jams! The training is, however, quite intense, and the Detonator does put me in some nerve wrecking situations such as stalls, spins and spiral dives, which gives me alot of respect for the act of flight, but also the skills to deal with challenging situations.
In addition to the practical side of things, I have to undergo a series of 8 theoretical exams. I graduated in 1999 with a degree in Politics, so that means I haven't actually had to 'study' in donkey's years, politics is totally unrelated to flying, and to top things off, I was never into science and maths at school! This means that all the highly technical subjects involved in flying are a real challenge to me. Thankfully, for the ske of all passengers, the standard is a very high 75% as opposed to the current high school pass rate of 30%. The books are thick and full of technical info, and not much in the way of colourful pictures and graphics. You have to study absolutely everything, and then you do a strictly supervised online exam, which in general consists of 25 questions (which means you room for error is very small), all randomly generated. The answers are presented in multiple choice format, which sounds simple enough, excepting that there are two challenges – you need to firstly understand the questions (If English is not your first language, good luck!), and secondly I have hardly found any of the answers to be wrong (you need to choose the most appropriate, correct answer). For someone in the creative and sporting business, I cannot express how difficult it has been for me to understand things like the workings of a piston engine and magnetos – poor Special (who has an engineering background), has had his patiently conducted explanations met with my vacant stares! Anyhow, I have so far managed to pass three of the eight and am currently addressingly my fear of maths by tackling the navigation subject :).
Doing my first solo, which came about quite unexpectedly, certainly did not come about easily. Flying circuits around the airfield with your instructor requires huge amounts of concentration, and I frequently found myself frustrated at my own inability to co-ordinate and check everything AND get it all right at the same time. My advice to anyone trying to do the same – get a plentiful supply of sweets for your instructor – it keeps them quiet and calm ;D.
And suddenly, after doing some rather bouncy landings, things just worked, and my instructor suggested that I give it a go on my own. You will never be totally ready for this moment, but strangely I was totally calm and thought "Cool, he finally thinks I don't suck that much!". The Detonator got out of SLZ and sent me down the taxi way on my own. The guys at FABB were just great, telling everyone on the radio frequency that I was on my initial solo (so steer clear…), and as I came in for my very first solo landing, I had to giggle at the queue of 4 aircraft waiting for my arrival so that they could take off ;D. It was a wonderful landing (according to me), and once I had evacuated runway 36 there was much applause over the radio – I felt like an absolute superstar, except for the fact that I could still feel the presence of the Detonator, and made sure to do all my after-landing checks correctly, still fearing a knuckle rapping! On shutting down, we took some pictures of this great moment in my life, and then I was initiated into pilothood with a thorough hosing down with the water pipe from the guys at Sky Africa (they forgot I am a fast runner ;D). A while to go still, but a milestone on the path to getting my PPL. Over and Out SLZ….
Thank you to Special and Bavatechnologies for the opportunity and Adidas Eyewear  for the great Duramo glasses which are not only good for sport but provide excellent filtering for aviation without the obstruction of rims – give them a try Pilots 😉
keep looking »