Aug
18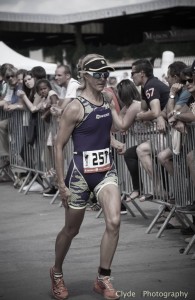 I have done a lot of races in my career, and this year I was starting to feel a bit bored – the same big name races year after year, some with podium finishes, and some catastrophic flops. I really felt a need to get that feeling of excitement back, of when I first started in the sport of Triathlon. I will make no secret of the fact that I think that the big label races have lost the plot when it comes to athlete experience, race entries and licences have become so elevated that these events are dominated not necessarily by the talented, but rather the wealthy elite with more equipment than an TDF team warehouse, and let me not get started on the doping issues! Having done a few calculations, it was evident for me that for the same cost as 1 big local event (that I have done countless times), I could travel to Europe and race a few new races, in lovely locations and I could meet some lovely people on the way….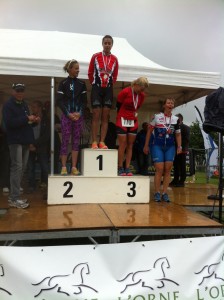 First stop on the French adventure was a Half-Iron distance called the Surviv' Orne in the epicentre of apple and Camembert cheese production –  Normandy, in a magnificent town called La Ferte Mace. Normandy is particularly green, and despite what it looks like on the map – rather hilly! The course looked magnificent through forested roads and a challenging run (which I like!). Unfortunately, on race day we woke up to pouring rain which would not abate the entire day! For those that know me well, I hate rain and cold and would rather out running in 35 degrees at Midday than have one drop of water land on my head :D! Anyway, I wrapped myself in a roll of garbage bags and off we went – I wanted my Camembert cheese at the finish!
I struggled a bit in the swim, mostly due to the cold, but somehow still managed to enter transition first. I then spent 5 minutes putting on all the clothes I could (which would save me from the conditions!), and even went so far as to put sandwich bags in my cycling shoes to try and keep my feet dry (it worked) – African solutions for African athletes! The conditions on the bike were horrendous – a driving wind with pouring rain in your face. I soon realised that this was going to be a race of survival, and one had to be sensible. I was quite surprised to be in the lead, especially in those conditions, so I just continued to proceed with the necessary caution. At the 35km mark, on a relatively straight piece of road (I had just navigated a wet corner), I suddenly hit something, my wet hands could not hang onto the equally soggy bars and hit the tar rather unceremoniously….I wanted to cry, but I also really did not want this race to beat me! Even the lead motor bike (who quickly came to my rescue), could not say what happened. To this day I still don't know what happened. We managed to straighten out my bike, my clothes were all ripped (including a gapping hole on my butt), but mostly they had protected me from the worst of the road rash. I managed not to cry, got back on and even though I was in pain, I just kept thinking 'carry on' no matter what. I did get caught with about 10km to go on the bike, mostly probably due to my now petrified bike handling, but I thought I could possibly still do it on the run. At least on the run I felt back in my safety zone, except my body was hurting so much I could just lock into a steady pace and hold it. I finished second to another Caroline, and although disappointed I got my Camembert cheese and great support from the race organisers and many cheers from the drenched spectators. A wonderful, wonderful race I would love to do again in the sunshine! Merci Djamil and Guillaume…next time it won't rain ;D.
The next day I woke up in agony – a fractured rib and some nice road rash on my left shoulder :(.
I had 3 weeks to recover (train) up for my next big event – the IronBreizh Half Iron distance in Brittany. Brittany is the land of Crepes and salted caramel… I had to be there! A rib is just painful, but you really can't do any further damage, so I tried all sorts of things including wrapping myself in Elastoplast tape just so that I could at least bike and run. Swimming was a problem, and I only managed to turn my two arms a few days before the race.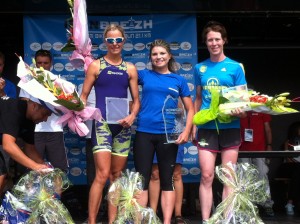 Once again, a magnificent race in a part of France I had never been to before. The people in this area are some of the friendliest and the reception you get is really warm. I doubted fitness due to the pesky rib, and just hoped I could get through the swim and avoid being kicked! After a surprisingly good swim (I think I was trying to avoid contact), I headed out onto the bike a bit of a way down, but in second place. The bike course was inexplicably hard, and because I knew my condition was not tops, I just chose to ride within myself and give what I had at the end. The girls were strong, and by the end of the bike, I was down in 5th place and I thought that I was now just racing for the Nutella Crepes at the end, but surprisingly I had a good cadence on the run, even though it hurt every time I took a breath because of the rib, and I started to get excited when I could see I was starting to close the gap. I have to say that my Saucony Fast shoes were meant for speed, and now motivated, I just got faster and faster – awesome! I ran the fastest run split to get myself onto the podium (3rd) – it was probably the race of the year for me, as I hurt like hell and gave it my all to get there! The only disappointment was being so stuffed at the end that I had to wait 2 hours before I could sample the crepes :D! Thanks to the folks in Inzinzac-Lochrist (just try and pronounce that…), and Queven, race organiser Christophe, and our friends in Brittany Martine and Jean-Luc for spoiling us so much.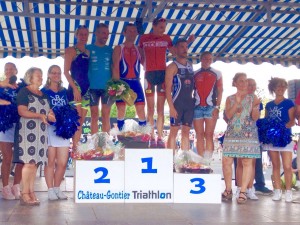 The next week was challenging – my legs were sooo sore and we desperately wanted to race the 'Party' race as I call it – an Olympic distance in the region of Mayenne (neighbours of Normandy). What I really enjoy about racing in France is that it is so much fun, so unpretentious that you just want to do it anyway, no matter how you feel! I raced the first edition of Chateau Gontier last year, and it was such a fun event that I HAD to do it this year again, dead legs or not! The race has such an amazing organisation that it is hard to believe that they are all volunteers and towns folk who are genuinely proud of their event and want every athlete to have a good time. I raced my heart out with a smile on my face the whole way, even though I got beaten to second place again by an old friend Frederique Joussemet – the video says it all
I have to say thanks to so many people who created all these wonderful experiences for me, but especially my friends in France, Saucony South Africa and Adidas Eyewear. This is what Triathlon should be, sharing a love for the sport and making life-long friends, not a high price tag and 'World Champs' for those that can afford it. Encourage your friends and family to do a race for fun, and remember why you started the sport in the first place

Comments