Jul
9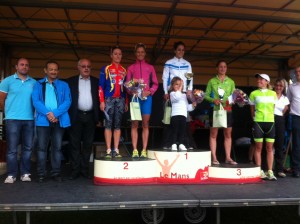 So after a lengthy break from racing after Ironman SA, Special and I landed in my favourite place in the world to race – France :). The idea is to spend a few weeks getting away from the cold in SA, and get some sort of speed back in the legs. For the first time, Special has joined me, and even though he is not ready to rival the Pros, he had a thoroughly enjoyable time racing in Le Mans this past weekend.
We arrived on Friday, and raced on Sunday – a bit rough for me, but I have done worse, so I thought, nothing to be lost! I have raced (and won) Le Mans before, so at least I was returning to a familiar race, with excellent organisation and super friendly folks. I was heartily welcomed and kindly given race number No. 1…. no pressure at all ;D.
I had to calm poor Special down – he is already stressed before a race, but one where the instructions are given in French was always going to be a challenge! For me it was great seeing old friends – Natascha La Corre, Simon Billeau, Jose Jeuland :). However, given that I haven't raced since April, the challenge was remembering how to race an Olympic Distance race, and move my bottom as fast as possible!
The swim took place in a lovely little river in the centre of the town, excepting for the fact that it was rather chilly for me, and I couldn't quite motivate my arms and lungs to keep up with the two leaders. I came out of the the 'riviere froide' 30sec down in third place. For a long distance athlete 30sec is nothing, but in an OD event, this can quickly add up. I struggled with my wetsuit with my feet refusing to free themselves from their neoprene captor. Eventually, after what seemed like a slow motion eternity I finally managed to get to the mount line and start my bike leg.
Although the rain abated, I was cold and struggled to get myself up to speed on the bike. Partly due to feeling cold, and partly because my legs remember that the first 20k is normally a warm up, I just couldn't get going. That is, until a youngster caught up with me and basically put the match under my arse! I rode with her for a while until I got my rhythym, and then gave her some big gear treatment until I managed to drop her and caught the second girl in the process. It was a fun ride, with some lovely technical bits and smooth roads :).
I dismounted a long way off the eventual winner – Julie Le Colleter, whom I knew was a darn good short course specialist, but I was keen to hold on to my second place. I started the run feeling a bit awkward, as is always the case with a first race in a while, and to top things off, this course had a lot of challenging off-road, and very muddy bits to contend with! My running legs felt more like cramped economy class aeroplane legs, but at least I managed to hang on long enough to get second place :). Not exactly a great performance, but a good start! Special also had a good day, making a considerable improvement to his Olympic Distance time, and to my relief, did not get lost (in translation)!
This week, we prepare for a Half-Iron distance, which I am looking forward to, and more especially the great training here in France :).
Comments