Mar
20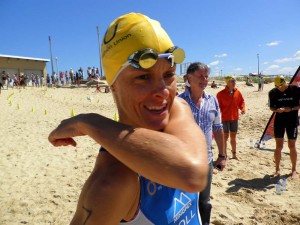 Saturday morning saw me do a last minute flight to Port Elizabeth, with a duel purpose – 'participating' in the ATU African Cup and attending the TSA awards evening on Sunday evening.
I have to honestly admit that I cannot remember when last I did a draft legal race! Call me a little 'old school' but when I started doing triathlons ALL races were non-drafting, and yes, for me this is the sport that I love! Well, although my focus has been on the long stuff for a few years now, I was in PE, so I thought I could get in a good training session with the fast Olympic girls and enjoy some sun :). In reality, I was not prepared for how much things had changed, and how very, very fast these races are!
Being a little shell-shocked that I could not ride my Time Trial bike, I scrambled to find a regular road bike to do the race with – I eventually decided (for fear of damaging someone else's lovely machine), that I would would remove the pile of clothes and punctured tubes from my old Alu Cannondale and use that for the race! Sure, it is around 15 years old, but I thought if it was good enough to win the SA Champs back in 2003, then it would be just fine :). Trouble is, I didn't actually make it onto the bike ;D…
The race started at a furious pace, with many of the local and international girls having nothing but Olympic points in mind. Unfortunately, my own attempts at being 'fast', resulted in me diving into a less than impressive wave which completely dislodged my goggles and left me one contact lens short! For those that understand my particular eye condition this is not good! After replacing my goggles I attempted to catch up to the splashes of feet ahead of me. With the swells and my distorted vision before I knew it all I could see was blueness all around me, I was way off the pace and heading fast in the direction of Durban rather than the swim exit! Needless to say, I had the misfortunately embarrassing moment of exiting the water (in the completely wrong place ;D) last, and much too far back to actually be of any significance in the race… Decided it would be best to stay out of the way and go and prepare myself with one lap of the Ironman run instead ;)…
The good part of the day came later in the evening, at the TSA awards evening. Here I have to comment on how much the athletes have been valued and supported since Debbie Alexander has been at the head of our Federation…
The hardest part of accepting an award is not the decision of what on earth to wear, or shaking hands, but in remembering that awards do not come from a single event, but from many sacrifices and even more failures! There are many hard moments, when the constant struggle for money, the sacrifices, frustrating injuries wear you down and entice you to quit for the sake of an easier life. Being awarded the Oscar for 'LD Triathlete of the Year' carries tears, memories and the words of those who never fail to believe in the dream :). Thank you all.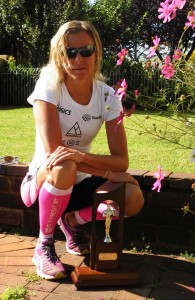 Comments