Dec
2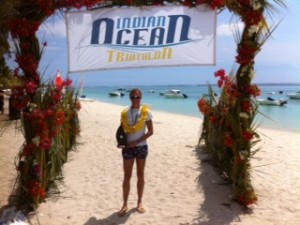 There is talk of places to see before you die, but I have to add to the list of races to do before you die! Although I have now completed the Indian Ocean Triathlon 3 times now, it still takes the number 1 position on my list ahead of ANY Ironman or big name race! Having just taken second spot on the podium (for the second time, dammit ;D!), is not the reason for me being completely besotted with this race, but rather the magic that is Mauritius…
This year, it was great having Special, and a minibus load of other South Africans come out and do the race :). As Special remarked, when you see pictures of places like this, you always have that tiny (or considerable) doubt that what you see in the pictures has been Photoshopped to such a degree that it resembles nothing of the sort once you arrive at the destination. The fact is, Mauritius REALLY is what you see in the pictures!!
Before I visited Mauritius for the first time, I thought it might be nice, but expected it to be very touristy, overpriced and full of Honeymooners and beaches overrun by screaming children. I was completely blown away by how beautiful the southern part of Mauritius is – wild, uncrowded, quiet beaches, magnificent resorts – surrounded by authentic and simplistic villages, friendly, peaceful people and not a shopping mall in close range! While tourism, and to a smaller degree, sugar exports are the economy's primary sources of income, it is clear that this country is on the move. For starters, it's people are beautifully peaceful, unconfrontational, and eager to please. The new airport, which has only been open for the past 2 months, is a modern, magnificently designed structure and equipped to deal with a much larger number of of tourists, business and cargo. On the topic of air travel, I am usually highly critical of airlines (especially those who are unreasonable rip-offs with regards to the transportation of bicycles), but I honestly have to recommend Air Mauritius! Even though my bike box was 24kg (1kg over the standard 23kg), they did not make me unpack the whole case to remove a 1kg crank – THANK YOU! Same goes for the inflight service – crew was relaxed, professional and engaging – THANK YOU for not treating passengers like hostages or children for that matter ;D. No complaints when three successive cups of tea were requested!
Back to the purpose of our visit – the Indian Ocean Triathlon, hosted by LUX* events and VO2 Max Voyages. It is evident that despite Mauritius being known as a holiday destination it is fast becoming a leader in sports events – with perfect weather, great infrastructure and idyllic settings, it is the ideal setting for many endurance sports, biking and water sport events!
So, if you need convincing here are reasons to come and do the IOT next year:
The race is not about profit or numbers – you, along with people from at least 15 other countries, feel as though you are being welcomed and encouraged to have fun on the training grounds of the Mauritians.
Stay with like minded people for a few days and have a blast at first class resorts.
Buffets, buffets, buffets
Swim in calm, turquoise ocean waters, at 28degrees, and filled with an amazing array of natural corals and teeming with colourful fish.
Exceptional race organisation, with the priority being the athletes safety and total amusement in mind – Mauritius is more than capable at organising a top class triathlon!
 A race that encourages and involves families and spectators as much as possible.
Costs less than any 'Big Brand' race and far, far better
Your most beautiful finishers photo ever!!
As for my experience – I had a good day (despite being pretty unfit due to the bacterial illness I suffered and the eye surgery :P), but did get my butt kicked good and proper by Charlotte Morel :D! The swim was just the way I like it sans-wetsuit, warm water, and ok, a heavy current on the last section ;). The bike course is far from being a 'holiday' with the arduous climb up the Chamarel pass and an equally hairy descent through the sugar canes and the unexpected dogs/chickens/buses, but an absolutely amazing fast passage along the southern coast to the imposing rock of La Morne. The run is my favourite part – mostly on crunchy gravel, offroad and under the hot, hot sun! The 3 lap run, is for a change,  also challenging with 3 passages on the beach! Running for 500m at a time on the beach, passing holiday-makers sipping cocktails is no mean feat, but ending the race under the magnificent finish banner – hand made by the locals, and being personally congratulated by the race organisers is priceless! A very interesting touch, is that all the participants abandon their post race lunches, in favour of an accumulated and spontaneous gathering to welcome the last finisher in, with thunderous applause. I have to ask where is such personal touch to be found at any other race of this standard?
As for Special, he was totally enchanted by the island, it's people, the fabulous street Roti vendors and the very fancy finisher's medal he received :).
So, if you're tired of the big race money making machines, I invite you all to come and do the Indian Ocean Triathlon in November next year!
Merci a Albert de LUX, Laurent de VO2 Voyages, la Federation de Triathlon Mauricien, l'office de tourisme, le Tamassa Resort, la vendeuse de Roti aux Baie du Cap ;D…. Exceptionnel!!
Comments