Jul
6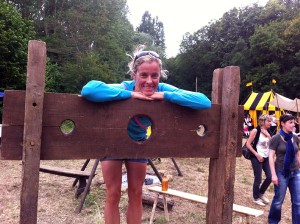 France has to be my most favourite place to train, 3 weeks have already passed since my arrival back in Poitiers, and my silence has been due to my selfish enjoyment of everything this great country has to offer.
As everyone has been asking what training here is like and how things have been going, I have decided I must return to my laptop on a quiet day, away from the countryside that I enjoy so much and tell you about it…
Firstly, I could not do what I do without the support of my Federation TSA, my good friends here, Valerie and Tristan that welcome me into their home every year, and Special who is back home and has a few late nights listening to me ramble on Skype about my training and of course the food that I am eating :). I am often asked how I manage to do all this, and all I can say is that it is always challenging, especially financially, but if you have passion and really want to do something, sacrifices and surviving on very little is a small price to pay for the riches I get in return…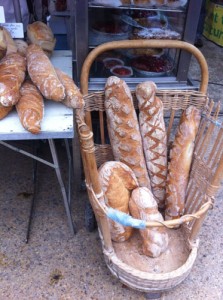 Back to the subject of France :). For me this place has all the ingredients of a perfect training ground, with some french attitude of course ;)…
Food. Yes, I consider this an important part of training – good, quailty food makes for good fuel and recovery. In France, it is true that people in general are not noticeably over weight or obese. The truth is, that even though the fast-food oulets do exist, they are not the primary choice of french mealtimes. Open air markets are particularly popular, full of fresh, organic produce straight from the local farmers and a complete delight for the senses :). Here, I have the choice of fueling up with an array of nutrient rich food, and I certainly feel that my body performs and recovers better as a result. Ok, and my french blood means that I have an affectionate relationship with colourful, fragrant and tasty food :).
If you really want to know the secret of the french – they eat a wide variety of fresh food, in reasonable quantities, and they move – yes, walking or riding a bike to your destination is what keeps them trim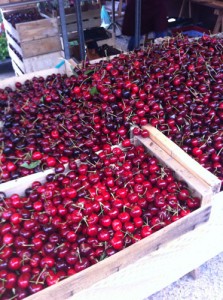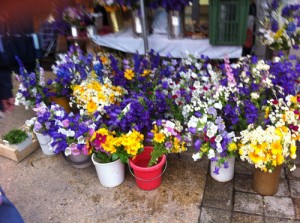 Training facilities here are excellent – almost every small town/village has a pool and sporting facilities. Poitiers, being a city, has a number of swimming pools and a track for run sessions. I am currently training in a magnificent, outdoor 8 lane, heated 50m pool :). The only downside is that there are alot of complications as to when you can swim – the general public and children take precedence over people who actually want to train. No such thing as swimming whenever you want to! I am fortunate that I get to swim with the triathletes of Stade Poitevin Tri Club, otherwise I would have to battle through the breast stroking public to be able to swim! Lane ropes are also considered a privilege here, and you have to know someone who knows someone to get one ;)… But I really cannot complain, there is nothing like swimming outdoors in the open air with the sun on your back :).
The most amazing thing about training in France has got to be the riding :). Nothing on this planet beats the impressive network of small roads in France! Plan your ride early in the morning, and it is quite possible that you will not see a car for 100k! The only thing that intrigues me is that although there are so many roads, so many of these roads are so small that only one car can fit on them! This is particularly challenging when a bicycle or two cars have to pass – on either side of the road is usually a trench (for water drainage), usually embedded with stinging nettles and totally impractical for pulling off the road to allow another vehicle to pass. I have learnt, even in a car, that the best strategy is to do what the french do – impose your will! Pretend you don't see the other vehicle and just go for it ;D! It is also clear to me why the Tour de France was invented in France – there are many, many cyclists here of all ages and they are well-respected :). Not once have I been hooted at aggressively even when I have mistakenly been on the left hand side of the road ;D. The average Joe in France really knows how to ride a bike, and having joined a group of mature cyclists on a Thursday afternoon, I can tell you that I am really pleased if I can hang onto the wheel of a 74 year old! Yes. you read correctly, and I openly admit that I was dropped by someone of advanced maturity ;D. It is now my quest not to get dropped on the Thursday afternoon Savigny ride :D!
Running has been equally delightful :). a mere 500m from where I am staying I am into the superb forests :). It is remarkably peaceful and I relish those early morning runs with the sun glistening on trees sprinkled with dew drops, the smell of nature and fresh air just makes for inspired running :). If you're really like you may come across a shy deer, squirrel or grumpy wild pig…nothing scary for a girl from Africa ;). I have also had the good fortune of joining the guys from the PEC running club for a track session on a Tuesday – reminding me alot of Boksburg AC back home, only with a french version of the same characters! Universally, much like the Boksburgers, these guys enjoy a bit of a run, but more so enjoy a pint at the Brasserie across the road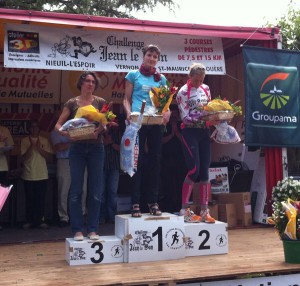 As for the racing, my focus is now on preparing for the World Championships in Spain, but in the meantime I have been taking part in some local races, with some interesting prizes….bottles of wine, apples, local fromage, sausages ;D, and flowers…
This weekend we're off to Le Mans…watch out french drivers, I am coming ;D!!!
Comments