May
30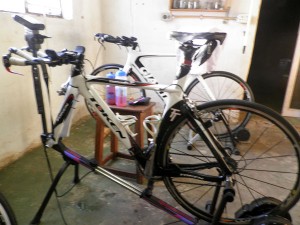 Winter and the chilly weather which accompanies it are just not my thing! As much as I try I cannot avoid the seasonal depression triggered by the dark mornings and thermometer which guages temperatures below 20 degrees…nevermind the very scary 1 or 2 degrees!
I am a complete cold weather wimp and will do whatever I can to totally avoid the situation, which means that if it cannot be done at 12 in the midday sun, then I will train indoors!
I have recently dedicated a portion of the garage (that gets the morning sun ;D) for indoor cycling sessions. I have tried the lounge in front of the TV, but I have to admit that I end up watching the TV and then my HR and effort clearly goes for a dive, so I have now banished myself, the Wunderfluegel and Special to the 'Suffer Dungeon', where there are no distractions and race victories can be made ;).
Having avoided the trainer all Summer, I have come to realise that it is in fact a highly effective and underestimated training tool. You cannot slack off on the indoor, there is no tailwind to help you and if you watch the numbers it will keep you very honest! Whilest it is a test of mental strength past the 1 hour mark, I have previously subjected myself to a 4hr sweatfest in one of the hottest places on earth (Singapore), in the company of my good friend Emma Bishop and the Paks…just to see if it could be done. Yes, if you can master your head you will get incredible strength from it!
Whilest I am currently turning out a mere 1h30 -2hrs at the moment, I am loving the pain and the big puddle of sweat on the floor at the end of it all! My quest is now to find the Sufferfest of all indoor sessions to challenge myself :). I invite all my readers to submit to me their hardest indoor trainer sessions and I will try them out….comments and accreditation of course to be posted on FB after each completed session – thanks and bring them on!!!
Comments