Feb
12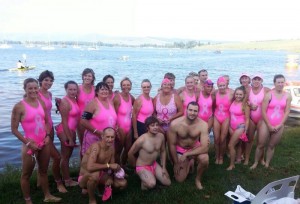 There is something about taking part in a new event that makes me feel like a young athlete all over again. At my first ever Midmar Mile I fell in love with the atmosphere, goody bag and ogled out my swimming heroes just like I did when I was a much younger athlete! The Midmar Mile is an iconic swimming event on the South African sporting calendar, and something that I have never really planned, but was on my bucket list. In it's 40th year now, the race attracts over 30 000 swimmers and is recognised as the World's Biggest Swimming race.
Initially, I always scoffed at the idea of driving 5hrs from Joburg, swimming 1600m across a dam, and then driving home again. Really now, how could 1600m be challenging for someone who takes part in events lasting 10 hours?? I would hardly class that as gruelling or even worth getting out of bed for!
This weekend, my smuggery came to an end, when Special and I decided we were going to commit to doing the 8-mile challenge for the Pink Drive. With this, two of my issues were addressed – 8 miles was challenging and the motivation of supporting the cause of the Pink Drive (Breast Cancer awareness) sealed the deal. To clarify, while the Midmar Mile is theoretically only 1 mile, we would compete in all 8 events with a short break in between each, before being transfered back to the start by boat. The total distance for the weekend would be 12.8km in total. We would swim 4 x 1mile on the Saturday and then another 4x1mile on the Sunday. I honestly thought this would be a walk in the park, and thought that it would be a great idea for Special to get some more open water experience before his biggest challenge, the Ironman in April. I really thought this would be EASY!!
What struck me when we first got to the Pink Drive 8 Mile tent on Saturday morning, was the variety of ages going from 13 to retirement, but this was one committed bunch of pink clad swimmers! Even more amazing, there were some top swimmers there too – Melissa Corfe (previous winner of the MM) and Mandy Loots (Olympian), as well as Cameron Van Den Berg (Olympic Medalist). I was suddenely overwhelmed with shyness and could not bring myslf to express my admiration! I must admit that when Cameron shook my hand at the start, I really struggled with those first few strokes as a result!
My real hero of course is Special – Milan, who readily accepts my crazy proposals of a 'fun' weekend – I sometimes think he just humours me and says 'yes' without really thinking about the challenge I have just signed him up for ;D!! For those who don't know, Milan only asked me to show him how to swim a year and a few months ago. I think he figured that with the amount of time I spend in a pool, he would see more of me if he got in there himself! I remember clearly in the first month we would get really excited if he could swim 8 lengths of the gym pool without stopping, choking or cramping :D!! I can't say that he loves swimming, but he currently has a truce with the water :). His first open water swim event was the Ebotse 3k in January this year, and we were only around 70 competitors. Unfortunately, the longer races usually attract the more experienced swimmers, so he had his work cut out for him! We decided that the goal would be to finish the 3k comfortably, and not be last! He worked hard that day and finished 2nd last :). For me, the greatest thing about this, is that he doesn't fear embarrassment or being last, and simply has the courage to take on what many others don't have the guts to do…
Milan managed to complete the 8 Miles this weekend :). It was hard for him, as he took almost twice the time per mile than some of the top Pink Drive swimmers did. The added time in the water ensured that he got alot colder than most, had to rush to make it back to the tent before the boats would depart to take us over to the start again. Most of the time, he had to grab food and drink to consume on the boat over to the start, while the rest of us had enough time to eat, drink and even have a massage!
My own arrogance about how 'easy' this was going to be, was short lived. After seeing Craig Diets – an American swimmer who was born without arms and legs and managed to swim the mile in 35min using only one fin and his own special technique – I realised that 'easy' is always relative, and you can always make it more challenging for yourself by setting the bar higher! I must say, I thoroughly enjoyed each of my swims – probably a bit more relaxed than if I was actually racing, but I tried to increase the pace a bit with every swim. At the end of day one I can assure you, that I had a lengthy afternoon nap!!
On Sunday, Special was nervous – he knew that the arms were feeling a little tired and he had the pressure of completing the remaining 4 x 1mile in an adequate time that would get him the boat ride back to the start in time! It was hectic!! I encouraged him, and told him that once he got through the first three, I would swim the last mile with him :). The poor guy spent so much time in the water that the 'Pink Drive' logo on the back of his bright pink Speedo actually sunburnt onto his bottom…too pornographic to show, but now that is commitment to a cause!
We finished the last mile together, and collected the 8th medal for the weekend, and were finally welcomed into the 8-mile club for the first time :). Together, the Pink Drive swimmers raised over R300 000 for this fantastic organisation! Milan and I loved every minute of it, and wish to thank the awesome people that swam with us, the ladies who provided the food, Mangwanani Spa who massaged our tired shoulders, and Di Doveton who welcomed us into the 8 Mile Pink Drive Club even though we had never done the Midmar or been in the swimming circles :).
Thank you to everyone who made a pledge towards our Pink Drive swim – your support kept us going!!
Comments