Oct
5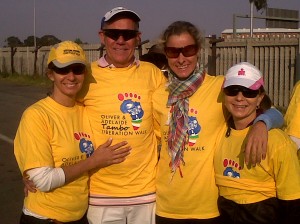 I have been back in SA for nearly 3 weeks now, and most of that time I have spent admiring my Asics running shoes from the comfort of bed at 6am! Were it my choice, it wouldn't be that way, but after 4 months solid racing and training in Europe, my body was in no uncertain way telling me that it was no longer going to be forced to co-operate.
The more than niggling calf pain that I was experiencing for the past two races, is in fact a muscle tear. While my wonderful physio Linda Steyn is an expert at fixing the things that I 'break' because I simply do not heed the signs, she did insist that I had to take time off running. This seemed a completely absurd idea to me…I mean, running is what I do??? She then asked me when last I took time off to recover properly? Apart from the odd day here or there, I really could not answer her! As athletes, so often we blame performances on what is wrong with our bodies, or not training hard enough, but it takes a whole lot of balls to admit that through our own obsessive compulsiveness we do not rest enough!
I am, unfortunately,  firmly from the school that believes that I should be doing something productive ALL the time – if I am not training I need to be working to make money to support my Triathlon habit, and if not that, then I need to be making a contribution to the well being of society in some way or another. My head will always tell me that only a lazy man is still in bed at 6am (even on a weekend), even though my body is desperately begging for at least another 1 to 2hrs sleep… In essence I like to believe that my body is that of super-woman, and that it will do anything I want it to, no matter how I treat it!
Finally, after having had a cold which left me reaching for the Kleenex at an average of 30 second intervals, plus the calf tear which made it impossible to run, I had to succomb to what my body needed most – REST!. Of course I have felt twinges of guilt, especially when friends all around me are training up for Ironmans and the first sprint races of the local series, but I have come to enjoy this time as I know that I am building a stronger body…even though it doesn't feel that way right now!
The extra time has given me the opportunity to do things in the sporting community, without actually having to race, and yes, that is possible! Last weekend, I helped the Boksburg Athletic Club man a water point at the Oliver and Adelaide Tambo Walk, which was a fun experience! Most of the club members in attendence all had an injury of some sort, ranging from calves, knees, hips and general old timers – which made for great conversation as we got to compare our complaints! It is not always easy to explain how you feel to those who are (presently) strong and training hard, but mix the injured together and it is like one mighty support group!
While setting up the water point we had to delegate tasks according to the mobility of each member, so that no-one would pick up, say, a shoulder injury from carrying crates of Coke with an injured knee! As this was a walking race, I estimated that the pace would be quite relaxed and that we wouldn't have cups of Coke being smashed at high velocity out of our hands. What I didn't count on is that the leading males were actually walking so fast that I had to run (hobble) after them with water sachets and cups of Coke splashing about!
My point about dealing with injury or flu or lazititus, is simply that your body is pulling up a hand brake. You can either wallow in self pity, or, if you can handle the head part, then you can see it as the performance enhancer that will boost you into the next season. Tomorrow, I am putting in my great new xtenex transition laces into my Asics shoes, ready to tackle the new Tri season… 20 minutes every second day….for now!
Comments