Oct
7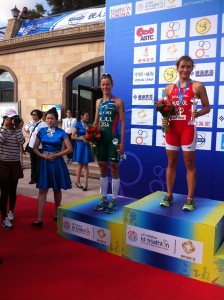 After having taken the Winter off from racing (for the first time in years!), I was keen to get racing again. The first race was to be the fantastic new Trirock event in Durban, which was to serve as my warm-up event for China. Unfortunately, Durban was not my best day, with isssues on the bike leading me to withdraw after the cycle leg. I felt like a complete loser, but looking back on it now, EVERYTHING happens for a reason!
Two days after Durban, I was on a plane headed for China. As the law of Bean works, it would take me 2 days to get to Weihai! Due to the Typhoon that hit Hong Kong and Southern Asia, many flights were delayed and there was a huge back log. As a result, my flight to Hong Kong was really full (and heavy), so it seems we didn't have enough fuel to get us all the way to Hong Kong. Result, an unexpected stop in Bangkok lasting half a day which caused me to misss all my connections to Beijing and Yantai. After a night in Beijing and lost bike, it eventually took me two days to get myself (and bike) to Weihai! I seriously thought that I would not be very fresh for the race, yet oddly enough when this sort of thing happens, I seem to have a great race!
It was great being back in Weihai, and just seeing old friends and the friendly people soon made me forget my tribulations. This race is incredibly well organised by Eric Le Lostec and his team, that there is no doubt in my mind why this race was awarded the 2014 World LD Championships!
After having suffered mechanicals the past two years at this race (a broken gear shifter and then a seat clamp), I was really keen to do this race justice! I couldn't have possibly checked my bike more times before the race ;D.
On to the race. The weather was not as good as previous years, with a drizzle leaving the hotel and quite alot of wind, however, it did clear in time for the race :D. The swim was unusually choppy, making it hard work, and certainly an advantage for the stronger swimmers. My good friend Ewa Bugdol of Poland was quickly out in front for the women, and I had to contend myself with having one of the Kiwi men grabbing at my feet for the full 3k swim :P.
The bike course in Weihai is hard. There is no other way of describing it, other than a very hilly, technically challenging witch! For those who think China is an industrial, polluted environment, Weihai is completely breathtaking. The bike course follows the smoothest roads you have ever ridden on, and takes you along the magnificent scenery along the coastline. The difficulty comes in the form of some very hard climbs, with one as steep as 13% gradient! The fact that I could not see who was ahead of me, nor could I ask anyone (due to my lack of Chinese language skills), meant that I really rode my own race, which is the best way to go on such a difficult course.
It was only when I got off the bike that I understood that I was in third place! A scary place to be, because you are so close to being on and off the podium, but I really wanted the medal! I saw that Ewa was far ahead, impossible to catch, and the Chinese Double Olympian also a fair way ahead. I convinced myself that I just had to run good enough to maintain my position, especially considering that I thought my run form was not at it's best. The run is most certainly no walk in the park, with a nasty bump that you have to go over on the way out and on the way back on each of the four laps (20k). The first 2 times or so it doesn't seem bad, but by lap number 3, your legs start seriously complaining! However, the advantage of the out and back is that you get to see the opposition a number of times, and I saw that I was gaining on Dan Wang. At first, I just saw it as a bit of motivation to put in a solid run, but then by lap 4 I had done some mental maths and realised that if I put in one of the fastest last 2.5km of my life I stood a chance of stealing second. IT HURT.
I came down the blue carpet, with a side stitch of note and legs screaming for mercy but I had passed Dan Wang and got second place! This was the race amongst all the paw-paws that I have had this year, that I have been waiting for!! This was certainly my best international finish ever :D. There is something so surreal about standing on a podium, especially in China, with all the pomp and ceremony, representing your country and receiving a medal that so few will ever have. Truly a magic day, that reminded me never to give up and to always ignore what people say. If I believe in myself then I have not yet achieved my best!!!
Thank you to Special, for always believing in me :). Also thanks to Eric, Shawn and everyone in Weihai for a superb event, and congratulations to my good friend Ewa on taking the win – watch out for her, I am predicting a World Championship podium in the near future ;D.
Comments