Mar
4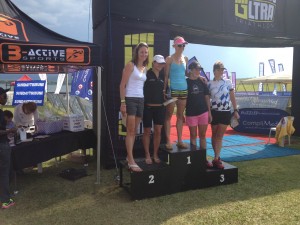 Midmar Dam in KZN has, in the past, not been a venue of good fortune for me when it comes to triathlons – two previous races there ended in the medical tent (a broken collar bone and a bad case of dehydration), so clearly I was a bit nervous racing there again!
Since my final race of 2013 in November last year, I have not gone into hiding, but rather gone back to the drawing board. That's right, even after all these years in the sport, there is always something to learn and change is necessary when the plan no longer works. I have effectuated a number of changes including diet (and no, I still do not eat dead animals or meat of any kind!), and more obviously, my training has changed quite significantly, and here I have to thank my coach Raynard Tissink (The legend), for considerably pushing me out of my comfort zone, and getting me back up to good form i.e. a kick up the old butt!
After a period of racing abstenance  one never quite knows where one's fitness is at, and although I have been feeling strong in training, I hardly had an idea of how this would translate in a race situation. My first race of the season was the Gauteng Olympic distance Championships, and although I never had a greater plan than just giving it a good go and testing myself, things did not go according to plan – a crash in front of me on lap 1 of the bike. I was lucky to have managed some bicycle gymnastics to avoid the crash, but was brought to a halt, and when I saw one of the badly injured athletes I could not bring myself to continue until I had attended to him and medical help arrived. I eventually was encouraged to climb back on and finish the race (at least have a good workout!). I struggled to get back into it mentally, but by the time I hit the run I was once again ready to unleash, even though I was basically racing myself at that stage! I actually ended up in 4th place, rather surprisingly for me, and with the fastest run split – so instead of being discouraged, I took confidence in the fact that my run was coming along nicely…
Roll on the SA Long Distance Championships at Midmar. As I mentioned previously, I was nervous for this race – more so for my safety – I did not want a crash!! The day started out with perfect conditions for me – partly cloudy and hot. For some reason I think my engine prefers high operating temperatures, and it seems to prefer heat to cool conditions!
The swim for once was great – I managed to avoid the thrashing of male fists and sat comfortably on Di Mc Ewan's feet, relying on her excellent navigation skills to compensate for my less than wonderful eyes ;D. The top four girls Riana, Di, Corinne and myself basically exited the water together, which was right on target for me.
The new bike course at Midmar proved to be a nasty little bitch! Coming from Benoni, there are some serious hills out in the Midlands :O. I quickly saw Di (who is an ex-Pro cyclist) and Riana pull away, and while I tried, I simply could not go with the pace they were setting. By the end of lap 3 I was pretty glad to be passing the Dam wall for the final time, and was looking forward to putting the bike down :P. I suspected the gap to the front was pretty huge but was willing to try and take bites out of it anyway!
I started the run in 4th place, just behind Corinne (I had to dash back to pick up a gel I had forgotten to pick up ;D). From the start of the run I enjoyed it – for a change the run was challenging whereas nowdays so many races have flat, easy runs. I rapidly passed Corinne (although I never really shook her off entirely), which left the two in front. At that stage I was already on the podium, so that was pretty satisfactory, and at the first turnaround I could see the others – in my judgement, less than 1km ahead of me. With each turning point I could see that I was rapidly gaining ground. I felt that I was running fairly quickly, but not super fast – I kept thinking that with the heat I should manage my pace and only really go for it on the last lap. Early on the third, and final lap, I surprised myself and found myself in the lead – aarrgghhh! There is always the fear that something could go wrong in this position, so I decided just to play it conservatively – not accelerate and just hold pace to the end.
Crossing the line was a huge relief for me – not because of the fatigue but rather a relief that I had made it through with nothing going wrong! It has not quite sunk in yet that I managed to get myself another SA Champ title when in actual fact, after some shockers in 2013, all I wanted was a decent day and a performance reflective of what I am capable of!
Next stop will be Ironman SA 6 April with a very hard new course, and some very talented competition from overseas, I feel no pressure, just a desire to all my training justice. See you at Hobie Beach in PE for my 10th Ironman South Africa 😉
Comments