Nov
30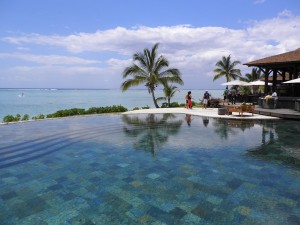 There are some races I will simply never forget. Usually, one would expect these to be races that I have won or fought an impressive battle, but no, I did not win the Indian Ocean Triathlon, and even though I got a credible second place, this is far from the reason that this has to be one of the most memorable events in my career as an athlete…
I have never been to Mauritius before, having largely thought of it as an expensive honeymooners joint with not much to do – boy did I have to swallow my words! When one does the maths, you will actually find that a week in Mauritius, all inclusive will probably cost you less than a December week in Cape Town, where everything is super expensive, the south easter blows everything away, and  the water is a chilly 13 degrees, oh, and the men in the dark suits lurk in the sea (FYI the Great Whites)….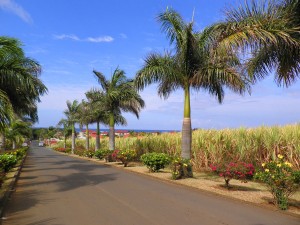 The Indian Ocean Triathlon is most probably one of the best kept secrets in the world of Tri. Not only do you have the perfect, idyllic setting with warm, magnificently clear waters, but you also have roads in surprisingly very good condition. The locals in Mauritius are friendly, and realise the importance of being good to the tourists who visit their shores, so are usually willing to go the extra mile for you…at no extra charge!
On landing in Mauritius (a mere 4hr flight from Johannesburg), it was impressive to see that these people are on the upward move – a new, state of the art airport is being constructed adjacent to the old one, and should be completed next year…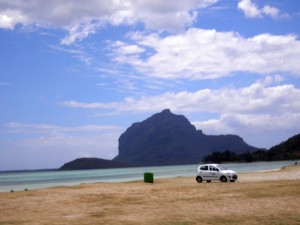 Unlike many island destinations, I found Mauritius to have retained much of it's rustic charm, and to be less 'commercially' touristy – in other words, you still feel like you can go by unnoticed as a tourist, and not be bambarded by people trying to sell you things.
On arrival, I was picked up by my own personal chauffeur service, with a friendly driver, who even had the sense to hand me a bottle of water for the journey to the south of the Island which was to take about 45 minutes. The weather in Mauritius at this time of year is very pleasant, I like hot, but I think at this time of year it never reaches beyond 30 degrees. The road leading south is lined with sugar cane fields as far as you can see, and dotted with small villages. Houses in these parts, although colourful, always seem to be 'under construction'…dogs seem to casually wander across busy roads, not seeming to have one owner, but rather being collectively owned by the village.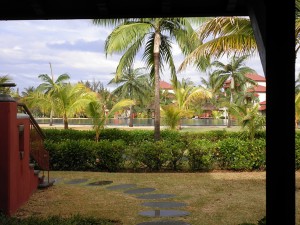 A large group of athletes from all over Europe, including France, Switzerland, Belgium, Germany and Italy had decided to make the Indian Ocean Triathlon their last race of the year, and a week in the sun before the European Winter sets in. VO2Max Voyages flawlessly organised everything for the athletes (Most of whom were the most fun people I have ever met!) from the hotels to the actual race logistics. I got to stay in the magnificent Tamassa hotel/resort, which offers nothing less than excellent service, beautiful gardens, stunning ocean views and an athlete's nightmare – buffet meals! I arrived not knowing anyone, and I have to say by day 2 I had already made some memories with some really good folk 😉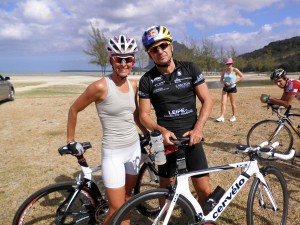 The best part of the Indian Ocean Triathlon, is that for a week, everyone, including Pros, Age-Groupers and Partners hang out with each other. Prior to the race, bike rides, runs and swims were organised , and amazingly I think that nearly all the race participants joined in! Everybody got to  meet the Pros and chat to legends like Thomas Hellriegel and Laurent Jalabert.
Some of the most fun I ever had was riding at the back of the group with some people that made me laugh so much I could barely keep pedaling – Mathias from Germany, who quickly understood the African way of doing things – his bike was irreparably damaged by the airline, so he decided to ride a 'local' mountain bike, complete with gel seat cover, squeaky brakes and a good 2 sizes too small. Next was Celine from Aix-les Bains (France), who was impecably dressed, who managed to execute the most graceful crash when her dropout snapped – she got up, smiled, laughed and decided that she would probably finish the climb of Chamarel in the support bus (yes, there is a bus where partners and family can also check out the course, and take some pictures). But the guy who really reminded me that everything about doing triathlons should be fun was Pierre from Lille. Pierre has a less than state of the art bike, which is most likely indestructable, but probably last had a service before he got his first grey hair. Thinking that Laurent Jalabert might feel inferior if I sat his wheel the whole way up the climb, I thought it would be more fun to join Pierre on his personal attack on the monster of Chamarel. He stopped to take a few breathers going up (the heat and humidity being a touch more than the north of France at this time of year),and of course I gave him the option of no options. He did not quit and get in the bus, which turned out to be a good thing – poor Pierre managed to pick up a stomach bug the night before the race and ended up not racing :(.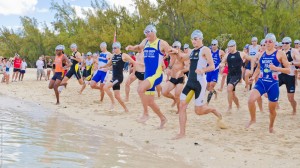 Race day. I would have to say that there were more laughs than there were nerves, the Indian Ocean Triathlon is not a place for menacing scowls!
The start takes place on the white sands of the beach of Les Pavillons hotel, and within seconds of the gun firing we hit the clear warm waters of the coral reefs. Of course, things would be idyllic were in not for the surprise beneath the surface – a current strong enough to bring the great Thorpedo to a halt!  The path to the first buoy I am sure took me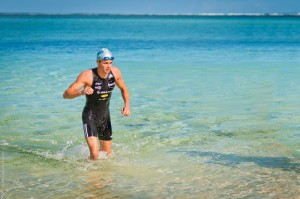 15 minutes, and then the return trip of 15 seconds for 500m. Needless to say I couldn't help but giggle under the water at the uselessness of my force against mother nature! The swim exit had to be executed with NASA precision – one overestimation and you would be swept past the exit altogether…
Next up was the 55k bike course – nothing, I thought, for someone more accustomed to the Iron distance. What I did not expect was that the race organisers would put a little 'sting' in what would have made for a pleasant 'holiday' race…. the Chamarel! Locals know this climb well, and you could just see that, for them, it has been the site of many a training battle!. Unfortunately, as we started the bike (me in second place behind Charlotte Morel), nature decided to shower the Mauritian Island with what the Luxemburgers dubbed a 'warm shower'. Given that Charlotte is a strong candidate for the French Olympic team, I knew I would be a little off her pace on the swim, so I hoped, that I might be able to catch her on the bike. It was not the climb of the Chamarel that troubled me, but rather the going down the other side! Normally, I can be pretty reckless on descents, but this time, I had to go down like a real Mary Poppins! I did have the honour of being passed by Jalabert….like a rocket (impressive his uphill sprinting ;D!), only to see that he had crashed on the descent, remounted and then punctured himself out of the race….you see even heroes have their bad days!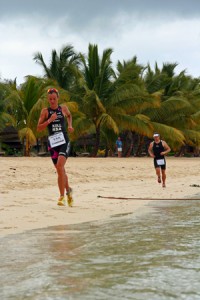 After surviving the not-so 'easy' bike that I imagined, I maintained my second place ino the run. Once again, the run had to have some true Mauritian flavour to it – more sand and beach than you could dream of ;). The three lap run course, mostly on off-road paths, had a particularly challenge section on the beach itself – made for great pictures, but boy, by lap three there was more wobble than legs!!
I ended the race in a pleasing second place behind Charlotte. The men's race was won by Fred Belaubre (who will compete for France in the Olympics next year), followed by Hell on Wheels (or should I say Hell on a Buffet ;D!), and Christophe Jouffret.
As for me, I cannot wait for next year's edition, and this time I hope to take a team of Springboks with me….who's in???
Some more pictures in case you have some doubts

Comments