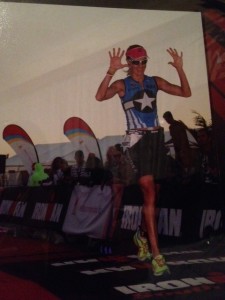 Ironman South Africa 2014 kicked butt – mostly my own ;D! I went into the race feeling quite happy with my form, having won the SA LD Champs just a month before, but the new course, and the perpetual uncertainty of what can happen during such a race, clearly gave m reason to be nervous. Being my 10th time at this race, everyone would expect that I would know everything there is to know about this race, yet I found myself with only one certainty – you never know what you will get in PE!
Don't get me wrong, I love PE and think it is the best venue in the country for an Ironman, but over the last ten years I have never quite had a perfect day there – some good ones and some terrible days – which is probably the reason I have kept coming back to this race. This year, I felt in my best shape in over two years, my training had been solid, not a single niggle and my times were looking good – and here I have to thank Raynard Tissink for handing it to me week after week ;D. Proof of the training was that Milan, who accompanied me on most of the training, in only his second Ironman ever, improved his time by nearly 1hour – on a tougher course and in the beasterly Easterly!
At the swim start, I was determined to latch onto a group, as in spite of the Pro field having a separate start (there were only around 40 of us), and having less of a punch up, there are disadvantages, namely there is very little draft advantage (in comparison with a huge swarm of athletes), you can't see much in front of you, so navigation is a bit more tricky, and the safety kayaks are few and far between, as it is assumed we can all swim! The water was cold. At the start, there were only two of us wearing neoprene hoodies (which make a huge difference BTW), namely the two South Africans, Claire Horner and myself – the Europeans must have been thinking we are soft, but really, that water was freezing for me! Anyhow, I got off to a good start, and found myself in a nice group of 4, so at least we had 8 sets of eyes to try and navigate the new 3.8k long swim course, and I would have a 1 in 4 chance of surviving a shark attack ;D.
On the bike, I predicted that the leaders would go really hard and see who would be left for the run. Knowing that it was going to be hard on the bike, my plan was to hold back on the first lap, do what I could on the second, and then hopefully pick up the carnage (of those who went too hard on the bike) with a brilliant run. I loved the new bike course, I found the variation to be alot more exciting than the old course. However, from the start, I was experiencing troubles with my gears (and yes, I had tested my bike?!), probably due to a cable that I had to change the week before which was progressively 'stretching' as the ride went on. Under the pressure of the race, I just hoped that nothing would break and that I would manage to get through the bike! It did, however, mean that I had to hold onto my shifter for most of the ride and avoid dropping to the small ring on certain climbs – not ideal! My problems did not end there – on lap number 2 my lower back was siezing up to the point I could not feel any power in my legs. I knew that I hadn't gone too hard, and have trained quite sufficiently in the TT bars so it was a mystery to me, and literally powerless, I slid further and further back down the field. Later, on packing my bike I would discover that my saddle had in fact cracked in half on the one side! Perhaps the answer, I am not sure??
Never being one to give up, even though my bike was terribly, terribly disappointing, I knew I could run, so hoped that over 42km I could manage to rectify my race. I got off the bike, and my back felt really stiff and numb, but I thought it would ease up. Instead, my legs stiffened up in sympathy, and despite evry hope that it would go away, I ended up doing what I equate to a warm-up shuffle before a track session! I felt terribly disappointed but I have been down this road before. I caught sight of Natascha Badmann on the side of the road (she had already withdrawn from the race), who, in her spirited manner, told me to hang in there as half the Pro girls had withdrawn and I was actually still in the Top Ten – thank you Natascha for seeing some positive when all I was seeing was a personal pity party! I finished 9th in the Pro field just ahead of an awesome Italian Linda Scattolin who also toughed it out with a smile, and crossed the line as the first person to finish 10 Ironman SA – that was the something better than the nothing!
It does feel humiliating when you are so well prepared yet cannot deliver your best. It is easy to pull out and not have the embarrassment of the age -groupers who started 30min behind you come past. However, if you realise that this challenge is not about how you appear to others, but rather about testing yourself and how strong you are emotionally, you have not failed but gained inner strength – I wear my M-dot tatoo on my heart and not my skin.
Congrats to all the SA girls and guys who did so well, and especially to my Milan who survived me in the months before, the depression after and who is starting to prove something to himself with his own great race!! He is already talking about doing IMSA next year based on the fact that it is on his birthday…I am slapping my hand on my forehead :P.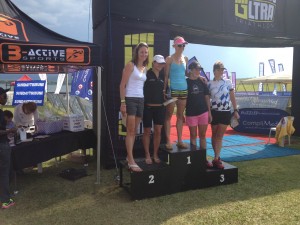 Midmar Dam in KZN has, in the past, not been a venue of good fortune for me when it comes to triathlons – two previous races there ended in the medical tent (a broken collar bone and a bad case of dehydration), so clearly I was a bit nervous racing there again!
Since my final race of 2013 in November last year, I have not gone into hiding, but rather gone back to the drawing board. That's right, even after all these years in the sport, there is always something to learn and change is necessary when the plan no longer works. I have effectuated a number of changes including diet (and no, I still do not eat dead animals or meat of any kind!), and more obviously, my training has changed quite significantly, and here I have to thank my coach Raynard Tissink (The legend), for considerably pushing me out of my comfort zone, and getting me back up to good form i.e. a kick up the old butt!
After a period of racing abstenance  one never quite knows where one's fitness is at, and although I have been feeling strong in training, I hardly had an idea of how this would translate in a race situation. My first race of the season was the Gauteng Olympic distance Championships, and although I never had a greater plan than just giving it a good go and testing myself, things did not go according to plan – a crash in front of me on lap 1 of the bike. I was lucky to have managed some bicycle gymnastics to avoid the crash, but was brought to a halt, and when I saw one of the badly injured athletes I could not bring myself to continue until I had attended to him and medical help arrived. I eventually was encouraged to climb back on and finish the race (at least have a good workout!). I struggled to get back into it mentally, but by the time I hit the run I was once again ready to unleash, even though I was basically racing myself at that stage! I actually ended up in 4th place, rather surprisingly for me, and with the fastest run split – so instead of being discouraged, I took confidence in the fact that my run was coming along nicely…
Roll on the SA Long Distance Championships at Midmar. As I mentioned previously, I was nervous for this race – more so for my safety – I did not want a crash!! The day started out with perfect conditions for me – partly cloudy and hot. For some reason I think my engine prefers high operating temperatures, and it seems to prefer heat to cool conditions!
The swim for once was great – I managed to avoid the thrashing of male fists and sat comfortably on Di Mc Ewan's feet, relying on her excellent navigation skills to compensate for my less than wonderful eyes ;D. The top four girls Riana, Di, Corinne and myself basically exited the water together, which was right on target for me.
The new bike course at Midmar proved to be a nasty little bitch! Coming from Benoni, there are some serious hills out in the Midlands :O. I quickly saw Di (who is an ex-Pro cyclist) and Riana pull away, and while I tried, I simply could not go with the pace they were setting. By the end of lap 3 I was pretty glad to be passing the Dam wall for the final time, and was looking forward to putting the bike down :P. I suspected the gap to the front was pretty huge but was willing to try and take bites out of it anyway!
I started the run in 4th place, just behind Corinne (I had to dash back to pick up a gel I had forgotten to pick up ;D). From the start of the run I enjoyed it – for a change the run was challenging whereas nowdays so many races have flat, easy runs. I rapidly passed Corinne (although I never really shook her off entirely), which left the two in front. At that stage I was already on the podium, so that was pretty satisfactory, and at the first turnaround I could see the others – in my judgement, less than 1km ahead of me. With each turning point I could see that I was rapidly gaining ground. I felt that I was running fairly quickly, but not super fast – I kept thinking that with the heat I should manage my pace and only really go for it on the last lap. Early on the third, and final lap, I surprised myself and found myself in the lead – aarrgghhh! There is always the fear that something could go wrong in this position, so I decided just to play it conservatively – not accelerate and just hold pace to the end.
Crossing the line was a huge relief for me – not because of the fatigue but rather a relief that I had made it through with nothing going wrong! It has not quite sunk in yet that I managed to get myself another SA Champ title when in actual fact, after some shockers in 2013, all I wanted was a decent day and a performance reflective of what I am capable of!
Next stop will be Ironman SA 6 April with a very hard new course, and some very talented competition from overseas, I feel no pressure, just a desire to all my training justice. See you at Hobie Beach in PE for my 10th Ironman South Africa 😉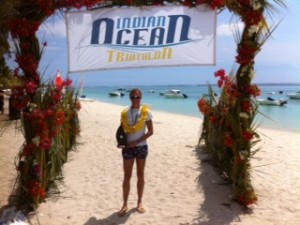 There is talk of places to see before you die, but I have to add to the list of races to do before you die! Although I have now completed the Indian Ocean Triathlon 3 times now, it still takes the number 1 position on my list ahead of ANY Ironman or big name race! Having just taken second spot on the podium (for the second time, dammit ;D!), is not the reason for me being completely besotted with this race, but rather the magic that is Mauritius…
This year, it was great having Special, and a minibus load of other South Africans come out and do the race :). As Special remarked, when you see pictures of places like this, you always have that tiny (or considerable) doubt that what you see in the pictures has been Photoshopped to such a degree that it resembles nothing of the sort once you arrive at the destination. The fact is, Mauritius REALLY is what you see in the pictures!!
Before I visited Mauritius for the first time, I thought it might be nice, but expected it to be very touristy, overpriced and full of Honeymooners and beaches overrun by screaming children. I was completely blown away by how beautiful the southern part of Mauritius is – wild, uncrowded, quiet beaches, magnificent resorts – surrounded by authentic and simplistic villages, friendly, peaceful people and not a shopping mall in close range! While tourism, and to a smaller degree, sugar exports are the economy's primary sources of income, it is clear that this country is on the move. For starters, it's people are beautifully peaceful, unconfrontational, and eager to please. The new airport, which has only been open for the past 2 months, is a modern, magnificently designed structure and equipped to deal with a much larger number of of tourists, business and cargo. On the topic of air travel, I am usually highly critical of airlines (especially those who are unreasonable rip-offs with regards to the transportation of bicycles), but I honestly have to recommend Air Mauritius! Even though my bike box was 24kg (1kg over the standard 23kg), they did not make me unpack the whole case to remove a 1kg crank – THANK YOU! Same goes for the inflight service – crew was relaxed, professional and engaging – THANK YOU for not treating passengers like hostages or children for that matter ;D. No complaints when three successive cups of tea were requested!
Back to the purpose of our visit – the Indian Ocean Triathlon, hosted by LUX* events and VO2 Max Voyages. It is evident that despite Mauritius being known as a holiday destination it is fast becoming a leader in sports events – with perfect weather, great infrastructure and idyllic settings, it is the ideal setting for many endurance sports, biking and water sport events!
So, if you need convincing here are reasons to come and do the IOT next year:
The race is not about profit or numbers – you, along with people from at least 15 other countries, feel as though you are being welcomed and encouraged to have fun on the training grounds of the Mauritians.
Stay with like minded people for a few days and have a blast at first class resorts.
Buffets, buffets, buffets
Swim in calm, turquoise ocean waters, at 28degrees, and filled with an amazing array of natural corals and teeming with colourful fish.
Exceptional race organisation, with the priority being the athletes safety and total amusement in mind – Mauritius is more than capable at organising a top class triathlon!
 A race that encourages and involves families and spectators as much as possible.
Costs less than any 'Big Brand' race and far, far better
Your most beautiful finishers photo ever!!
As for my experience – I had a good day (despite being pretty unfit due to the bacterial illness I suffered and the eye surgery :P), but did get my butt kicked good and proper by Charlotte Morel :D! The swim was just the way I like it sans-wetsuit, warm water, and ok, a heavy current on the last section ;). The bike course is far from being a 'holiday' with the arduous climb up the Chamarel pass and an equally hairy descent through the sugar canes and the unexpected dogs/chickens/buses, but an absolutely amazing fast passage along the southern coast to the imposing rock of La Morne. The run is my favourite part – mostly on crunchy gravel, offroad and under the hot, hot sun! The 3 lap run, is for a change,  also challenging with 3 passages on the beach! Running for 500m at a time on the beach, passing holiday-makers sipping cocktails is no mean feat, but ending the race under the magnificent finish banner – hand made by the locals, and being personally congratulated by the race organisers is priceless! A very interesting touch, is that all the participants abandon their post race lunches, in favour of an accumulated and spontaneous gathering to welcome the last finisher in, with thunderous applause. I have to ask where is such personal touch to be found at any other race of this standard?
As for Special, he was totally enchanted by the island, it's people, the fabulous street Roti vendors and the very fancy finisher's medal he received :).
So, if you're tired of the big race money making machines, I invite you all to come and do the Indian Ocean Triathlon in November next year!
Merci a Albert de LUX, Laurent de VO2 Voyages, la Federation de Triathlon Mauricien, l'office de tourisme, le Tamassa Resort, la vendeuse de Roti aux Baie du Cap ;D…. Exceptionnel!!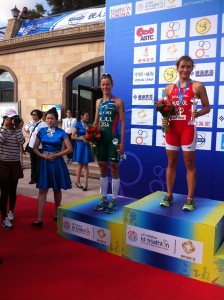 After having taken the Winter off from racing (for the first time in years!), I was keen to get racing again. The first race was to be the fantastic new Trirock event in Durban, which was to serve as my warm-up event for China. Unfortunately, Durban was not my best day, with isssues on the bike leading me to withdraw after the cycle leg. I felt like a complete loser, but looking back on it now, EVERYTHING happens for a reason!
Two days after Durban, I was on a plane headed for China. As the law of Bean works, it would take me 2 days to get to Weihai! Due to the Typhoon that hit Hong Kong and Southern Asia, many flights were delayed and there was a huge back log. As a result, my flight to Hong Kong was really full (and heavy), so it seems we didn't have enough fuel to get us all the way to Hong Kong. Result, an unexpected stop in Bangkok lasting half a day which caused me to misss all my connections to Beijing and Yantai. After a night in Beijing and lost bike, it eventually took me two days to get myself (and bike) to Weihai! I seriously thought that I would not be very fresh for the race, yet oddly enough when this sort of thing happens, I seem to have a great race!
It was great being back in Weihai, and just seeing old friends and the friendly people soon made me forget my tribulations. This race is incredibly well organised by Eric Le Lostec and his team, that there is no doubt in my mind why this race was awarded the 2014 World LD Championships!
After having suffered mechanicals the past two years at this race (a broken gear shifter and then a seat clamp), I was really keen to do this race justice! I couldn't have possibly checked my bike more times before the race ;D.
On to the race. The weather was not as good as previous years, with a drizzle leaving the hotel and quite alot of wind, however, it did clear in time for the race :D. The swim was unusually choppy, making it hard work, and certainly an advantage for the stronger swimmers. My good friend Ewa Bugdol of Poland was quickly out in front for the women, and I had to contend myself with having one of the Kiwi men grabbing at my feet for the full 3k swim :P.
The bike course in Weihai is hard. There is no other way of describing it, other than a very hilly, technically challenging witch! For those who think China is an industrial, polluted environment, Weihai is completely breathtaking. The bike course follows the smoothest roads you have ever ridden on, and takes you along the magnificent scenery along the coastline. The difficulty comes in the form of some very hard climbs, with one as steep as 13% gradient! The fact that I could not see who was ahead of me, nor could I ask anyone (due to my lack of Chinese language skills), meant that I really rode my own race, which is the best way to go on such a difficult course.
It was only when I got off the bike that I understood that I was in third place! A scary place to be, because you are so close to being on and off the podium, but I really wanted the medal! I saw that Ewa was far ahead, impossible to catch, and the Chinese Double Olympian also a fair way ahead. I convinced myself that I just had to run good enough to maintain my position, especially considering that I thought my run form was not at it's best. The run is most certainly no walk in the park, with a nasty bump that you have to go over on the way out and on the way back on each of the four laps (20k). The first 2 times or so it doesn't seem bad, but by lap number 3, your legs start seriously complaining! However, the advantage of the out and back is that you get to see the opposition a number of times, and I saw that I was gaining on Dan Wang. At first, I just saw it as a bit of motivation to put in a solid run, but then by lap 4 I had done some mental maths and realised that if I put in one of the fastest last 2.5km of my life I stood a chance of stealing second. IT HURT.
I came down the blue carpet, with a side stitch of note and legs screaming for mercy but I had passed Dan Wang and got second place! This was the race amongst all the paw-paws that I have had this year, that I have been waiting for!! This was certainly my best international finish ever :D. There is something so surreal about standing on a podium, especially in China, with all the pomp and ceremony, representing your country and receiving a medal that so few will ever have. Truly a magic day, that reminded me never to give up and to always ignore what people say. If I believe in myself then I have not yet achieved my best!!!
Thank you to Special, for always believing in me :). Also thanks to Eric, Shawn and everyone in Weihai for a superb event, and congratulations to my good friend Ewa on taking the win – watch out for her, I am predicting a World Championship podium in the near future ;D.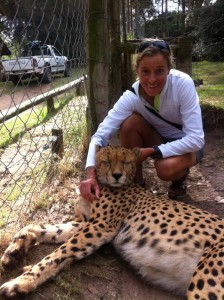 Recovery is often a tricky question after Ironman. I mean, we all know that we need it, whether you had a good race or not – but how do we go about it? It is hard to go from 2 to 7 hours of training a day, with a purpose, to a 'What now?'. This phase has always been a bit tricky for me, as I am sure it is for many others, so I thought I might share how the past few weeks has been for me. This is by no means a recommendation, but rather an honest account.
Week one post race is always tough – I could feel elated after a great race, but in the case of IMSA 2013 I wallowed in the question of why I felt so ill? Did I pick up a bug? In summary I always analyze what went wrong (never is there a race where I think there was nothing I couldn't have improved on), and what I did right. Some people feel elated and full of energy, but I usually feel exhausted. The first week post-Ironman is not a productive one for me! I choose to sleep past 6am and the alarm is silenced. I sleep alot! If my work allows, I nestle into the couch in the afternoon and doze off for an hour or two.
Then of course is the hunger bug! After months (ok a lifetime) of watching what I eat, this is the one time in the year that I eat whatever my body (or should I say, my brain) craves. Of course eating tons of junk is not great for recovery, and generally I am not a junk food fan, but I do eat alot of calorie rich foods without paying too much attention to the GI rating :). In addition, I do offer myself some unhealthy treats, my personal list includes: Cherry Coke, Choc chip cookies, Lindt dark in every flavour (every slab shared with Special, and we divide meticulously ;D), Fry's mushroom pies, Mom's cake, pizza, veg sushi…. Ok, that actually sounds like alot of food to be considered a 'snack' :D!! Usually, by the end of the week I feel quite 'blah' and just want 'normal' food again :D.
Emotionally, whether I have had a good race or a bad race, I usually feel quite down just after a big race – I believe this stems from the giant physical impact that such a race puts on your physiology. Not everybody reacts the same of course, and the more of these races that you do, the more the 'down' hits you. For example, Special was on a high (I still think he is!) after finishing his first Ironman, with most of his talk revolving around how he is going going to improve for next year. For me it was different. I was grumpy, I wanted to talk about anything other than triathlon,  and my motivation was totally out the window!
When it comes to post race exercise, I am not into the idea of going into hibernation for a month – already from week one after an Ironman I do some form of light exercise as the urge takes me. Here, I must emphasize, I do whatever I feel like, when I feel like, and if I feel like nothing, then that is what I do. I do what regular people would consider 'a spot of exercise' – taking the Jacks (Lola and Henry) for extended walks, much to their delight, riding the circa 1980 tandem with Special to the local coffee shop, and maybe the odd swim in the pool…more to be a Chatty Sally with the ladies at the gym :D.
The most effective form of recovery is in fact to be like a sponge – absorb everything!
Sleep til you wake up and don't feel guilty about it.
Take walks on parts of your run routes and actually take in the things you never see.
Reconnect with friends and family – now is the time to forfeit a Saturday training session with the crowd for a relaxed afternoon
Eat plenty of good food that will be absorbed by repairing muscles, BUT do allow yourself some items on the 'banned' list – they are particularly good for the soul, and you will soon get sick of it!
Do not jump back into serious training too quickly, but perhaps go out and enjoy a road race with the club 'bus'.
When your Mojo returns then it is time to start 'training' for real again.
Take your time and come back stronger!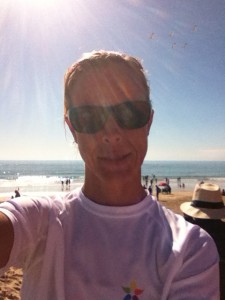 Ironman SA 2013 was meant to be the revenge on the dreadful conditions that dominated (and defeated me) in 2012. My chances of beating Chrissie W's record was probably out of the question, but I felt in good enough shape to contemplate a top ten finish. I wanted to defeat the demon more than anything!
As I sit here, 4 days later with a mouthful of chocolate (oh yes, we all do it sometimes!), I am trying to make sense of another disappointment, two years in a row now. It is not the kind of disappointment you experience for just missing out on a time or position, but the feeling of complete ridicule when you shuffled home to 'just finish' in a time far below your capabilities, and then someone yells an excited 'Well Done, that was fantastic!! when you you know that performance is going to go down on the list of 'Worst Ever'…
I wish I knew why. This year I really had to concentrate on my training efforts, not waste any sessions or time, especially with the added committments of trying to get a new business going, time management was essential. Leading up to the race I felt good, I felt that my training had been effective, I had paid attention to my nutrition, hydration and sleep. I wanted to give myself the best possible chance of a good finish.
The day before the race, I was relaxed, that is except for the brief moment when the seatpost bolt snapped on my bike (and caused poor Special to hyperventilate!). We had already put plans in place involving duct tape and cable ties (fixes everything), but luckily Action Cycles was open, and Blaine and the guys immediately came to my assistance – fixed! Thank you guys :). The weather was also set to be perfect, and this was a great relief to me, especially as my body just doesn't like the cold! I decided to go with my one piece O2 trisuit over the two piece as Special suggested I looked better in it – ok, it was tried and tested, and if you look good, then that adds at least a few seconds! This was going to turn out to be rather a poor choice! That evening, I struggled to eat my last meal, appetite non-existent and the nerves there and ready…
Race day dawned, and here was my opportunity at last! Everything operated like clockwork, even Special (who is not a morning person), was ready to go, and leave the hotel at 4.45am. Thoughts go out to our German friend Carsten who came down with a bout of flu the night before the race and could not start – what a blow after training through the German Winter and flying all the way here! After a last warm up in the very cold sea, it was a final hug ith Special before we would each commence our own journey for the day.
It was wonderful having a proper start for the Pro field this year – it ensured that we were not beaten up by the age group men – thank you IMSA!! I had a little bit of a slow start – the cold water always being a bit of a challenge to me. The first group was way too strong for me, and the group behind being too slow, so I found myself completely solo aka shark food between two groups. It was challenging for me to swim this way, as I did not have the benefit of a draft and with my bad eyesight I struggled quite a bit to navigate. Towards the end of the swim I was feeling the cold, but worst of all, my stomach was feeling quite distressed.
On to the bike and despite the good conditions, it was made into an unrespiteful ride by the slight easterly wind and that dreaded rough and bumpy sea rode. Halfway up the first long climb, a spectator called out to me – I dropped my spare tubby. Although I thought it was on tight, it had somehow worked loose, and not wanting to ride 180k without a spare, I had to turn back to retrieve it. Next time duct tape! I tried to ride the first part of the ride conservatively, especially as the pace was very fast and furious from the begining, and I knew someone was going to blow up! However, I was soon to be struck myself – the stomach issues which started in the swim led me to dismount and dive for the bushes twice on lap 2 of the bike. Despite using everything that I had used in my training, I was struggling to keep anything down :(. By lap number three I knew I was in trouble when what felt like everybody was coming past me and I just did not have the energy to pick up the pace. I felt dreadful, nauseous which made eating really difficult and the tank was empty.
By the time I hit the run, I tried to convince mysef that things would get better. I had not managed to take in (and keep down)enough calories by a long stretch, my sense of humour was dismal, but I hoped that the bush stops were done, and I hoped that I could somehow reboot and make up something on the run. It was hard knowing that I was so far down the field, but I know that in Ironman, never give up, because you just never know what can happen! With no energy in the tank, my body told me quickly that it would not be running very fast, but I kept focus tried to take in small amounts in the hope of revival. Instead I found myself making emergency stops at the famed university bushes. The one piece suit was a bad idea! I have to apologise to all who may have witnessed my naked displays, but at that stage, dignity was out the window and the calls of nature too urgent to find alternatives :D!! My race goals had now degraded to 'C-Plan' which meant 'Finish'. as any Pro will know this is the tough pointv when often the decision is made to withdraw in favour of doing another event or swallowing your ego and just trdging along with the many others. Having done the trudge already last year, I knew it was possible. It is a far greater test of courage being beaten by many, many age-groupers, hearing the 'oh shame' comments, dying inside when someone with good intentions screams 'Well done, you're going great!!' than quitting. I thought of Special, doing his first Ironman, the sacrifices we had made together and I would finish! In my opinion do not race if you can't face the ugly! I finished Ironman 17 and IMSA number 9. Not last in the Pro field I might add…14th. Dede Griesbauer, a former Kona top-tener finished behind me, hats off for walking and showing your character!
Post race of course I am disappointed. Like many others it seems such a waste of all those hours and hard training, truth is, no matter how much you want it, not everyone will have a good day, no matter how good your preparation. Then of course there are the unwanted hurtful comments – my personal favourite this year being 'Maybe you should stick to a shorter distance' – was it implied that we should seek out easier alternatives when things don't go right a first, second, or third time? I personally don't think that any great achievement happened the first time around! As much as I wanted this race to go right it didn't. However, I look back in my mind to my third place at Ironman Korea and my fifth place at Ironman South Africa and I do not doubt what is possible and what I am capable of! For those who were disappointed like me, ignore the negatives! Heaven help the arrogant critics when they have their turn…everything is possible for them too ;D!
An to end off, I would like to announce to you that my Special is now an Ironman :D! He finished in 14h17 with a huge smile on his face! As he he crossed the line, his first complaint was about his time and how far it was – judging by that I think he is pretty motivated to make himself better. That is was Ironman does, it makes better people.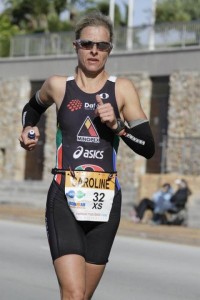 Looking at this picture, a flood of memories of Ironman SA 2012 come back to me. This was probably THE hardest most miserable day I have ever had! Despite the struggle, I came away from that horrible race with nothing more than my personal worst time, and experience, ever had! I was depressed about my 11h58 finish for many months after, and I guess for me, it is still the black mark on my sporting CV.
It was really difficult to get over, especially as I felt like such a wimp for having been completely defeated by not only the competition, but mostly because of the apocalyptic weather that day! For those of you who were not there last year, PE experienced the worst weather conditions I have ever seen – windspeeds of 100kph, rain and bitter cold. I was not prepared for that! I remember crossing the finish line with absolutely no pleasure, no smile….just the feeling that no matter how bad things got, how embarrassing my performance was to me, I had refused to quit. I felt like a failure to myself…
So many athletes who raced last year have been scarred by that experience. It took every once of courage to get out there and try anyway, whether you finished or not, and for many, the experience still too raw to race in PE again this year. I completely understand! So why I am I racing again in PE this year, when there are absolutely no guarantees of a better performance or better weather?
Last year, Special was there. The entire day, soaked to the bone, freezing cold, cheering me on from the roadside in his first experience of Ironman. Special had never done a triathlon, and had just started doing some running races, yet at the end of it all, he said to me 'I want to do that'. Well, if he suggested doing an Ironman after witnessing THAT day, then it has got to say something about him! After a 2012 season affected by injuries, disasterous races, mechanicals, it was Special and special people (Col, you are definitely listed here!), that regenerated my enthusiasm by making me realise I am also human, not indestructable, and made me think about the abilities that I have, and being able to use them is not something to be ever take lightly.
In November Special did his first triathlon, and in December he was entered for Ironman SA! Since then, it has been quite a ride over the past few months. I had to remember that he does not have a backround in any endurance sport – apart from jogging a bit, he had never swum or cycled. Quite difficult to train with someone who has competed for over 18 years – he had his work cut out for him, yet he has never, ever contemplated giving up ;D! For anyone who has ever trained with their partner, especially where you have significantly different levels this will really test your relationship! For me it was great to finally have a training partner I could rely on (command to do what I want ;D), but for him it was often stressful, with the constant feeling that he was holding me back. We had the expected tug-of-war conversations "You just carry on!" Me: "Come on, push!!!!", but somehow, we made it work, and with some clever advice from the indispensible Col, we created some very entertaining interval sessions! Having lived up to my slave driver reputation, he made remarkable progress, I was never alone riding on our very dangerous roads, and I could safely say that he was instrumental in me not smashing myself to the usual point of injury :).
I don't know what this Ironman will bring, I am glad not to be sucked into issues of the favourites and 'catfights',it doesn't matter!  This race is not about where I will finish, it is about sharing this experience with Special. Of course it will be nice to have a decent finish position, without having to struggle to the finish, but I am not afraid of the worst that could happen ;D. I want to go into this race with a great attitude, I want to smile, applaud the spectators and appreciate what my body is letting me do again!
Most of all I want to be there at the finish, when Special crosses the line of his first ever Ironman, and applaud him. If you happen to see number 1112 out there, give him a high five for me ;D.
Thanks to Col, Linda Steyn Physiotherapist and Special for getting me to the start of Ironman SA 2013 – the body and mind are ready because of you!!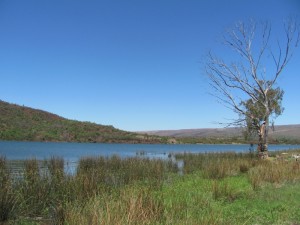 Buffelspoort – a lovely bushveld venue, a stone's throw away from the scenes of last year's Marikana shootings in the North West province. I have never raced the Buffelspoort Ultra Triathlon, but I can tell you that I have been missing out and it is well worth the journey north!
For starters the dam is very clean, which makes a nice change from the murkiness of Gauteng's open water sources. I kid you not – the bike course is very hard – two laps of 48k, and a passage over 'George' twice. I still don't know why this monster is called George, but I have to confess to having some serious callousses on my hands from trying to haul my 42×23 ratio over there! On the bright side, there is a fabulous descent after that my Special proudly declared he reached a speed of 75kph going down! With no U-turns, just a lovely, scenic and varied loop, it is super cool! Oh, but then you have to run uphill….and more uphill straight of the bike :D!
I could describe my own race as really 'fun' while being in a significant amount of pain! After exiting the water in third (for some reason I must be one of the few that actually considers herself a better swimmer without a wetsuit??), I just set about enjoying the bike ride, not too hard in the beginning, but finding a good rhythm and building it up. I enjoyed trying to catch the guys and two girls in front of me, but didn't quite manage to catch Mike Hawthorne in spite of his transition blunder – leaving the transition with one run shoe and one bike shoe on – sorry Mike but I still can't imagine how that is possible ;D??
I worked hard, beat down George twice, and managed to ride myself up into second place with the youngster Jeanni Seymour giving it to me solidly on the bike :). I got off the bike, and for the first time in many races did not suffer from the hip/glute trauma (thanks to my wonderful physio Linda Steyn) and was actually able to run without looking like the retiring Pope out on a jog :). I felt really comfortable and the sheer enjoyment of it made me push more and more to close the gap. Unfortunately, the youngster put a little too much air between us on the bike, but it was still motivating to see that I was closing in every time we turned, and in the end, standing on the second step of the podium was the good improvement that I was looking for!
With Ironman a mere 4 weeks to go I am looking forward to going ino the race rested and ready! Patience and steady progress bring performance, it's not a question of flogging yourself to exhaustion, just commitment to the bigger picture :).
Thanks to Sharon and Louis Harmse for an outstanding event!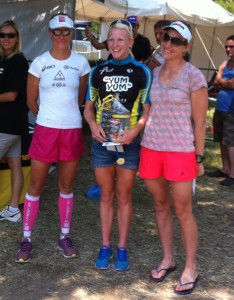 I have had a challenging few weeks, so finishing on the podium, with the bronze medal at the SA Long Distance Tri Champs was quite a relief. I was beaten by two young, quality athletes that are certainly demonstrating the potential of the new generation of South African triathletes, so time to raise the bar Koll ;)…
A few incidents lately got me thinking about the sport, and while I have got so much pleasure out of it, the reality is, that for most pro triathletes locally and abroad is the never ending struggle for financial survival. Fine when you are just out of university, but with age comes the reality of life. Along with triathlon, I have always survived by using my design skills to sustain my sporting passion. Recently, I have been in need of a new challenge, one that would make each day a little bit more inspiring, and so, over the past few months I have been working hard on a new business idea that I have been harbouring in my head for a long time :). I now finally have a registered company and I hope to be launching my Swimstar brand of swimwear in time for the next swimming season :).
For now, I am still the poor struggling triathlete, but it is the determination that I have learnt from doing this over many years that will make me succeed at this new project :). Apart from some late nights, a bit of stress and time management, the balance has been good for me, and every time I get out to train it is an enjoyable escape, a focussed session and probably the time when I come up with my best ideas :).
Yesterday, I had a good race because I enjoyed doing what I was doing, the pleasure came from just being in the moment and doing the very best my body would allow. Sometimes, reviewing your life structure, even if it means non-secure changes, that may even take you a step sideways, will lead to better results than staying on the same path. An interesting deviation for me too, I invite you to follow this spot and the results over the next few months of 2013 :).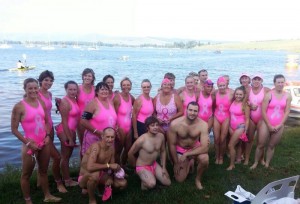 There is something about taking part in a new event that makes me feel like a young athlete all over again. At my first ever Midmar Mile I fell in love with the atmosphere, goody bag and ogled out my swimming heroes just like I did when I was a much younger athlete! The Midmar Mile is an iconic swimming event on the South African sporting calendar, and something that I have never really planned, but was on my bucket list. In it's 40th year now, the race attracts over 30 000 swimmers and is recognised as the World's Biggest Swimming race.
Initially, I always scoffed at the idea of driving 5hrs from Joburg, swimming 1600m across a dam, and then driving home again. Really now, how could 1600m be challenging for someone who takes part in events lasting 10 hours?? I would hardly class that as gruelling or even worth getting out of bed for!
This weekend, my smuggery came to an end, when Special and I decided we were going to commit to doing the 8-mile challenge for the Pink Drive. With this, two of my issues were addressed – 8 miles was challenging and the motivation of supporting the cause of the Pink Drive (Breast Cancer awareness) sealed the deal. To clarify, while the Midmar Mile is theoretically only 1 mile, we would compete in all 8 events with a short break in between each, before being transfered back to the start by boat. The total distance for the weekend would be 12.8km in total. We would swim 4 x 1mile on the Saturday and then another 4x1mile on the Sunday. I honestly thought this would be a walk in the park, and thought that it would be a great idea for Special to get some more open water experience before his biggest challenge, the Ironman in April. I really thought this would be EASY!!
What struck me when we first got to the Pink Drive 8 Mile tent on Saturday morning, was the variety of ages going from 13 to retirement, but this was one committed bunch of pink clad swimmers! Even more amazing, there were some top swimmers there too – Melissa Corfe (previous winner of the MM) and Mandy Loots (Olympian), as well as Cameron Van Den Berg (Olympic Medalist). I was suddenely overwhelmed with shyness and could not bring myslf to express my admiration! I must admit that when Cameron shook my hand at the start, I really struggled with those first few strokes as a result!
My real hero of course is Special – Milan, who readily accepts my crazy proposals of a 'fun' weekend – I sometimes think he just humours me and says 'yes' without really thinking about the challenge I have just signed him up for ;D!! For those who don't know, Milan only asked me to show him how to swim a year and a few months ago. I think he figured that with the amount of time I spend in a pool, he would see more of me if he got in there himself! I remember clearly in the first month we would get really excited if he could swim 8 lengths of the gym pool without stopping, choking or cramping :D!! I can't say that he loves swimming, but he currently has a truce with the water :). His first open water swim event was the Ebotse 3k in January this year, and we were only around 70 competitors. Unfortunately, the longer races usually attract the more experienced swimmers, so he had his work cut out for him! We decided that the goal would be to finish the 3k comfortably, and not be last! He worked hard that day and finished 2nd last :). For me, the greatest thing about this, is that he doesn't fear embarrassment or being last, and simply has the courage to take on what many others don't have the guts to do…
Milan managed to complete the 8 Miles this weekend :). It was hard for him, as he took almost twice the time per mile than some of the top Pink Drive swimmers did. The added time in the water ensured that he got alot colder than most, had to rush to make it back to the tent before the boats would depart to take us over to the start again. Most of the time, he had to grab food and drink to consume on the boat over to the start, while the rest of us had enough time to eat, drink and even have a massage!
My own arrogance about how 'easy' this was going to be, was short lived. After seeing Craig Diets – an American swimmer who was born without arms and legs and managed to swim the mile in 35min using only one fin and his own special technique – I realised that 'easy' is always relative, and you can always make it more challenging for yourself by setting the bar higher! I must say, I thoroughly enjoyed each of my swims – probably a bit more relaxed than if I was actually racing, but I tried to increase the pace a bit with every swim. At the end of day one I can assure you, that I had a lengthy afternoon nap!!
On Sunday, Special was nervous – he knew that the arms were feeling a little tired and he had the pressure of completing the remaining 4 x 1mile in an adequate time that would get him the boat ride back to the start in time! It was hectic!! I encouraged him, and told him that once he got through the first three, I would swim the last mile with him :). The poor guy spent so much time in the water that the 'Pink Drive' logo on the back of his bright pink Speedo actually sunburnt onto his bottom…too pornographic to show, but now that is commitment to a cause!
We finished the last mile together, and collected the 8th medal for the weekend, and were finally welcomed into the 8-mile club for the first time :). Together, the Pink Drive swimmers raised over R300 000 for this fantastic organisation! Milan and I loved every minute of it, and wish to thank the awesome people that swam with us, the ladies who provided the food, Mangwanani Spa who massaged our tired shoulders, and Di Doveton who welcomed us into the 8 Mile Pink Drive Club even though we had never done the Midmar or been in the swimming circles :).
Thank you to everyone who made a pledge towards our Pink Drive swim – your support kept us going!!
« go back
—
keep looking »