Apr
11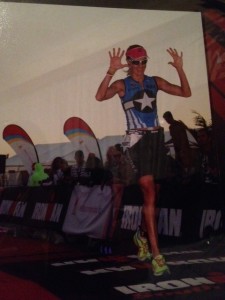 Ironman South Africa 2014 kicked butt – mostly my own ;D! I went into the race feeling quite happy with my form, having won the SA LD Champs just a month before, but the new course, and the perpetual uncertainty of what can happen during such a race, clearly gave m reason to be nervous. Being my 10th time at this race, everyone would expect that I would know everything there is to know about this race, yet I found myself with only one certainty – you never know what you will get in PE!
Don't get me wrong, I love PE and think it is the best venue in the country for an Ironman, but over the last ten years I have never quite had a perfect day there – some good ones and some terrible days – which is probably the reason I have kept coming back to this race. This year, I felt in my best shape in over two years, my training had been solid, not a single niggle and my times were looking good – and here I have to thank Raynard Tissink for handing it to me week after week ;D. Proof of the training was that Milan, who accompanied me on most of the training, in only his second Ironman ever, improved his time by nearly 1hour – on a tougher course and in the beasterly Easterly!
At the swim start, I was determined to latch onto a group, as in spite of the Pro field having a separate start (there were only around 40 of us), and having less of a punch up, there are disadvantages, namely there is very little draft advantage (in comparison with a huge swarm of athletes), you can't see much in front of you, so navigation is a bit more tricky, and the safety kayaks are few and far between, as it is assumed we can all swim! The water was cold. At the start, there were only two of us wearing neoprene hoodies (which make a huge difference BTW), namely the two South Africans, Claire Horner and myself – the Europeans must have been thinking we are soft, but really, that water was freezing for me! Anyhow, I got off to a good start, and found myself in a nice group of 4, so at least we had 8 sets of eyes to try and navigate the new 3.8k long swim course, and I would have a 1 in 4 chance of surviving a shark attack ;D.
On the bike, I predicted that the leaders would go really hard and see who would be left for the run. Knowing that it was going to be hard on the bike, my plan was to hold back on the first lap, do what I could on the second, and then hopefully pick up the carnage (of those who went too hard on the bike) with a brilliant run. I loved the new bike course, I found the variation to be alot more exciting than the old course. However, from the start, I was experiencing troubles with my gears (and yes, I had tested my bike?!), probably due to a cable that I had to change the week before which was progressively 'stretching' as the ride went on. Under the pressure of the race, I just hoped that nothing would break and that I would manage to get through the bike! It did, however, mean that I had to hold onto my shifter for most of the ride and avoid dropping to the small ring on certain climbs – not ideal! My problems did not end there – on lap number 2 my lower back was siezing up to the point I could not feel any power in my legs. I knew that I hadn't gone too hard, and have trained quite sufficiently in the TT bars so it was a mystery to me, and literally powerless, I slid further and further back down the field. Later, on packing my bike I would discover that my saddle had in fact cracked in half on the one side! Perhaps the answer, I am not sure??
Never being one to give up, even though my bike was terribly, terribly disappointing, I knew I could run, so hoped that over 42km I could manage to rectify my race. I got off the bike, and my back felt really stiff and numb, but I thought it would ease up. Instead, my legs stiffened up in sympathy, and despite evry hope that it would go away, I ended up doing what I equate to a warm-up shuffle before a track session! I felt terribly disappointed but I have been down this road before. I caught sight of Natascha Badmann on the side of the road (she had already withdrawn from the race), who, in her spirited manner, told me to hang in there as half the Pro girls had withdrawn and I was actually still in the Top Ten – thank you Natascha for seeing some positive when all I was seeing was a personal pity party! I finished 9th in the Pro field just ahead of an awesome Italian Linda Scattolin who also toughed it out with a smile, and crossed the line as the first person to finish 10 Ironman SA – that was the something better than the nothing!
It does feel humiliating when you are so well prepared yet cannot deliver your best. It is easy to pull out and not have the embarrassment of the age -groupers who started 30min behind you come past. However, if you realise that this challenge is not about how you appear to others, but rather about testing yourself and how strong you are emotionally, you have not failed but gained inner strength – I wear my M-dot tatoo on my heart and not my skin.
Congrats to all the SA girls and guys who did so well, and especially to my Milan who survived me in the months before, the depression after and who is starting to prove something to himself with his own great race!! He is already talking about doing IMSA next year based on the fact that it is on his birthday…I am slapping my hand on my forehead :P.
Comments