May
16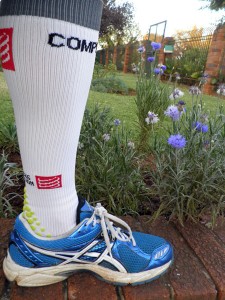 There is something about new shoes that I just love. I am not talking about Jimmy Choo Choos (no triathlete would), but rather, about my 'high-inducing' running shoes! That said, I have no shame in admitting that I have had a love affair with the Asics brand since I first started my running career – but I don't need to vouch for their quality or popularity – Asics have dominated the running shoe market in South Africa for years. Not because of gimicks or flash, they have simply proven themselves as a technologically advanced shoe that has carried most runners comfortably through crazy distances to PB's. Yes, I am biased, but I can say that a few years back due to a team sponsor obligation, I was forced to use another running shoe brand. Never, have I, or my feet been so unhappy! Between us, I secretly ran with my Asics in the dark early hours ;). I am not saying that everyone should be wearing Asics, although looking around this is almost possible, but having a great relationship with your running shoes is akin to running bliss!
Following the disappointment of Ironman SA, I have not rushed back into training to avenge myself, instead I have taken things easy. After such a mentally and physically tough day, I had to let go of being angry with myself, and give myself the chance to recover slowly. This has never meant no exercise, just enough exercise to amuse myself, when I wanted, and how I wanted. It has been great to just smile, chat and laugh with friends, paying no attention to time, distance, speed etc!
Now, since we are approaching the 4 week mark since Ironman, my body and mind have started to let me know that they have recovered and I am starting to feel ready for the discipline and 'pain' that I thrive on :). For me, the best way to start over with a new plan, is with a new pair of shoes :). I simply love taking a new pair out of the box, admiring the new season colours and giving them a good sniff! Yes, I enjoy the smell of new shoes :D!! More importantly, running shoes become like friends – at first a little stiff and then they become the shape of your feet. New shoes for me always imply new aspirations – they have not yet seen pain, PB's, disappointments or the hills of Bedfordview!
I always think back to my high school days when I got my very first pair of 'real' running shoes,a pair of Asics Tigers I might add, and how very proud I was of them :). New shoes won't make you run faster, in theory of course, but I have always found myself inspired by their unsoiled shine and unscuffed soles. I just feel like running with a new pair of shoes on my feet!
Now, as I look towards my next goals, I know that my faithful friends will be with me to share in part of the journey ;)…
Comments