Dec
5
Guadeloupe – yes, I know, where the hell is that? I exclude all my French friends from this comment, as, although it is far removed, it is indeed a department of the French metropole. So, for the benefit of the geographically challenged I have inserted a map indicating the location of this butterfly shaped island.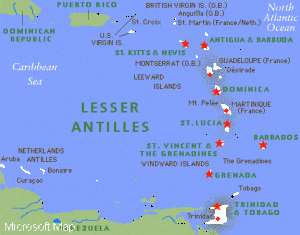 It was not my search for Johnny Depp and The Pirates of the Caribbean that brought me to Guadeloupe, but rather my quest for an exotic end-of-year race.
The Fiat Karukera Triathlon, now in it's 19th year, certainly exceeded my every expectation, and was by far worth the epic voyage to get there!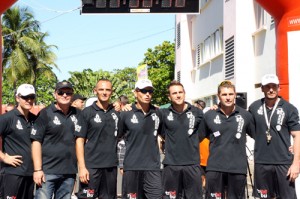 There are so many people who made this one of the best trips of my sporting career, but out of honour and respect for what these guys do everyday, I have decided to put them right up there, at the top of my story. The race was organised by the Gendarmes (a kind of specialised branch of the French military) of the Abymes station in Guadeloupe. These guys serve, protect and even risk their lives for their country on a daily basis, yet found the time to organise a triathlon that can only be described as world class organisation.
Apart from Cyrile Pistre, chief in charge, I don't think that many of these guys have actually ever done a triathlon (je lance le defi Monsieurs les Gendarmes ;D!), but I sincerely believe that they are capable of organising anything from a 3yr old's birthday party to a multi-national military operation! Chapeau to all of you guys, and my greatest respect to your profession!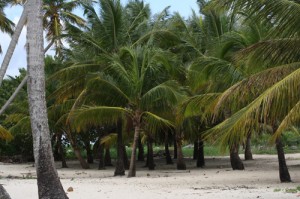 My first sightings of the Island of Guadeloupe left my mouth hanging wide open. The beauty and diversity of the island is truly spectacular, as well as a savageness that can only be the product of centuries' old volcanic eruptions. I can hardly blame the French for claiming this piece of paradise as their own! Similarly impressive is the amount of cars that can be seen blocking up every road, at any time of day here! People here love their cars, and are willing to sit in traffic in the heat and humidity simply to let their wheels turn, and listen to an array of Creole and Reggae tunes. I have to admit that I was seriously considering where I was going to ride my bike! Fiat, the race sponsor, generously came to our assistance and offered us a number of cars to use during our stay – was pleasantly surprised to see the 'green' advances in terms of automated fuel efficiency, especially in a place where traffic backs up alot…well done Fiat!
One of the first activities lined up for us before the race, was a visit to a local primary school, where we were treated like top rated celebrities. True, we had some serious champions in our group, including World Champions Etienne Diemunsch, Sylvain Sudrie and Olivier Marceau…not to forget IM champion Herve Faure, Fabrice Houzelle and myself. The kids were invited to a panel interview where they could ask us any questions they liked – one of the most amusing for me was 'Who is the fastest amongst you?'…I would have liked to say 'Me' ;D, but with this group of elite boys, the race would probably go to the one who indulged in the least amount of Rhum cocktails prior to the race ;D!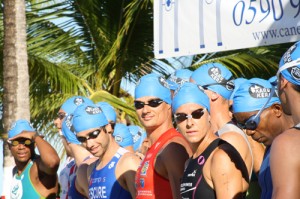 Sunday morning, and as the sun glowed over the turquoise Caribbean waters, I could hardly wait to get going! There is nothing more motivating for me than racing in a beautiful and balmy venue :). I was told to expect some serious competition from the feisty Guylene Louis, so I knew that I had to make the swim count. Luckily, from the gun the boys set a very fast pace, and I managed to plug myself in with a little group of four.
Exiting the water in first place, I knew that I had to cement my lead but the bike course would prove to be challenging. It required every bit of concentration and bike handling skills, as we rode on inland roads leading to T2 and the Gendarme station. Challenging, but highly entertaining as we rode past houses where people were getting about their Sunday business , cows traversed and holes seemed to camoflauge themselves in the shadows of the dense tropical trees. The second part of the bike course was far more business like, and after the turnaround point I managed to ascertain that I had a decent lead.
The run was a 4 lapper, in the blazing heat, around the Gendarme station. I had two objectives – one, don't let the boys lap you (I was caught by the missile Sudrie), and secondly, get to the far aid station – there was one hot looking Gendarme handing out the coldest water ;D! Prior to the race I had some doubts as to my run form, especially as I was just getting over my calf injury, and had executed nothing more than easy runs every second day in training, but some how, my legs seemed to remember what they were supposed to do!
 The most amazing thing about standing on the top step of the podium, is not just the view, but the heights that it encourages you to reach in your next event. I had such a fun time out on the race course, that the pain of some of this season's failures just evaporated as a distant memory, and all I wanted to do was cross that line first!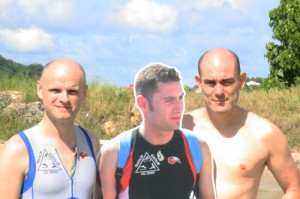 A special mention has to go to these guys Thierry (left) and Laurent (right) – apart from making me laugh and forcefully making me go to Mc Donalds to eat a Mc Flurry, they are truly special people. The guy in the middle is indeed a cardboard cutout of their clubmate Vince who died at the age of 25 from cancer. Every race they go to, Vince is right there with them, and I am so priveleged that I too, got to know Vince!
Post race:
Thanks to Pierre Cessio and anyone else I may have stolen pictures from! 
Comments