Feb
15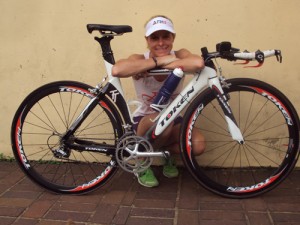 It has been two weeks now since I have taken possession of my new wheels – the Token!
As this is my personal space, I think I have the freedom to say exactly what I think! Token is not yet a big brand in the sport, especially if one looks at Ironman bike counts or magazine reviews, yet very underated.
My previous bike was a Cervelo. A brand which is well respected in Tri circles, and has earned it's place. In walks the Token. I am blown away! You always have doubts when riding a new bike, despite your own thorough research, you naturally wonder if it will be all you dreamt of, and this was no exception for me…
The parts are all the same mismatch ones that I have had in the past 8 years (I would love some nice fancy stuff, but poor athlete budget prevents ;D), so the difference really comes in the frame and wheels. I had the bike setup almost identically to the position I have had for the past 2 years, so I felt quite at home the minute I climbed on.
Anyone who has ridden a few bikes in their life, will tell you – you can almost immediately 'feel' what a bike is like. Even me, being  a girl and all ;), could tell the difference! It is much whippier (is that a word??), and much more responsive, especially with quick accelerations or on changes in terrain. I noticed that my training partner G would always accelerate much quicker than me after a red light, I usually put this down to the disproportion of fast twitch (him) and slow twitch (me), but I have now discovered that it has alot to do with the response of the bike frame! Although G can easily outsprint me, it now doesn't happen when he is not actually trying ;).
So, even though I am super excited about my new Token, the point of me telling you all this is that the new machine needs a name! In war, every good (or should I say deadly) weapon was always remembered by it's name – think B52 Bomber, AK47…
A name for my bike is important – you should, afterall, know the name of a friend you spend 2 – 6 hours each day with!
Pictured is me with the Token, and now I ask you for name suggestions?
Comments