Apr
18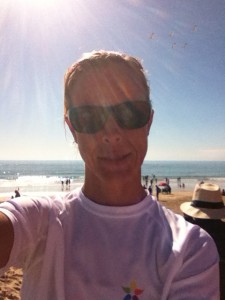 Ironman SA 2013 was meant to be the revenge on the dreadful conditions that dominated (and defeated me) in 2012. My chances of beating Chrissie W's record was probably out of the question, but I felt in good enough shape to contemplate a top ten finish. I wanted to defeat the demon more than anything!
As I sit here, 4 days later with a mouthful of chocolate (oh yes, we all do it sometimes!), I am trying to make sense of another disappointment, two years in a row now. It is not the kind of disappointment you experience for just missing out on a time or position, but the feeling of complete ridicule when you shuffled home to 'just finish' in a time far below your capabilities, and then someone yells an excited 'Well Done, that was fantastic!! when you you know that performance is going to go down on the list of 'Worst Ever'…
I wish I knew why. This year I really had to concentrate on my training efforts, not waste any sessions or time, especially with the added committments of trying to get a new business going, time management was essential. Leading up to the race I felt good, I felt that my training had been effective, I had paid attention to my nutrition, hydration and sleep. I wanted to give myself the best possible chance of a good finish.
The day before the race, I was relaxed, that is except for the brief moment when the seatpost bolt snapped on my bike (and caused poor Special to hyperventilate!). We had already put plans in place involving duct tape and cable ties (fixes everything), but luckily Action Cycles was open, and Blaine and the guys immediately came to my assistance – fixed! Thank you guys :). The weather was also set to be perfect, and this was a great relief to me, especially as my body just doesn't like the cold! I decided to go with my one piece O2 trisuit over the two piece as Special suggested I looked better in it – ok, it was tried and tested, and if you look good, then that adds at least a few seconds! This was going to turn out to be rather a poor choice! That evening, I struggled to eat my last meal, appetite non-existent and the nerves there and ready…
Race day dawned, and here was my opportunity at last! Everything operated like clockwork, even Special (who is not a morning person), was ready to go, and leave the hotel at 4.45am. Thoughts go out to our German friend Carsten who came down with a bout of flu the night before the race and could not start – what a blow after training through the German Winter and flying all the way here! After a last warm up in the very cold sea, it was a final hug ith Special before we would each commence our own journey for the day.
It was wonderful having a proper start for the Pro field this year – it ensured that we were not beaten up by the age group men – thank you IMSA!! I had a little bit of a slow start – the cold water always being a bit of a challenge to me. The first group was way too strong for me, and the group behind being too slow, so I found myself completely solo aka shark food between two groups. It was challenging for me to swim this way, as I did not have the benefit of a draft and with my bad eyesight I struggled quite a bit to navigate. Towards the end of the swim I was feeling the cold, but worst of all, my stomach was feeling quite distressed.
On to the bike and despite the good conditions, it was made into an unrespiteful ride by the slight easterly wind and that dreaded rough and bumpy sea rode. Halfway up the first long climb, a spectator called out to me – I dropped my spare tubby. Although I thought it was on tight, it had somehow worked loose, and not wanting to ride 180k without a spare, I had to turn back to retrieve it. Next time duct tape! I tried to ride the first part of the ride conservatively, especially as the pace was very fast and furious from the begining, and I knew someone was going to blow up! However, I was soon to be struck myself – the stomach issues which started in the swim led me to dismount and dive for the bushes twice on lap 2 of the bike. Despite using everything that I had used in my training, I was struggling to keep anything down :(. By lap number three I knew I was in trouble when what felt like everybody was coming past me and I just did not have the energy to pick up the pace. I felt dreadful, nauseous which made eating really difficult and the tank was empty.
By the time I hit the run, I tried to convince mysef that things would get better. I had not managed to take in (and keep down)enough calories by a long stretch, my sense of humour was dismal, but I hoped that the bush stops were done, and I hoped that I could somehow reboot and make up something on the run. It was hard knowing that I was so far down the field, but I know that in Ironman, never give up, because you just never know what can happen! With no energy in the tank, my body told me quickly that it would not be running very fast, but I kept focus tried to take in small amounts in the hope of revival. Instead I found myself making emergency stops at the famed university bushes. The one piece suit was a bad idea! I have to apologise to all who may have witnessed my naked displays, but at that stage, dignity was out the window and the calls of nature too urgent to find alternatives :D!! My race goals had now degraded to 'C-Plan' which meant 'Finish'. as any Pro will know this is the tough pointv when often the decision is made to withdraw in favour of doing another event or swallowing your ego and just trdging along with the many others. Having done the trudge already last year, I knew it was possible. It is a far greater test of courage being beaten by many, many age-groupers, hearing the 'oh shame' comments, dying inside when someone with good intentions screams 'Well done, you're going great!!' than quitting. I thought of Special, doing his first Ironman, the sacrifices we had made together and I would finish! In my opinion do not race if you can't face the ugly! I finished Ironman 17 and IMSA number 9. Not last in the Pro field I might add…14th. Dede Griesbauer, a former Kona top-tener finished behind me, hats off for walking and showing your character!
Post race of course I am disappointed. Like many others it seems such a waste of all those hours and hard training, truth is, no matter how much you want it, not everyone will have a good day, no matter how good your preparation. Then of course there are the unwanted hurtful comments – my personal favourite this year being 'Maybe you should stick to a shorter distance' – was it implied that we should seek out easier alternatives when things don't go right a first, second, or third time? I personally don't think that any great achievement happened the first time around! As much as I wanted this race to go right it didn't. However, I look back in my mind to my third place at Ironman Korea and my fifth place at Ironman South Africa and I do not doubt what is possible and what I am capable of! For those who were disappointed like me, ignore the negatives! Heaven help the arrogant critics when they have their turn…everything is possible for them too ;D!
An to end off, I would like to announce to you that my Special is now an Ironman :D! He finished in 14h17 with a huge smile on his face! As he he crossed the line, his first complaint was about his time and how far it was – judging by that I think he is pretty motivated to make himself better. That is was Ironman does, it makes better people.
Comments