Nov
22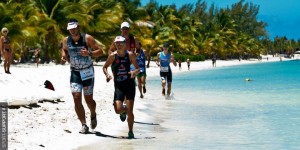 The Indian Ocean Triathlon in Mauritius is the perfect way to end the racing season….in unspoilt paradise! This was my second time competing in this event, and for this year it has by far been my favourite! After a year of racing in events that were cold, wet and windy, I was really hoping to end the year in conditions that suited me – hot, sunny and beautiful :).
This race is like an end of year family gathering, only you get to meet and spend a good few days with like minded triathletes, and of course in an environment that only beachy screensavers are made of :). I like this race because everything and everybody is pretty darn relaxed by the time race day rolls around, and apart from the ITU rules imposed by the Mauritian Tri Federation, nothing is very conventional. The race distances 1.8k – 55k – 12k are a little unusual, but that is just the way it is and on the island it works!
The swim is only a pleasure, in crystal clear, very warm, turquoise water (no wetsuits allowed), with all the fish and colourful corals an absolute delight on the eye. The bike and run however, are certainly a challenge – the bike course takes a turn up the delight of every local cyclist – Chamarel pass, which is certainly worthy of a 25'27 rear sprocket! The run too, is not very traditional, mostly offroad and I can highly recommend wearing socks for the 3 passages along the beach, where yes, you get your feet a little wet and sandy ;D! The finish line is the best part of the race bacause of it's beauty and simplicity – simple palm leaves and the race banner, but I can tell you the backdrop makes for your best finish photo ever!!
I was delighted with my podium (3rd place) finish behind Olympian Delphine Pelletier (France) and Charlotte Morel (France), but more especially with the great friends that I made from all over the world so thanks to: Laurence, Pascal, Greg, Sophie, Dario, James, Christophe, Camille and…and…
So, for those that may be tempted, let me give you some facts so you can start planning for the 2013 edition –
The race and travel arrangements are organised by international company VO2 Max Voyages , and because the guys are athletes themselves, you can be sure they know what we want. The Tamassa LUX Resort provides the ideal lodging, with a lovely light atmosphere, yet top class service. Meals are simply delicious and the buffet even seemed to withstand the onslaught of always-hungry athletes….I can say that I am sure I took a kilo home with me, and it wasn't in my travel bag ;D.. Flights on Air Mauritius are surprisingly cheap, and at this time of year you can travel to this Island paradise for less than you would pay to go to Cape Town from Johannesburg!
Well here are some of my highlights:
Paradise – this is posssibly the most beautiful race that you will ever do!
Weather – Guaranteed it will be warm, around 25-30 degrees
People – are friendly and most speak French/English fluently
Taxi drivers – are very knowledgeable, ask enough questions and you have a tour guide for the day
Fish tank – Ever wanted to know what it is like to swim with fish, dolphins and magnificent corals
Comaraderie – spending on average 7 days with fellow participants from already 20 different countries
Sharing – a passion for the sport with foreign athletes and their partners
Partners – are treated as important people and a special fun event called the 'Girlfriends' race is especially made to put the spotlight on our regular supporters :).
Food – a personal favourite of mine :). Mauritian cuisine is certainly something to remember!
Post Race Activities – The list is up to your imagination and everything is really well-priced: See Giant Tortoises, scuba diving, snorkeling, kayaking, kite-surfing…
Comments