Mar
22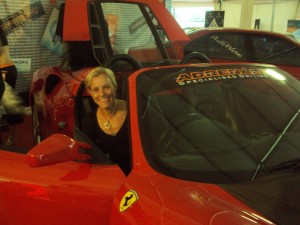 .
There are 20 days to go before I take the start of Ironman South Africa….EEEEEEEKKKKKK! The closer D-Day gets, so do the memories of how painful an Ironman can be! The reality usually sets in at the time when training volumes decrease, lingering tiredness turns to enthusiasm, and the mind-body prepares for the task ahead…
So in order get myself ready (and motivated), I decided to expose myself to a bit of speed…of another kind! Thanks to Toby and Marizanne, from TRIONZ who generously gave me tickets to the Top Gear Festival, which was held this past weekend at the Kyalami race track in Johannesburg.
Firstly, I must emphasize that I am a huge Top Gear fan :D, and secondly, I really enjoy speed, so this was a real treat! Just as Jeremy, Richard, The Stig enjoy challenging themselves, to somewhat absurd challenges, it seems so do I! The difference lies mostly in the cost of the toys we play with, but essentially, we all share a similar determination to succeed.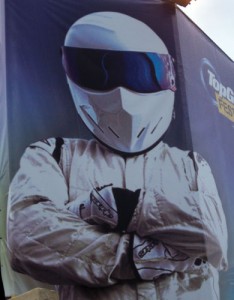 Despite the Highveld thunderstorm on Saturday afternoon, I was determined to achieve two things:
Lay my hands on a fast red car.
Spot someone famous
Well, with all the bodyguards, it was difficult, BUT I did catch sight of The Stig! Unfortunately, as his identity is top secret, he was hurried around too fast for my reflexes, and I couldn't get the camera ready quickly enough! I did, however, get this pic outside which looks pretty mean :D.
I was not as successful with my search for famous people, as I was in my search for famous cars. When it came to cars there was a fine selection indeed, including some vintage stuff, Jody Scheckter's private collection of F1 cars (SA's very own F1 World Champion, in case you didn't know…), and a very, very fine array of Ferraris, including the Enzo.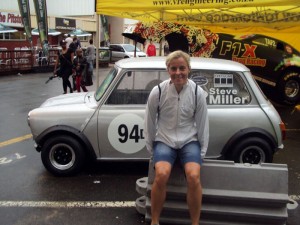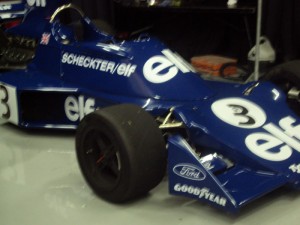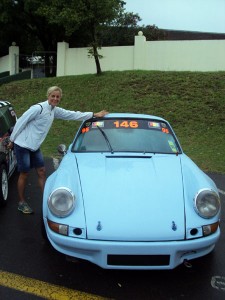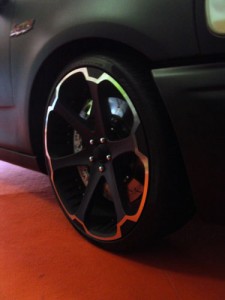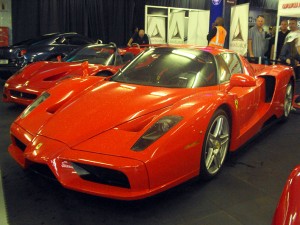 The Enzo

– One of only 50 ever produced. You never really "own" one, you just pay lots of money and get to drive it on the Ferrari track!
The highlight for me, was, however, laying my hands on some red for real! I chose the moment carefully, when most of the crowds had rushed off to see a stunt show. I saw the stand, marched over to the guy (who seemed to be constantly wiping and polishing the beautiful bonnet), and smiled. Yes. I was willing to use every bit of my charm to get what I wanted. I then asked "Can I sit in it?". The guy was about to say N. O…..then I stared hard at him, just to make sure that he understood this was not really a request ;D. He looked around, and then said "We don't allow the public to do this, but as it is very quiet at the moment I suppose there is no harm…" Ha! I had my foot in the car! It was amazing :). The car has a dashboard that looks like something from NASA – I would hesitate to say that even if I could have driven it out of the showroom, I wouldn't know how! The dash is full of switches and buttons – no tacky levers here! Needless to say, I quizzed the poor guy about absolutely everything (actually, I was trying to buy more time in the seat ;)), and eventually, I asked if I could see how the "start" switch worked…. RUMBBBBBLLLLLEEE!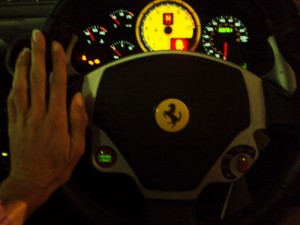 The point of all of this, is that you need to turn dreams into goals, and then just go for it! The worst that can happen is the "No." "Not today…"
Now that I have crossed "Sit in a Ferrari" off my bucket list, I have added a new one "Drive a Ferrari for a day, after I win the big one ;)"
Comments