Jul
9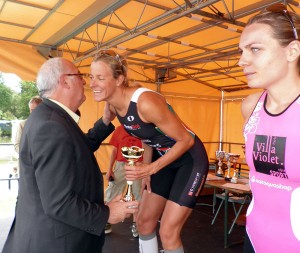 Le Mans is a town in the Sarthe region of France, known for its motor racing, but it is also the host of an equally exciting triathlon – the Le Mans International Triathlon.
It has been a challenging year for me so far, injury, illness, stresses and not the form or results that I would have hoped for. However, if you want to be successful at this game, you have no option but to have a strong belief in yourself, and ride out the bad wave…and yes, every athlete has a bad wave!
This past week, for the first time all year, I confessed to Special that I might have something good going on in my legs. This has nothing to do with a stopwatch showing good times, but rather the feeling of 'ants' in my legs, as the french would say! By Friday, I actually felt like I wanted to race, I had a strong urge to bring on the hurt ;)…
I knew I was going to face some pretty good competition going into the race, but I set myself the objective of getting on the podium, with no other option in mind. Besides just wanting to do well, I needed to make some prize money, so that I could, well, EAT! The weather was pretty ominous, with black clouds clumping together, and were it not for the strong wind, I think they would have squeezed out a considerable downpour. Luckily for us, the rain stayed away and conditions were fairly cool.
The race was incredibly well organised, with the girls being given a 10 minute head start on the guys, which meant that we were unimpeded, and our race would be drafting  free – thank you to the organisers! The swim took place in a smallish river tributary, with a fairly strong current. Jumping in, I was a little taken aback as to how chilly the water was, and after a rather fast start, I found it a little hard to breathe, and lost a bit of time on Camille Cierpik the french star. I exited the water in second place, and I knew I was still within striking distance.
Olympic Distance races are very different in the sense that you have to go hard from the word go, and there is no such thing as easing into things gradually! For the first 20k my legs were really feeling 'the burn' as Jane Fonda so keenly promoted. I had no idea where the front girl was, nor did I know who was behind me. At the turn around for lap 2, I caught sight of two girls not far behind me, and I felt the prick of panic – now I really had to put foot and go like hell. Every kilometre that went by, I was feeling so relieved that nobody had appeared alongside me, then suddenly, at around the 35k mark I saw her, elated I now knew the pressure was on and that I would have to make my mark.
Going into T2 I was not expecting to be in the lead, least of all with a fast runner on my tail. I transitioned so fast that Buzz Lightning would have been proud and headed out onto the course as fast as I could. Whoever designed this run course clearly must have had a hearty laugh at us! Mostly off-road, through forested sections and clumpy grass, it was really hard to find a rhythm and not at all something I favour, but certainly interesting! Of course I feared getting caught, as I felt like I was ploughing along trying to stay upright rather than running, but with every kilometre that passed by, I realised the others were having as much difficulty as I was. The closer that I got to the finish, the more the joy was building up inside me, I really wanted (and needed) this win, but until the line was crossed I would not let myself believe it! Finally, a victory, and the sensations that I have been trying to find all year :).
A little advice to anyone wanting to visit Le Mans, take a good GPS and alot of patience – this town is full of confusing traffic circles, roads, and, well, cars especially when the Vintage 24hrs is on the go ;D…
Comments