Dec
27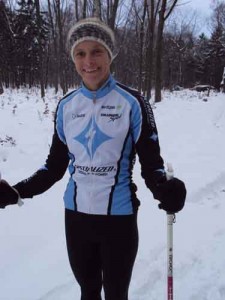 What to do when the snow is literally up to your knees? Well, Rocky would say 'I'll show them who the F… Alice is!'  So after a good 10k warm up, running, high knee action through the deepest snow I have ever seen in my life, I was ready for my first training session on the skiis!
My coach, much like the famed Mickey Goldmill, has about 30 years more practise time, and I was promised this would be a 'no mercy' session. Just the way I like it :D! They have been showing a fair bit of Winter sports here on TV, so I thought I had picked up a few ideas with regards to technique…
There are two types of Cross Country Skiing techniques:
The 'Classic' and the 'Skating' styles. The Classic is a little slower and maybe a bit more boring to look at on the TV (until you realise just how fast these guys are actually moving). The skiis are just under 2m long, and only about 5/6cm wide, so quite skinny actually! So this means not much to balance on :O. The sticks are essential for maintaining balance, and according to my coach should be about shoulder height. The Skating style skiis are much shorter in length, and slightly wider.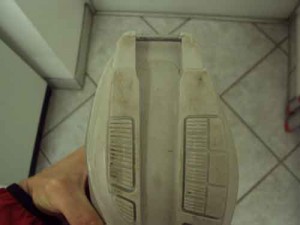 The style for the said session was to be the Classic version. I expected the ski boot to be a bit like bike shoes, with a type of cleat at the bottom – this is was it looks like anyway! The ski boots are quite heavy, and inflexible. You need to lace them up, a little like hiking boots in fact. There is also no cleat on the bottom, but rather a thin metal clip on the toe, which then gets inserted into a clasp on the actual ski. The metal part of the shoe is then able to rotate up and down, enabling you to lift your heels, which is an essential part of the technique. To clip out is not like bike shoes at all, so if you fall, generally you will still find yourself attached to your skis! You need to use the pin of your ski pole to push down a switch that will release the shoe from the ski (not so easy).
Given the amount of snow that has been dumped all over Germany, we had the great experience of being able to get onthe skiis straight out of the front door – something never seen here, so it certainly is a privilege!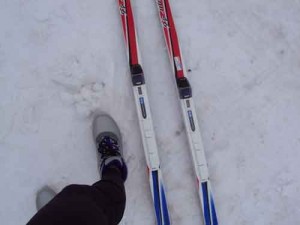 First step is to clip into the skiis, sounds elementary enough, until you try and clip into something that is in fact a little 'slippy' underfoot! Next step is to try and maintain balance, and figure out which arm is to move with which leg (slightly higher grade for me).
So after these brief instructions, I was instructed by my Coach Goldwell 'So now we go!'. Needless to say, I was left abruptly behind in his snow dust, feeling a bit  like an out-of-place African on skiis! However, Rocky would never let this bother him, so neither would I;)!
I gingerly attempted my first few paces with a sort of shuffle-shuffle-slip-slip-slide movement that would result in an earth trembling wobble every time I would try and produce a slightly higher speed. In the space of around 200m, we hit our first challenge – crossing a snow-covered road with cars on it. Coach Goldwell forgot to mention how we brake, so I just stopped any motion (I was going so slow that it did not take long anyway!), and like a true Jo'burg girl, got my timing right to take the gap between two cars ;).
On the other side there was a step up into an immense snow covered field. This needed to be taken on like a side wider, as one cannot step 'up' with skiis on! The snow was a little deep, coming up to about mid-calf, but this was part of the training strategy – easy is for people who are too scared to win.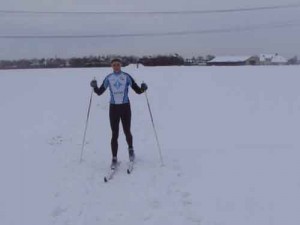 Concentration levels were particularly high as I tried to keep up with Coach Gladwell, who looked liked fluid poetry in motion, while I tried my best to pretend I had the technique of the Olympic Biathletes I have been watching on TV!
Needless to say, things did not all go completely according to plan, and there were a few tumbles….
8 in 2 hours to be exact….
.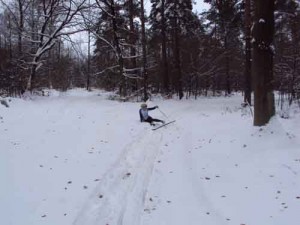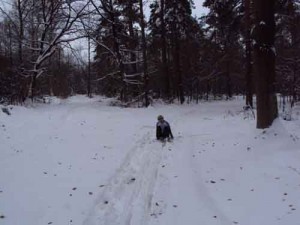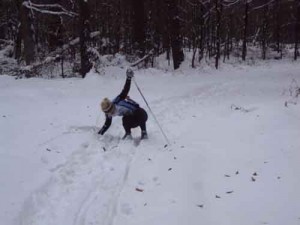 To all the SAF's, don't be fooled into thinking that this is in the least bit easy ;)…
.
.
Life is a giant theme park, enjoy the ride ;)!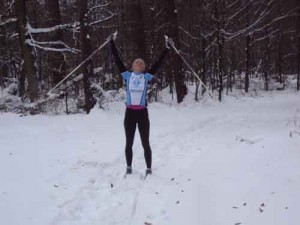 Comments