Mar
12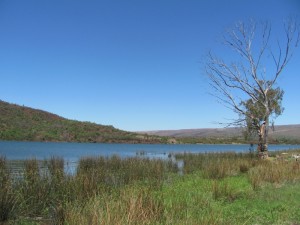 Buffelspoort – a lovely bushveld venue, a stone's throw away from the scenes of last year's Marikana shootings in the North West province. I have never raced the Buffelspoort Ultra Triathlon, but I can tell you that I have been missing out and it is well worth the journey north!
For starters the dam is very clean, which makes a nice change from the murkiness of Gauteng's open water sources. I kid you not – the bike course is very hard – two laps of 48k, and a passage over 'George' twice. I still don't know why this monster is called George, but I have to confess to having some serious callousses on my hands from trying to haul my 42×23 ratio over there! On the bright side, there is a fabulous descent after that my Special proudly declared he reached a speed of 75kph going down! With no U-turns, just a lovely, scenic and varied loop, it is super cool! Oh, but then you have to run uphill….and more uphill straight of the bike :D!
I could describe my own race as really 'fun' while being in a significant amount of pain! After exiting the water in third (for some reason I must be one of the few that actually considers herself a better swimmer without a wetsuit??), I just set about enjoying the bike ride, not too hard in the beginning, but finding a good rhythm and building it up. I enjoyed trying to catch the guys and two girls in front of me, but didn't quite manage to catch Mike Hawthorne in spite of his transition blunder – leaving the transition with one run shoe and one bike shoe on – sorry Mike but I still can't imagine how that is possible ;D??
I worked hard, beat down George twice, and managed to ride myself up into second place with the youngster Jeanni Seymour giving it to me solidly on the bike :). I got off the bike, and for the first time in many races did not suffer from the hip/glute trauma (thanks to my wonderful physio Linda Steyn) and was actually able to run without looking like the retiring Pope out on a jog :). I felt really comfortable and the sheer enjoyment of it made me push more and more to close the gap. Unfortunately, the youngster put a little too much air between us on the bike, but it was still motivating to see that I was closing in every time we turned, and in the end, standing on the second step of the podium was the good improvement that I was looking for!
With Ironman a mere 4 weeks to go I am looking forward to going ino the race rested and ready! Patience and steady progress bring performance, it's not a question of flogging yourself to exhaustion, just commitment to the bigger picture :).
Thanks to Sharon and Louis Harmse for an outstanding event!
Comments