Apr
8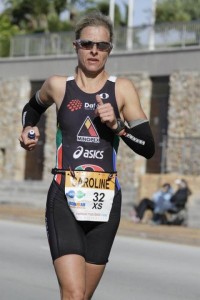 Looking at this picture, a flood of memories of Ironman SA 2012 come back to me. This was probably THE hardest most miserable day I have ever had! Despite the struggle, I came away from that horrible race with nothing more than my personal worst time, and experience, ever had! I was depressed about my 11h58 finish for many months after, and I guess for me, it is still the black mark on my sporting CV.
It was really difficult to get over, especially as I felt like such a wimp for having been completely defeated by not only the competition, but mostly because of the apocalyptic weather that day! For those of you who were not there last year, PE experienced the worst weather conditions I have ever seen – windspeeds of 100kph, rain and bitter cold. I was not prepared for that! I remember crossing the finish line with absolutely no pleasure, no smile….just the feeling that no matter how bad things got, how embarrassing my performance was to me, I had refused to quit. I felt like a failure to myself…
So many athletes who raced last year have been scarred by that experience. It took every once of courage to get out there and try anyway, whether you finished or not, and for many, the experience still too raw to race in PE again this year. I completely understand! So why I am I racing again in PE this year, when there are absolutely no guarantees of a better performance or better weather?
Last year, Special was there. The entire day, soaked to the bone, freezing cold, cheering me on from the roadside in his first experience of Ironman. Special had never done a triathlon, and had just started doing some running races, yet at the end of it all, he said to me 'I want to do that'. Well, if he suggested doing an Ironman after witnessing THAT day, then it has got to say something about him! After a 2012 season affected by injuries, disasterous races, mechanicals, it was Special and special people (Col, you are definitely listed here!), that regenerated my enthusiasm by making me realise I am also human, not indestructable, and made me think about the abilities that I have, and being able to use them is not something to be ever take lightly.
In November Special did his first triathlon, and in December he was entered for Ironman SA! Since then, it has been quite a ride over the past few months. I had to remember that he does not have a backround in any endurance sport – apart from jogging a bit, he had never swum or cycled. Quite difficult to train with someone who has competed for over 18 years – he had his work cut out for him, yet he has never, ever contemplated giving up ;D! For anyone who has ever trained with their partner, especially where you have significantly different levels this will really test your relationship! For me it was great to finally have a training partner I could rely on (command to do what I want ;D), but for him it was often stressful, with the constant feeling that he was holding me back. We had the expected tug-of-war conversations "You just carry on!" Me: "Come on, push!!!!", but somehow, we made it work, and with some clever advice from the indispensible Col, we created some very entertaining interval sessions! Having lived up to my slave driver reputation, he made remarkable progress, I was never alone riding on our very dangerous roads, and I could safely say that he was instrumental in me not smashing myself to the usual point of injury :).
I don't know what this Ironman will bring, I am glad not to be sucked into issues of the favourites and 'catfights',it doesn't matter!  This race is not about where I will finish, it is about sharing this experience with Special. Of course it will be nice to have a decent finish position, without having to struggle to the finish, but I am not afraid of the worst that could happen ;D. I want to go into this race with a great attitude, I want to smile, applaud the spectators and appreciate what my body is letting me do again!
Most of all I want to be there at the finish, when Special crosses the line of his first ever Ironman, and applaud him. If you happen to see number 1112 out there, give him a high five for me ;D.
Thanks to Col, Linda Steyn Physiotherapist and Special for getting me to the start of Ironman SA 2013 – the body and mind are ready because of you!!
Comments