Dec
29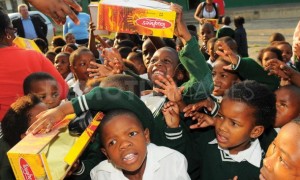 A Mile for Shoes Project 2011
As most of you know, there is very little that I won't run a mile for! Everyday, many SA children walk many miles to school barefoot, with no shoes. This is something I have never in my life had to do, yet it is heart breaking to see. I encourage you to read a little further below, or on my 'projects' page, and if you can send just one pair of shoes my way, I can assure you that a little child will be smiling in the new school year!  
¨The idea for the project was started by myself, Caroline Koll and a friend Billy Sehume. We are both out running and cycling early in the mornings on the roads as part of our training, and everyday we see small children walking barefoot to school, even on the coldest days of the year. ¨We felt inspired to help these children, who ask for nothing, have little, yet are motivated to get an education. ¨Even though we both come from modest backgrounds, we are both firm believers in helping those who have less than ourselves. ¨ Instead of donating resources to already established large organisations (where funds are often misused, or take months to reach the needy), we have decided to be actively involved ourselves, and develop a relationship with a school whom we know is in desperate need, and receives no other assistance. 
Click Here for the full presentation and information on how you can help!
Comments