May
16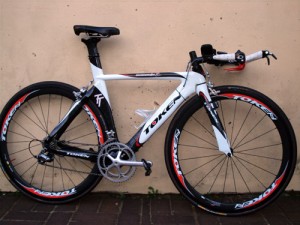 Riding bike with guys, and here I mean REALLY good guys is always going to be a painful experience if you're a girl. Given my less than spectacular race results in 2011 so far, I am feeling determined to remedy the situation, not by dwelling on what has gone wrong, not on what race is coming up, but getting my heart and body out of the comfort zone, and stuck back into the process…
Sunday morning, and I feel exactly like I did 20 years ago, going for my first ride with the "boys" – nervous! I made sure to have a big bowl of Jungle Oats, and popped a handful of Multipower Bars and gels in my pocket….just in case ;).  I even cleaned my Token, the "Wunderflugel" in the hopes it would give out a little more speed! It was a chilly morning, but I was quite convinced it wouldn't stay chilly for long when I saw the mini peloton of talent that I was going to "try" and ride with! There were four, and then me, who was going to attempt to sit n their wheels as long as possible :).  Let me introduce you to the "boys" that caused me to be couch bound for most of Sunday afternoon – and here I emphasize it was NOT a hard ride for them:
Jero – Ok. He is a Pro rider for the DCM team (Drive Caroline Mad?) and former national champion. Undeniably a machine, he has the ability to talk on his mobile phone, send a lengthy text message, navigate corners and taxis all at 40km/h in his "easy" HR zone. I am in the HR zone that flashes wildly and should be avoided by anyone with a heart condition…
Torch – Ex Pro rider, and 1 x Ironman. Go back a decade, I had nothing but admiration for this guy who happily let a total beginner ogle all the cool bike stuff that filled his garage! Not once, in an era where female cyclists were very scarce, did he discourage my interest in a sport that was mostly male dominated. I got my very first pair of cycling shoes and pedals from him, a size too big 😉 but my pride and joy swelled at having 'real' cycling equipment! That said, Torch will ask "How are you?" while the sweat is blinding me, I am frothing at the mouth, and my lungs are sitting in my throat…
Zeus the Greek – Luckily, for me one Greek charmer that would fall for my desperate smile!  Zeus has fallen off his bike (and on his head a few times), so I am of the opinion that he has lost most of his pain receptors, which is why, at 52 he doesn't seem to slow down or show any signs of 'hurt'. While I don't look for sympathy when I get dropped (at the group's talking pace 😉 ) it was great to see Zeus turn back and pull me back to the 'peloton'.
Wee Maurice – One word for this guy – INCREDIBLE! He is a multiple SA Champion, and rides like he will be signed up for a Pro Team any day now…..all at the age of 67! I repeat SIXTY SEVEN! Not only does he make me look ridiculous, but he prides himself on the fact that he can still ride away from most of 'them youngsters'. Take note those that use age as an excuse!
So as you can tell, this was never going to be a 'coffee' ride. In fact, about 5 km into the ride, going over what can technically be termed a 'bridge', rather than a hill, my heart rate was already flashing the numbers indicative of considerable breathlessness. The further north we headed, the more I realised that I was going to endure some serious lactic acid build up! The best part about riding with guys is that they talk alot less and race alot more. I am not suggesting that every training ride should be a race, but the occasional "race with the boys" will certainly make you stronger and faster, especially if you're a girl!
I finished the ride ( I will admit I hated the fact that they had to wait for me on almost every hill), with very wobbly legs and a hefty calorie deficit, but I really enjoyed the motivation of just riding to hang on! At the end of the ride, they turned in to stop for a snack at the Vetkoek Palays (Yes, it seems these lean and mean fast guys are far from diet freaks or calorie counters!), while I plopped the bike into the Granny gear  and rode the last 5k home draped exhaustedly oevr my TT bars! One thing I can say, is that sometimes sessions can hurt, but if you smile at the end, it usually means you had fun! In my case, I'll be back for more….until Wee Maurice lets me beat him up one hill!
Have fun, it'll make you fast!
Comments