My 'girls' may not be large or make me a potential model for Victoria's Secret – I would like to claim that this is due to the fact that I was genetically engineered to be an athlete ;), My point is that even though I may not be well endowed in the chest department, and I am fit and a Vegetarian I am not immune to developing breast cancer in my lifetime. Breast Cancer runs in my family, with my Mother having had the disease twice. Thankfully, in the case of my Mother, the cancer was detected early and effectively. She has undergone a mastectomy and radiation therapy, but I am proud to say that I still have a very fit and active 70yr old for a mother :). She is currently in remission (for 5 years now), and we can thank modern technology and regular mammograms for that…
So what does this have to do with my latest challenge??? Well, apart from having my 'girls' checked, I have decided to do a bit of an exciting new event that I have never done before, as part of my build up to Ironman South Africa in April. It all started when I met Wayne and Shan – organisers of the world's biggest swim race (for my international friends have a look here – www.midmarmile.co.za ). For South Africans, The Midmar Mile is a mythic event in South Africa, just like the Comrades Marathon and the Argus Cycle Tour. Generally, competitors swim one mile across the Midmar Dam in the province of KZN. On meeting Wayne, I said to him that I was sure this is an amazing event, but why would I want to drive across the country to swim 1600m?? For me, who regularly does this as my warm up in swim training, this distance can hardly be considered a challenge!!!
Then came Wayne's challenge to me – why don't you take part in the Pink Drive 8-mile???. Not being terribly good at maths, I equated 8 miles to around 8 kilometres in my brain and said "Why the hell not!!". Smiling at my new found challenge, I then proceeded to excitedly tell Special about the 8-mile swim. Poor Special has only been swimming for just over a year now, but being such a good sport he has decided that he too will join in!
So what is the Pink Drive? The Pink Drive is a non-profit organisation that is not simply focussed on telling people about Breast Cancer, but has actually taken the initiative to take breast screening to the women of this country and make it possible for all, no matter where you live or what your income. Early detection not only prevents deaths of bread winners and important family members, but also reduces the burden on our under resourced national health care system. The Pink 'Drivers' head out to many inaccessible parts of the country, as well as corporates, and brings the screening services to women who would otherwise not have the time, access or money.
With no challenge ever having been to big for me, I have taken on the task of raising some funds for the Pink Drive in my attempt to do the Midmar Mile 8 times! As time is short – I only have 3 weeksleft to do this, I am aiming to gather R10 000 in pledges for the Pink Drive should I succeed in my attempt. Every person who is able to assist, even if it is only R100 will be issued with an official pledge form from the Pink Drive :). For my international readers, any donations in Euros, Dollars or Pounds will go a very long way here – worth more than 10 x here, so please consider digging deep in your pockets! Starting from tomorrow, please drop me an e-mail if you are keen to support. I have put in my R100 already…. 3 weeks and R9900 to go! Watch my Facebook page for updates :)…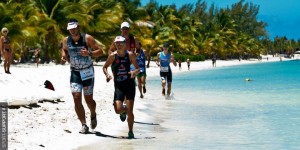 The Indian Ocean Triathlon in Mauritius is the perfect way to end the racing season….in unspoilt paradise! This was my second time competing in this event, and for this year it has by far been my favourite! After a year of racing in events that were cold, wet and windy, I was really hoping to end the year in conditions that suited me – hot, sunny and beautiful :).
This race is like an end of year family gathering, only you get to meet and spend a good few days with like minded triathletes, and of course in an environment that only beachy screensavers are made of :). I like this race because everything and everybody is pretty darn relaxed by the time race day rolls around, and apart from the ITU rules imposed by the Mauritian Tri Federation, nothing is very conventional. The race distances 1.8k – 55k – 12k are a little unusual, but that is just the way it is and on the island it works!
The swim is only a pleasure, in crystal clear, very warm, turquoise water (no wetsuits allowed), with all the fish and colourful corals an absolute delight on the eye. The bike and run however, are certainly a challenge – the bike course takes a turn up the delight of every local cyclist – Chamarel pass, which is certainly worthy of a 25'27 rear sprocket! The run too, is not very traditional, mostly offroad and I can highly recommend wearing socks for the 3 passages along the beach, where yes, you get your feet a little wet and sandy ;D! The finish line is the best part of the race bacause of it's beauty and simplicity – simple palm leaves and the race banner, but I can tell you the backdrop makes for your best finish photo ever!!
I was delighted with my podium (3rd place) finish behind Olympian Delphine Pelletier (France) and Charlotte Morel (France), but more especially with the great friends that I made from all over the world so thanks to: Laurence, Pascal, Greg, Sophie, Dario, James, Christophe, Camille and…and…
So, for those that may be tempted, let me give you some facts so you can start planning for the 2013 edition –
The race and travel arrangements are organised by international company VO2 Max Voyages , and because the guys are athletes themselves, you can be sure they know what we want. The Tamassa LUX Resort provides the ideal lodging, with a lovely light atmosphere, yet top class service. Meals are simply delicious and the buffet even seemed to withstand the onslaught of always-hungry athletes….I can say that I am sure I took a kilo home with me, and it wasn't in my travel bag ;D.. Flights on Air Mauritius are surprisingly cheap, and at this time of year you can travel to this Island paradise for less than you would pay to go to Cape Town from Johannesburg!
Well here are some of my highlights:
Paradise – this is posssibly the most beautiful race that you will ever do!
Weather – Guaranteed it will be warm, around 25-30 degrees
People – are friendly and most speak French/English fluently
Taxi drivers – are very knowledgeable, ask enough questions and you have a tour guide for the day
Fish tank – Ever wanted to know what it is like to swim with fish, dolphins and magnificent corals
Comaraderie – spending on average 7 days with fellow participants from already 20 different countries
Sharing – a passion for the sport with foreign athletes and their partners
Partners – are treated as important people and a special fun event called the 'Girlfriends' race is especially made to put the spotlight on our regular supporters :).
Food – a personal favourite of mine :). Mauritian cuisine is certainly something to remember!
Post Race Activities – The list is up to your imagination and everything is really well-priced: See Giant Tortoises, scuba diving, snorkeling, kayaking, kite-surfing…
Fear not folks, the food is unusual but China rocks!!
Two pictures and two podiums this week! Yes, this is my last week in France :….( and I thought I would bang in two races before leaving.
As Wednesday was apublic holiday in France, I decided to do a race in the town of Nevers – which is, in fact where the LOOK bike headquarters are. Incidently, they are sponsors of the race, and apart from the swanky new pedals the podium winners all got, they also offered a brand new LOOK 576 frame as a lucky draw prize! Of course everyone hangs around for this draw ;).
Having taken things a little easier after the long distance champs in Spain, I was not sure how I would be feeling, but I was eager to do a really fun short race again :). I was most fortunate to get to travel to the race with two great guys Christophe and Binjamin from Thouars, who very kindly came to pick me up in Poitiers and entertained me for the 3h45 drive to Nevers ;D. Merci boucoup a vous ;)! I could ramble on about how I felt in the race, I'll just say that I wasn't exactly feeling Olympic, but after the disappointment of Spain it was nice to at least get up there in second place again :).
A special highlight for me was being racked in transition next to Laurent Jalabert :). This is my second meeting with him, and he is truly a wonderful person and still so giving to the public and his sponsors LOOK. I even got to greet him with the 'bises' which the french usually use for people they know, so that means he remembered me from Mauritius last year :D! Anyway, he claims to have improved his swim, but I still beat him good in the water, only to be whizzed past on the bike ;D. The challenge is on Laurent – you get swimming and I'll work on the bike ;D!!
Next up was La Ferte Bernard, raced yesterday. I have had a few podiums at this race, and could not believe that I won this race way back in 2001 when I last took part!! Giving my age away yes, but it is quite something to be proud of that I am still competing 10 years later. Of course I wanted a victory, but this was not to be and I was beaten by 5-time winner of the race Julie Le Colletier who simply out rode me on the day. I am not disappointed, especially not in a race that has so much crowd support, but it is always hard to be satisfied if you were not the best on the day?
Some things to mention about the day yesterday!
France has been undergoing a heatwave the past few days, with Saturday being the hottest at 40deg! While I was really looking frward to the hot conditions on Sunday, the race organiser was contemplating reducing the run! Being a fan of hot race conditions, I was very glad that this did not in fact happen :). In all the cold races I have ever done, nobody has reduced the race because it was cold??. That said, the race organiser, Gerard Guesne and his team effectuated perfect organisation! Plenty of lovely cold water out on the course :). Women are also compensated the same as the men in this race (would you believe that many races in France still have unequal prize money??), and we are given a 10min head start which gives us girls some good clear road and no obstruction by male competitors :). My only embarrassment of the day (yes, there had to be one ;D), came at the end of the bike, where I really did not have time to loose. I entered the velodrome and searched amongst the sea of orange cones for the entrance into the transition – for the life of me I could not see it! I tried asking, but people responded by cheering :D. In the end, after doing half a lap of the velodrome, I had to back track rather embarrassingly in front of the crowd *blush* and find the entrance…dropping a bike shoe in the process! You are never to old or experienced to embarrass yourself :D… I was lucky to come away with another second place ;).
Chapeau Gerard, une organisation superbe :). Merci a tous mes amis triathletes que j'ait rencontre et m'entrainer avec toute la saison….Jess, Max, Laetitia, Brice, Les Marins, Natascha La Corre et Seb Viktor (pour la gentilesse sur toutes les courses), le groupe velo de Savigny et les garcons du PEC au Stade Rebellieau, et bien surs mes amis Tristan et Valerie qui mon heberger encore pour une saison – vous etres Super!! A 2013 mes amis Francais…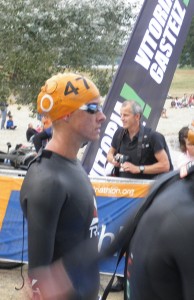 You have to really love this sport – one day you win the next day you you try, try, try and nothing happens! It seems that I am still on the roller coaster ride that has been my 2012 season. I don't want to ramble on about the World Champs in Spain, mostly because I myself do not have the answers, and without that I really just have to focus on what is next…
I was well prepared for Spain, I had put in some good miles especially on the swim and bike, and was close to form on the run. I felt good in most of my key sessions, and I felt quite good in my preparation races. Although I have never raced this distance before (4k/120k/30k), being shorter than an Ironman, I felt confident that I was good for a top 15, and depending on the day, a top ten would have been realistic.
I finished in 17th place, disappointing for me, not last, but not what I wanted! Prior to the race, I had rested up really well (maybe too well?), ate well, and got more sleep than I normally would back home. In short everything perfect.
The Basque region in Spain is a little inland in Northern Spain and can have some quite unpredictable weather – one day there is a heat wave and the next it can be rather cool. I was hoping for the heat wave and got the cool weather instead. This obviously suited the girls from the Nordic countries but not what I would have preferred! The swim was an epic one loop of 4k in the Landa Lake. The only peculiar thing is that we had to have our wetsuits soaked and disinfected the day before the race (great! a wet wetsuit for race morning

) , apparently, the lake is under threat of infection by the zebra muscle – a fresh water shell creature that blocks up water pipes in these parts and is very difficult to get rid of. So I sincerely hope that I don't bring back the zebra muscle to Homestead Lake in Benoni – I really wonder if it would survive in there anyway ;D?? Apart from a slow start, and the 3 buoys spread over a 4k radius that were really hard to see, I had a reasonable swim, and came out the water in a little group in 9th place.
The bike course was a very scenic 2 lap course around the lake and ending in town. I can't tell you what happened, apart from the fact that I had absolutely no legs from the start. Obviously not my chosen day for this to happen, but I just had to do what I could and try to limit the damage. It is quite a mind blow not being able to go with the others and getting passed by girls who were a long way behind me on the swim, but you can either give up or carry on, and maybe things will improve! I finally did start to feel better around the 90k mark, a little late with only 30k of the bike left!
I got off the bike feeling a bit more positive that the run would go better. The run course, was typically European, in the centre of town and packed with the crowds shouting 'Venga, venga!! ' . Like alot of athletes, I did 'venga' very hard on the first lap of the run. I felt good and wanted to make up the ground that I had lost on the first lap of the bike. The theory goes that you feel really good just before you blow. On lap number 2 I ran head on into a hypoglycaemic wall. With the run not even half way through, I was in trouble. from one second to the next I was dizzy and seeing multi-coloured stars! I ate what I usually do on the bike, so am a little surprised by this, but some days it seems your body just does not respond the way you choose it to? I managed to wolf down a whole lot of bananas and Coke at the next aid station, but then it was all over. Race mode had been downgraded to 'management mode'. The fight was then about giving everything not to be last. I finished a low 17th, but NOT last!!
In case you don't believe me how wrecked I was here is the post race picture trying to take a shower!!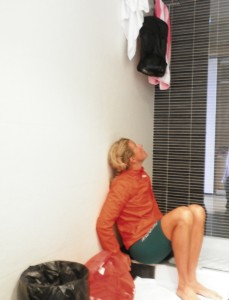 I did spend a few days beating myself up as to what I did wrong, and I still don't have the answers, but I have to put things in perspective, that it may not have been what I am capable of,  but I came 17th in an elite World Championship. It is hard and it is a start. It is always much harder to face the bullet, and fail thatn never having the guts to see where you stand!
This is me, looking up to where I want to be. Humbled by the experience, never giving up and looking forward to change :)…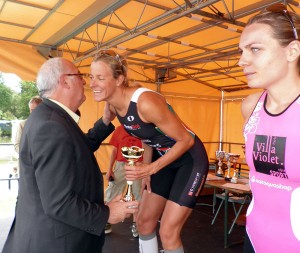 Le Mans is a town in the Sarthe region of France, known for its motor racing, but it is also the host of an equally exciting triathlon – the Le Mans International Triathlon.
It has been a challenging year for me so far, injury, illness, stresses and not the form or results that I would have hoped for. However, if you want to be successful at this game, you have no option but to have a strong belief in yourself, and ride out the bad wave…and yes, every athlete has a bad wave!
This past week, for the first time all year, I confessed to Special that I might have something good going on in my legs. This has nothing to do with a stopwatch showing good times, but rather the feeling of 'ants' in my legs, as the french would say! By Friday, I actually felt like I wanted to race, I had a strong urge to bring on the hurt ;)…
I knew I was going to face some pretty good competition going into the race, but I set myself the objective of getting on the podium, with no other option in mind. Besides just wanting to do well, I needed to make some prize money, so that I could, well, EAT! The weather was pretty ominous, with black clouds clumping together, and were it not for the strong wind, I think they would have squeezed out a considerable downpour. Luckily for us, the rain stayed away and conditions were fairly cool.
The race was incredibly well organised, with the girls being given a 10 minute head start on the guys, which meant that we were unimpeded, and our race would be drafting  free – thank you to the organisers! The swim took place in a smallish river tributary, with a fairly strong current. Jumping in, I was a little taken aback as to how chilly the water was, and after a rather fast start, I found it a little hard to breathe, and lost a bit of time on Camille Cierpik the french star. I exited the water in second place, and I knew I was still within striking distance.
Olympic Distance races are very different in the sense that you have to go hard from the word go, and there is no such thing as easing into things gradually! For the first 20k my legs were really feeling 'the burn' as Jane Fonda so keenly promoted. I had no idea where the front girl was, nor did I know who was behind me. At the turn around for lap 2, I caught sight of two girls not far behind me, and I felt the prick of panic – now I really had to put foot and go like hell. Every kilometre that went by, I was feeling so relieved that nobody had appeared alongside me, then suddenly, at around the 35k mark I saw her, elated I now knew the pressure was on and that I would have to make my mark.
Going into T2 I was not expecting to be in the lead, least of all with a fast runner on my tail. I transitioned so fast that Buzz Lightning would have been proud and headed out onto the course as fast as I could. Whoever designed this run course clearly must have had a hearty laugh at us! Mostly off-road, through forested sections and clumpy grass, it was really hard to find a rhythm and not at all something I favour, but certainly interesting! Of course I feared getting caught, as I felt like I was ploughing along trying to stay upright rather than running, but with every kilometre that passed by, I realised the others were having as much difficulty as I was. The closer that I got to the finish, the more the joy was building up inside me, I really wanted (and needed) this win, but until the line was crossed I would not let myself believe it! Finally, a victory, and the sensations that I have been trying to find all year :).
A little advice to anyone wanting to visit Le Mans, take a good GPS and alot of patience – this town is full of confusing traffic circles, roads, and, well, cars especially when the Vintage 24hrs is on the go ;D…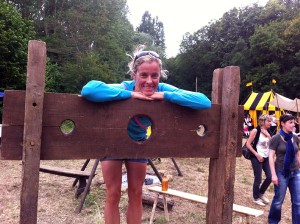 France has to be my most favourite place to train, 3 weeks have already passed since my arrival back in Poitiers, and my silence has been due to my selfish enjoyment of everything this great country has to offer.
As everyone has been asking what training here is like and how things have been going, I have decided I must return to my laptop on a quiet day, away from the countryside that I enjoy so much and tell you about it…
Firstly, I could not do what I do without the support of my Federation TSA, my good friends here, Valerie and Tristan that welcome me into their home every year, and Special who is back home and has a few late nights listening to me ramble on Skype about my training and of course the food that I am eating :). I am often asked how I manage to do all this, and all I can say is that it is always challenging, especially financially, but if you have passion and really want to do something, sacrifices and surviving on very little is a small price to pay for the riches I get in return…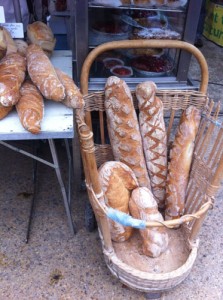 Back to the subject of France :). For me this place has all the ingredients of a perfect training ground, with some french attitude of course ;)…
Food. Yes, I consider this an important part of training – good, quailty food makes for good fuel and recovery. In France, it is true that people in general are not noticeably over weight or obese. The truth is, that even though the fast-food oulets do exist, they are not the primary choice of french mealtimes. Open air markets are particularly popular, full of fresh, organic produce straight from the local farmers and a complete delight for the senses :). Here, I have the choice of fueling up with an array of nutrient rich food, and I certainly feel that my body performs and recovers better as a result. Ok, and my french blood means that I have an affectionate relationship with colourful, fragrant and tasty food :).
If you really want to know the secret of the french – they eat a wide variety of fresh food, in reasonable quantities, and they move – yes, walking or riding a bike to your destination is what keeps them trim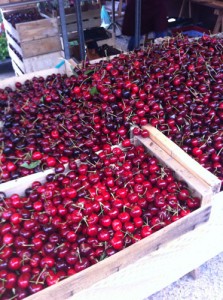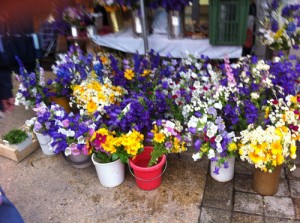 Training facilities here are excellent – almost every small town/village has a pool and sporting facilities. Poitiers, being a city, has a number of swimming pools and a track for run sessions. I am currently training in a magnificent, outdoor 8 lane, heated 50m pool :). The only downside is that there are alot of complications as to when you can swim – the general public and children take precedence over people who actually want to train. No such thing as swimming whenever you want to! I am fortunate that I get to swim with the triathletes of Stade Poitevin Tri Club, otherwise I would have to battle through the breast stroking public to be able to swim! Lane ropes are also considered a privilege here, and you have to know someone who knows someone to get one ;)… But I really cannot complain, there is nothing like swimming outdoors in the open air with the sun on your back :).
The most amazing thing about training in France has got to be the riding :). Nothing on this planet beats the impressive network of small roads in France! Plan your ride early in the morning, and it is quite possible that you will not see a car for 100k! The only thing that intrigues me is that although there are so many roads, so many of these roads are so small that only one car can fit on them! This is particularly challenging when a bicycle or two cars have to pass – on either side of the road is usually a trench (for water drainage), usually embedded with stinging nettles and totally impractical for pulling off the road to allow another vehicle to pass. I have learnt, even in a car, that the best strategy is to do what the french do – impose your will! Pretend you don't see the other vehicle and just go for it ;D! It is also clear to me why the Tour de France was invented in France – there are many, many cyclists here of all ages and they are well-respected :). Not once have I been hooted at aggressively even when I have mistakenly been on the left hand side of the road ;D. The average Joe in France really knows how to ride a bike, and having joined a group of mature cyclists on a Thursday afternoon, I can tell you that I am really pleased if I can hang onto the wheel of a 74 year old! Yes. you read correctly, and I openly admit that I was dropped by someone of advanced maturity ;D. It is now my quest not to get dropped on the Thursday afternoon Savigny ride :D!
Running has been equally delightful :). a mere 500m from where I am staying I am into the superb forests :). It is remarkably peaceful and I relish those early morning runs with the sun glistening on trees sprinkled with dew drops, the smell of nature and fresh air just makes for inspired running :). If you're really like you may come across a shy deer, squirrel or grumpy wild pig…nothing scary for a girl from Africa ;). I have also had the good fortune of joining the guys from the PEC running club for a track session on a Tuesday – reminding me alot of Boksburg AC back home, only with a french version of the same characters! Universally, much like the Boksburgers, these guys enjoy a bit of a run, but more so enjoy a pint at the Brasserie across the road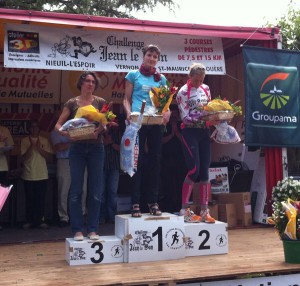 As for the racing, my focus is now on preparing for the World Championships in Spain, but in the meantime I have been taking part in some local races, with some interesting prizes….bottles of wine, apples, local fromage, sausages ;D, and flowers…
This weekend we're off to Le Mans…watch out french drivers, I am coming ;D!!!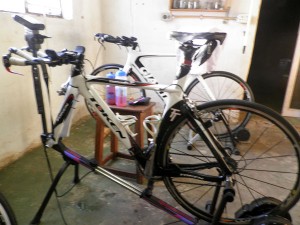 Winter and the chilly weather which accompanies it are just not my thing! As much as I try I cannot avoid the seasonal depression triggered by the dark mornings and thermometer which guages temperatures below 20 degrees…nevermind the very scary 1 or 2 degrees!
I am a complete cold weather wimp and will do whatever I can to totally avoid the situation, which means that if it cannot be done at 12 in the midday sun, then I will train indoors!
I have recently dedicated a portion of the garage (that gets the morning sun ;D) for indoor cycling sessions. I have tried the lounge in front of the TV, but I have to admit that I end up watching the TV and then my HR and effort clearly goes for a dive, so I have now banished myself, the Wunderfluegel and Special to the 'Suffer Dungeon', where there are no distractions and race victories can be made ;).
Having avoided the trainer all Summer, I have come to realise that it is in fact a highly effective and underestimated training tool. You cannot slack off on the indoor, there is no tailwind to help you and if you watch the numbers it will keep you very honest! Whilest it is a test of mental strength past the 1 hour mark, I have previously subjected myself to a 4hr sweatfest in one of the hottest places on earth (Singapore), in the company of my good friend Emma Bishop and the Paks…just to see if it could be done. Yes, if you can master your head you will get incredible strength from it!
Whilest I am currently turning out a mere 1h30 -2hrs at the moment, I am loving the pain and the big puddle of sweat on the floor at the end of it all! My quest is now to find the Sufferfest of all indoor sessions to challenge myself :). I invite all my readers to submit to me their hardest indoor trainer sessions and I will try them out….comments and accreditation of course to be posted on FB after each completed session – thanks and bring them on!!!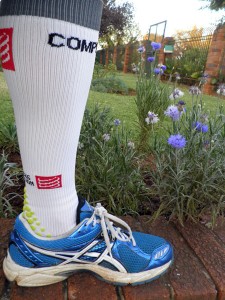 There is something about new shoes that I just love. I am not talking about Jimmy Choo Choos (no triathlete would), but rather, about my 'high-inducing' running shoes! That said, I have no shame in admitting that I have had a love affair with the Asics brand since I first started my running career – but I don't need to vouch for their quality or popularity – Asics have dominated the running shoe market in South Africa for years. Not because of gimicks or flash, they have simply proven themselves as a technologically advanced shoe that has carried most runners comfortably through crazy distances to PB's. Yes, I am biased, but I can say that a few years back due to a team sponsor obligation, I was forced to use another running shoe brand. Never, have I, or my feet been so unhappy! Between us, I secretly ran with my Asics in the dark early hours ;). I am not saying that everyone should be wearing Asics, although looking around this is almost possible, but having a great relationship with your running shoes is akin to running bliss!
Following the disappointment of Ironman SA, I have not rushed back into training to avenge myself, instead I have taken things easy. After such a mentally and physically tough day, I had to let go of being angry with myself, and give myself the chance to recover slowly. This has never meant no exercise, just enough exercise to amuse myself, when I wanted, and how I wanted. It has been great to just smile, chat and laugh with friends, paying no attention to time, distance, speed etc!
Now, since we are approaching the 4 week mark since Ironman, my body and mind have started to let me know that they have recovered and I am starting to feel ready for the discipline and 'pain' that I thrive on :). For me, the best way to start over with a new plan, is with a new pair of shoes :). I simply love taking a new pair out of the box, admiring the new season colours and giving them a good sniff! Yes, I enjoy the smell of new shoes :D!! More importantly, running shoes become like friends – at first a little stiff and then they become the shape of your feet. New shoes for me always imply new aspirations – they have not yet seen pain, PB's, disappointments or the hills of Bedfordview!
I always think back to my high school days when I got my very first pair of 'real' running shoes,a pair of Asics Tigers I might add, and how very proud I was of them :). New shoes won't make you run faster, in theory of course, but I have always found myself inspired by their unsoiled shine and unscuffed soles. I just feel like running with a new pair of shoes on my feet!
Now, as I look towards my next goals, I know that my faithful friends will be with me to share in part of the journey ;)…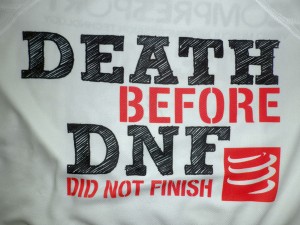 My 16th Ironman done. Notably, my second worst finish ever (the worst being Ironman Mexico back in 2009 and that epic 28km walk of shame…). Ironman South Africa 2012 will definitely go down as one of the toughest days I have ever had.
I am ashamed by my performance, embarrassed that the climatic conditions got the better of me. Sure, the weather was the same for everyone, but my body just succombed, the months of preparation amounted to a test of survival and battle of will. That is Ironman, Unpredictable and you rarely get what you want. The more you race, the higher the chances are that you WILL be guaranteed a bad day somewhere along the line. Of course, when these days come you feel like you have let a whole lot of people down – sponsors, supporters, friends, coaches but most deeply yourself.
Port Elizabeth this year dealt me a blow that has taken me a day to ponder over. The weather was the worst I have ever experienced – even having raced in Germany and Switzerland on pretty nasty days nothing compares to this! The day started in pouring rain, with spectators and supporters soaked from way before the starting cannon was fired. The fact that the temperatures hovered between 11 and 14 degrees did not help matters. I was shivering and blue with cold by the time we set off from Hobie beach! The ocean which had been so magnificently calm the days prior to the race, became  an angry, dark force to be contended. I was relieved to leave the tumultuous swells of the ocean and get out on the bike.
I was reasonably well placed around 7th position, as I headed out onto what would be my hardest Ironman bike ride ever. The winds in PE where gale force and in excess of 100kph in some places!! While the Claire and Dianne, my fellow compatriots from Cape Town seemed quite accustomned to the wind, I have to admit to being overwhelmed and I struggled! At some points I felt really afraid after being sent into the bushes for the 3rd time by the wind! Out of my own observation, I could see that the larger guys were coping reasonably well, but the smaller guys and girls were fighting to hang onto their bikes and keep themselves upright! In addition to this rather remarkable wind, it was bitterly cold, and even though I had an additional two cycling tops and arm warmers, I was freezing cold and losing time and places with increasing rapidity. Interestingly, by the end of lap 2 I had eaten every scrap of food I had taken with me (normally I don't get through even half!), and my body was crying out for any calories it could get…
The bike leg took me an astounding 6h30! I knew that I was far, far down, and probably the last of the Pro women, but I thought to myself, this is Ironman, anything can happen and you know that you can run! I set off for the run with nothing but my Compressport arm sleeves thinking things would be warmer on the run….HA!
Although my legs felt reasonably good at the start of the run, my 'tank' felt pretty low. Despite everything that I had eaten, I kept needing more and more fuel, it seemed the colder I got the more energy I was consuming. While I had every intention of at least trying to make up some of the lost time, I was incapable of doing more than a survival shuffle….which got slower and slower….and slower! I knew that I was way off a top ten position, I was close to 2hrs behind what I would normally do, but I ran every step, always in the hope that things would get better.
I have to thank all my fellow athletes, especially Adnaan and Paul from Cape Town who kept me company in those very dark moments when the storm came over, the sun had long gone and we were struggling on in the cold. I am not proud of my performance at all, which is certainly not worthy of an athlete racing in the professional category, but if I look back, and try to think of anything that I could have done differently, there is nothing significant. I trained hard, I rested well, I simply failed at the weather! Perhaps investing in a training camp in Siberia???
Thank you to all sponsors and supporters….a disappointed athlete becomes a motivated athlete! Bring on the 35degree race ;D!! I'll be back….
« go back
—
keep looking »