Aug
20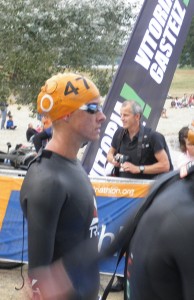 You have to really love this sport – one day you win the next day you you try, try, try and nothing happens! It seems that I am still on the roller coaster ride that has been my 2012 season. I don't want to ramble on about the World Champs in Spain, mostly because I myself do not have the answers, and without that I really just have to focus on what is next…
I was well prepared for Spain, I had put in some good miles especially on the swim and bike, and was close to form on the run. I felt good in most of my key sessions, and I felt quite good in my preparation races. Although I have never raced this distance before (4k/120k/30k), being shorter than an Ironman, I felt confident that I was good for a top 15, and depending on the day, a top ten would have been realistic.
I finished in 17th place, disappointing for me, not last, but not what I wanted! Prior to the race, I had rested up really well (maybe too well?), ate well, and got more sleep than I normally would back home. In short everything perfect.
The Basque region in Spain is a little inland in Northern Spain and can have some quite unpredictable weather – one day there is a heat wave and the next it can be rather cool. I was hoping for the heat wave and got the cool weather instead. This obviously suited the girls from the Nordic countries but not what I would have preferred! The swim was an epic one loop of 4k in the Landa Lake. The only peculiar thing is that we had to have our wetsuits soaked and disinfected the day before the race (great! a wet wetsuit for race morning

) , apparently, the lake is under threat of infection by the zebra muscle – a fresh water shell creature that blocks up water pipes in these parts and is very difficult to get rid of. So I sincerely hope that I don't bring back the zebra muscle to Homestead Lake in Benoni – I really wonder if it would survive in there anyway ;D?? Apart from a slow start, and the 3 buoys spread over a 4k radius that were really hard to see, I had a reasonable swim, and came out the water in a little group in 9th place.
The bike course was a very scenic 2 lap course around the lake and ending in town. I can't tell you what happened, apart from the fact that I had absolutely no legs from the start. Obviously not my chosen day for this to happen, but I just had to do what I could and try to limit the damage. It is quite a mind blow not being able to go with the others and getting passed by girls who were a long way behind me on the swim, but you can either give up or carry on, and maybe things will improve! I finally did start to feel better around the 90k mark, a little late with only 30k of the bike left!
I got off the bike feeling a bit more positive that the run would go better. The run course, was typically European, in the centre of town and packed with the crowds shouting 'Venga, venga!! ' . Like alot of athletes, I did 'venga' very hard on the first lap of the run. I felt good and wanted to make up the ground that I had lost on the first lap of the bike. The theory goes that you feel really good just before you blow. On lap number 2 I ran head on into a hypoglycaemic wall. With the run not even half way through, I was in trouble. from one second to the next I was dizzy and seeing multi-coloured stars! I ate what I usually do on the bike, so am a little surprised by this, but some days it seems your body just does not respond the way you choose it to? I managed to wolf down a whole lot of bananas and Coke at the next aid station, but then it was all over. Race mode had been downgraded to 'management mode'. The fight was then about giving everything not to be last. I finished a low 17th, but NOT last!!
In case you don't believe me how wrecked I was here is the post race picture trying to take a shower!!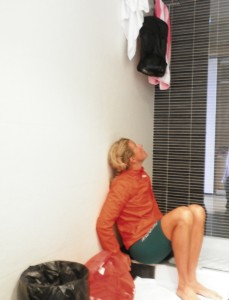 I did spend a few days beating myself up as to what I did wrong, and I still don't have the answers, but I have to put things in perspective, that it may not have been what I am capable of,  but I came 17th in an elite World Championship. It is hard and it is a start. It is always much harder to face the bullet, and fail thatn never having the guts to see where you stand!
This is me, looking up to where I want to be. Humbled by the experience, never giving up and looking forward to change :)…
Comments