May
8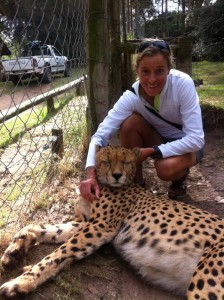 Recovery is often a tricky question after Ironman. I mean, we all know that we need it, whether you had a good race or not – but how do we go about it? It is hard to go from 2 to 7 hours of training a day, with a purpose, to a 'What now?'. This phase has always been a bit tricky for me, as I am sure it is for many others, so I thought I might share how the past few weeks has been for me. This is by no means a recommendation, but rather an honest account.
Week one post race is always tough – I could feel elated after a great race, but in the case of IMSA 2013 I wallowed in the question of why I felt so ill? Did I pick up a bug? In summary I always analyze what went wrong (never is there a race where I think there was nothing I couldn't have improved on), and what I did right. Some people feel elated and full of energy, but I usually feel exhausted. The first week post-Ironman is not a productive one for me! I choose to sleep past 6am and the alarm is silenced. I sleep alot! If my work allows, I nestle into the couch in the afternoon and doze off for an hour or two.
Then of course is the hunger bug! After months (ok a lifetime) of watching what I eat, this is the one time in the year that I eat whatever my body (or should I say, my brain) craves. Of course eating tons of junk is not great for recovery, and generally I am not a junk food fan, but I do eat alot of calorie rich foods without paying too much attention to the GI rating :). In addition, I do offer myself some unhealthy treats, my personal list includes: Cherry Coke, Choc chip cookies, Lindt dark in every flavour (every slab shared with Special, and we divide meticulously ;D), Fry's mushroom pies, Mom's cake, pizza, veg sushi…. Ok, that actually sounds like alot of food to be considered a 'snack' :D!! Usually, by the end of the week I feel quite 'blah' and just want 'normal' food again :D.
Emotionally, whether I have had a good race or a bad race, I usually feel quite down just after a big race – I believe this stems from the giant physical impact that such a race puts on your physiology. Not everybody reacts the same of course, and the more of these races that you do, the more the 'down' hits you. For example, Special was on a high (I still think he is!) after finishing his first Ironman, with most of his talk revolving around how he is going going to improve for next year. For me it was different. I was grumpy, I wanted to talk about anything other than triathlon,  and my motivation was totally out the window!
When it comes to post race exercise, I am not into the idea of going into hibernation for a month – already from week one after an Ironman I do some form of light exercise as the urge takes me. Here, I must emphasize, I do whatever I feel like, when I feel like, and if I feel like nothing, then that is what I do. I do what regular people would consider 'a spot of exercise' – taking the Jacks (Lola and Henry) for extended walks, much to their delight, riding the circa 1980 tandem with Special to the local coffee shop, and maybe the odd swim in the pool…more to be a Chatty Sally with the ladies at the gym :D.
The most effective form of recovery is in fact to be like a sponge – absorb everything!
Sleep til you wake up and don't feel guilty about it.
Take walks on parts of your run routes and actually take in the things you never see.
Reconnect with friends and family – now is the time to forfeit a Saturday training session with the crowd for a relaxed afternoon
Eat plenty of good food that will be absorbed by repairing muscles, BUT do allow yourself some items on the 'banned' list – they are particularly good for the soul, and you will soon get sick of it!
Do not jump back into serious training too quickly, but perhaps go out and enjoy a road race with the club 'bus'.
When your Mojo returns then it is time to start 'training' for real again.
Take your time and come back stronger!
Comments