Mar
12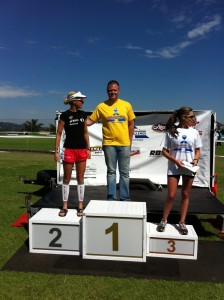 Another weekend and another road race podium! After my third place finish at the Vaal 21k last week, I stepped up one this week with a second place at the challenging Remax Half Marathon :). This one was a nice surprise considering that I woke up T.I.R.E.D (the favourite 5 letter word of all Ironman athletes at this time of year), Special even commented 'You're running funny this morning..' as I tried to conjure up a jog to the start. So yes, my legs were feeling less than Olympic, eyes like a Panda from all the early morning starts and I felt more like tea and Hot X buns in bed than tackling the hills of Edenvale! That said, a few weeks ago, I was crying because I couldn't run, and the memory of that was enough to motivate me into action…
I have always enjoyed road races in South Africa – the atmosphere and people are simp;ly unbeatable! Joburg especially, has such a culture of road running that leaves one with a feeling nothing short of proudly South African :). Now, especially in my attempts at getting running fit again, I have enjoyed the road races that I use as 'catered training runs', but and here I say a big BUT, runners need to mind their manners!
There are certain things that I wish to highlight, that may just make the running experience of all a more pleasurable experience…
BAD B.O. – At the start when you are packed in with 3000 other runners, the comaraderie is great, but sometimes you just get the misfortune of standing next to someone who reeks of bad body odour and seems completely oblivious to it! The said person, almost always male, seems to regale himself in arm-lifting warm up exercises releasing more of his nauseating wafts, in your face level. I know that water is a precious resource, but I would like to promote the idea that a good bath will make you faster in the morning ;).
Beeping Watches – Like many Triathletes, I love gadgets, and emphatically support their use, BUT…make sure that your watch does not speak it's digital language out loud throughout the race. I am sorry Garmin, but the constant chirping and satellite searching every kilometre is most irritating and ruins the outdoor experience!
Spitting – Ok, I am not sure what the biological reason is that women (for the most part) are able to refrain from doing this publically, while men seem to think that expelling various shades of white, yellow and green (yes, I am also gagging :P), is perfectly acceptable? I, myself, have had the misfortune of having ill-timed gobby missiles land on my shoes, arms, and yes, wind-assisted on the face! If you have to do it, carry a good old Kleenex or get off the road and do it under some camoflauge.
Jingles –  Why is there always someone who insists on running behind you with pockets full of schrapnel?? Can the constant jingling of keys, coins and whatever else not be prevented? As a tri-geek, I would be concerned about the effects of the extra weight and the mental insanity, but really, stick it all in a little bank bag, wrap it up tight and you'll have better company!
Water sachets – Are an incredible South African invention, but the deployment by said users is questionable. Particularly in cooler temperatures, is it necessary to attack the little bags of plastic with the ferocity of a Great White? The result is usually a great big explosion of water, spraying onto unexpectant runners and volunteers. Open with gentle caution, please…not everybody around you is keen for the shower ;)…
Groupies – This usually pertains to being a female runner – the entourage of male runners that seems to surround us is most certainly flattering, but at the same time, when they cause you to trip, mess with your pace or prevent you from accessing water/coke at the aid stations it is a tiresome waste of energy!
Despite all my venting, I can assure you that I am a big fan of the colourful people that make up road running in South Africa! With road races as big as ours, we could become one of the fittest, if not always the most polite nations on the planet….
Comments